Hailey Bieber Channels Gwyneth Paltrow With The Help of a New Hairstyle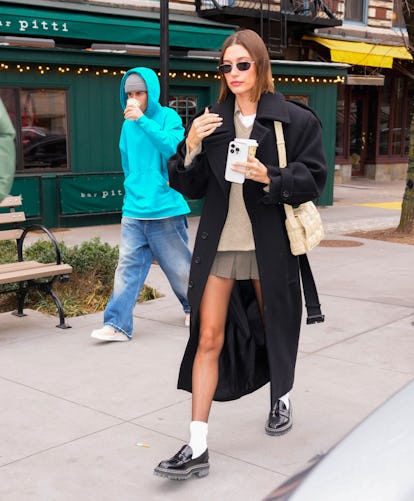 Gotham/GC Images/Getty Images
Apparently, 2023 is the year of the dramatic hair transformation. Bella Hadid has surely been keeping us on our toes with her frequent dyes, and now Hailey Bieber has debuted a new look that may even convince you to get the chop. Over the weekend, the model took to Instagram to show off her new 'do. "Oops " she captioned the mirror selfie from her closet where she chose to reveal the style, a blunt, chin-skimming bob.
It wasn't long before the model decided to take her new look out for a spin. For her hair's debut, Bieber went full Wes Anderson cosplay, embracing a Margot Tenenbaum aesthetic. It's unclear if the character (or Bieber's friend Gwyneth Paltrow, herself) inspired the new style, but either way, Bieber is definitely embracing the comparison. "Margot Tenenbaum for the foreseeable future," the model captioned another selfie.
Not only is the hair similar to Paltrow's The Royal Tenenbaum character, but she dressed akin to her as well. Bieber traded out Margot's signature fur coat for her own signature in the form of a Saint Laurent trench. Underneath, though, she kept the look preppy and girlish, wearing a tan, double-collared knit sweater from Source Unknown with an olive green pleated mini skirt from MISBHV. Calzedonia tights topped with the brand's white ankle socks and Proenza Schouler loafers completed the cinematic look.
The bob might not be for you, but considering Bieber has solidified herself as a purveyor of beauty trends over the past year (whether you liked it or not, the "glazed donut look" was big), it's safe to say that, with the model's blessing, the 'do will likely gain traction. Plus, she isn't the only big name to recently embrace a shorter style. Zendaya ended the year by debuting a shorter cut as well, and burgeoning it girl Taylor Russell has stayed very loyal to her cheek-skimming look. All signs point to the big chop taking over 2023, so it might be time to book an appointment at your salon.