The Best Tinted SPFs
In Beauty Hotline, our editors answer the most pressing questions in our office. Ask and you shall receive.
---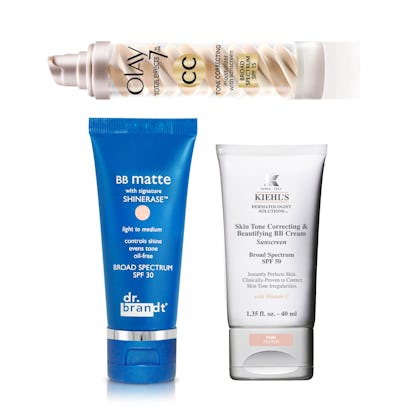 Q. I'm looking for a good tinted moisturizer that will provide both coverage and SPF protection and will also feel light on my skin. What are your favorites?—W's editorial photo producer Bifen Xu, 31, New York City
A. Luckily, the new BB and CC creams aim to give you everything you're asking for in one tube: sheer coverage, sun protection, and staying power. The other good news is that you can now rely on makeup with SPF to actually protect you from the sun since new FDA regulations ensure that SPF promises are backed up with research. You just have to pat on the right amount: "Make sure that you're applying at least a quarter-size blob to your face," says dermatologist Anne Chapas, MD, of Union Square Laser Dermatology in New York City.
Our favorites include Olay Total Effects Tone Correcting CC Cream SPF 15 ($24; olay.com), Dr. Brandt BB Matte with Shinerase SPF 30 ($39; sephora.com), and Kiehl's Skin Tone Correcting & Beautifying BB Cream SPF 50 ($37; kiehls.com).