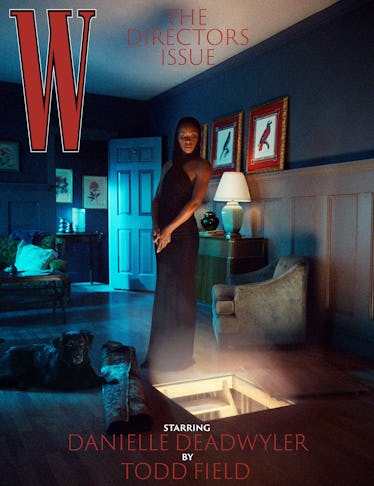 Deadwyler wears Saint Laurent by Anthony Vaccarello dress. Directed and photographed by Todd Field.
"I've always been interested in the cries and whispers, the cloak-and-dagger of Hollywood," the director Todd Field said, standing on the back lot of Universal Studios. Dressed in jeans and a navy cardigan, Field was attempting to channel the film noir spirit of Humphrey Bogart for this W shoot. "I didn't want to re-create that feeling in a man," Field explained. "That would have been too obvious. Instead, I was much more interested in a woman having those same typically male experiences. So I immediately thought of Danielle."
A few feet away, dressed in a slinky black Saint Laurent gown with a hood, Danielle Deadwyler overheard Field talking. Despite her serious mien in Till, in which she played the mother of Emmett Till, the Black teenage boy who was murdered in 1955 by white supremacists, Deadwyler has a naturally joyous demeanor. "What are you saying about me?" she almost yelled. Field smiled. They first met at a dinner in Beverly Hills during awards season in early January. Field was sitting alone, waiting for Cate Blanchett, the star of his extraordinary film Tár, to arrive. "Danielle came over to me and said, 'What are you doing sitting all by yourself?!' " Field recalled. "She sat down and peppered me with questions, in the nicest possible way. I can't tell you how rare that sort of genuine interest is."
Field greatly admired Deadwyler's performance in Till. "Grief is told by the survivors," he said, "and she made the pain of the living powerful in a way that went well beyond a movie performance." He wanted Deadwyler to embody his modern take on a mysterious world, shooting on the same sort of back lot where some of his favorite films from the noir period—Touch of Evil, directed by Orson Welles, and The Maltese Falcon, directed by John Huston—were staged. In a way, Tár, which he wrote and directed, is also a thriller. The film centers on a fascinating woman, Lydia Tár, who is a world-famous conductor. Because of her great intelligence and talent, Tár has risen to the top of her profession. But the same forces that propel her ascent also precipitate her downfall: The indulgence and compliance of those around her allow her to become a captivating monster. Tár is an incisive meditation on corrupting power and how it relates to greatness.
"It's almost impossible for a person who is extravagantly praised to have a sense of self-awareness," Field told me a few days after the shoot, over chamomile tea at his hotel in Los Angeles. "A lack of friction can result in a huge growth of ego and a damaging sense of invincibility. I believe that obstacles build character. What happens if you take those obstacles away? You get Lydia Tár."
Field wrote the script for Tár during the pandemic lockdown at his home, a former dairy farm in Maine. In the aughts, he had enormous success with two films that he adapted from a short story and a novel: In the Bedroom (2001) and Little Children (2006) were both nominated for multiple Academy Awards, including Best Adapted Screenplay. Tár is the first original screenplay that Field has made into a movie. "I was home thinking about the film business," he explained, "and Lydia Tár occurred to me. The people I've met in the industry are difficult, challenging, formidable, and brilliant all at once. They have power because of those qualities. And whether that power is a boost or a curse was a subject that I couldn't ignore. I also saw the complicity: We are attracted to brilliant monsters—we both love them and want to watch them be destroyed."
Tod's trenchcoat; Prada bag; Raf Simons shoes.
Tár was written with only Cate Blanchett in mind. "If she had said no, I wouldn't have made the film," said Field, who is a highly meticulous person with an exacting sense of aesthetics. (For instance, he writes his scripts longhand with vintage, discontinued Blackwing pencils, sharpened only with a KUM Masterpiece sharpener.) Thankfully, Blanchett immediately embraced Lydia Tár. "I read the script in one sitting," she said. "And I had to say yes. There was nothing about this character that didn't intrigue me." To play the part, Blanchett learned to conduct an orchestra, speak German, play Bach on the piano, and drive a Porsche as if it were a race car. "I read that Porsche had made a car for [the famous conductor] Herbert von Karajan," Blanchett said, "so why wouldn't they make a car for Lydia Tár?"
Filming began in 2021 in Berlin, where Tár conducts a philharmonic. "It was hard because of the pandemic," Field said, "and because the musicians in the film are not actors." Field began his career as an actor and a musician, so he has deep empathy for those in both professions. His last notable acting role was in Eyes Wide Shut, in which he played the pianist who lures Tom Cruise's character into a murderous orgy. "I had decided to stop acting," Field explained. "And then Kubrick called."
Back at Universal, Deadwyler was staring into a square-shaped hole in the floor. The shoot's producer, Francesca Lentini, who collaborated with Field on Tár ("I named Lydia's assistant after Francesca!" he said), was adjusting some chairs on the set; the production designer, Jess Gonchor, who is known for his work with the Coen brothers, was arranging a vase and some flowered plates. Deadwyler arched her body so that she was looking downward, but her face was still upright. It was a masterful way of showing both curiosity and strength. "Danielle gets it," Field said after the shot was completed. "There's nothing vague about her—she always has intention behind her actions."
Deadwyler wears the Row dress; Bulgari earrings. Mizuno wears a Proenza Schouler vest.
Deadwyler returned to the van that would take the team back to a soundstage. She had been having a tense week: The Hollywood community was upset that Deadwyler, who received a SAG nomination for her performance in Till and won the Gotham Award, had not been nominated for an Academy Award. Deadwyler did not want to talk about the controversy. Instead, she shrugged off the slight and concentrated on the task at hand. Even during the dark days of shooting the most devastating scenes in Till, Deadwyler said that the actors would tell jokes. "You have to break that mood," she said. "In order to cry, we had to laugh."
At the cavernous soundstage, a staircase had been set up to look like a walk to…where? "We are using the same black and white film that Scorsese used to shoot Raging Bull," Field explained, as he waited for the lighting crew to cast perfect shadows. "I wanted Danielle to have those same darks and lights, that same intensity."
Field conceived an ominous plotline that involved Deadwyler passing messages to some questionable men and a seductive woman. "What's behind the transaction?" he asked Deadwyler. "Where does the stairway lead? Why do you open the box? What does the light tell you?" Deadwyler smiled broadly. "I love a secret," she said. Field paused, but did not supply any explanations. "That's the beauty of films: We watch people do things when they should know better. The answers are elusive, but we search for them anyway." Field smiled. "We can't stop watching. And who would want to?"
Saint Laurent by Anthony Vaccarello coat, jacket, pants, earrings, and shoes.
Dolce & Gabbana coatdress.
Executive producer to Todd Field: Francesca Lentini. Lighting director: Pär M. Ekberg. Production design by Jess Gonchor. Hair by Araxi Lindsey for Araxi's Botanicals at A-Frame Agency; makeup by Autumn Moultrie for Pat McGrath Labs at the Wall Group; manicure by Emi Kudo for Chanel at A-Frame Agency. Extras: Yoa Mizuno at AMR Agency; Charlie Maze at So Cal Talent. Extras casting by Cast Partner.
Produced by Connect The Dots; executive producer: Wes Olson; producer: Zack Higginbottom; production manager: Alison Yardley; production coordinator: Nicole Morra; first assistant director: Travis Knight; second assistant director: Semmi Cole; assistant camera: Nelson Machin; digital technician: Sean Kiel; gaffer: Todd Heater; best boy electric: Michelle Jang; electric drivers: Richard Arana, Brock Kingsland, Spencer Smith; key grip: Matt Haycox; best boy grip: Garrett Waite; grips: Shad Wilhelm, James Gunter, Erik Delgado; fashion assistants: Jacqueline Chen, Natalie Ocampo, Jarae Holieway; production assistants: Khari Cousins, Mark Cheche, Kelsey Swope-Romero, Juanes Montoya; retouching: Dtouch London; VFX artist: Jake Nelson; makeup assistant: Andy Trieu; production leadman: Zack Gonchor; set decorator: Alana Shea; tailor: Elma Click at Susie's Custom Designs, Inc.; location: Universal Studios Backlot.