'Rosebushpruning': Everything We Know About The Kristen Stewart and Elle Fanning Film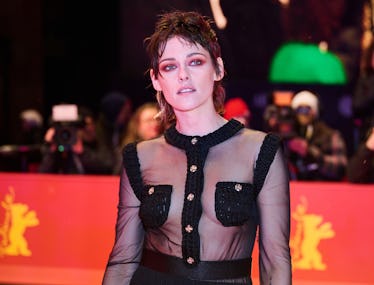 picture alliance/picture alliance/Getty Images
Kristen Stewart, Josh O'Connor, and Elle Fanning are set to star in an upcoming psychological drama, Rosebushpruning. Though not much is currently known about the film, it is set to be directed by Karim Aïnouz and will follow a script by Greek screenwriter Efthimis Filippou. The Brazilian director, whose film Firebrand starring Jude Law and Alicia Vikander made waves at this year's Cannes Film Festival, is known for his dramatic features and artisanal style. The film marks the first time that Stewart, O'Connor, and Fanning have appeared in a project together—though they all have been in major productions of late with roles in Spencer, The Crown, and The Great, respectively. Here's everything we know about Rosebushpruning so far.
What is Rosebushpruning about?
Filippou's script will draw on elements from the 1965 Italian film Fists in the Pocket by director Marco Bellocchio. Though little is known about the plot of Rosebushpruning, its Italian inspiration follows an epileptic man who plots the murder of his dysfunctional family—so we're expecting it to be dark, dramatic, and intense.
"Marco Bellocchio's astonishing debut, Fists in the Pocket, was released over 50 years ago and had a huge impact on Italian cinema and storytelling at the time," Aïnouz explained. "I'm excited to be collaborating with Efthimis Filippou to revisit this iconic work to create a contemporary parable about the death of the traditional patriarchal family—which I hope will be touching and provocative in equal measure."
The original was met with some controversy upon release, but is now considered a landmark in Italian cinema. At 83, Bellocchio is still active today. His latest film, Kidnapped, premiered just yesterday at Cannes.
Who is in the cast of Rosebushpruning?
As of now, the only confirmed names in the film are Stewart, O'Connor, and Fanning.
When will Rosebushprunning be released?
Rosebushpruning begins production in the Spring of 2024 and does not currently have a release date.