Margot Robbie Dials Up the Chaos
Interview by Lynn Hirschberg
Photographs by Jamie Hawkesworth
---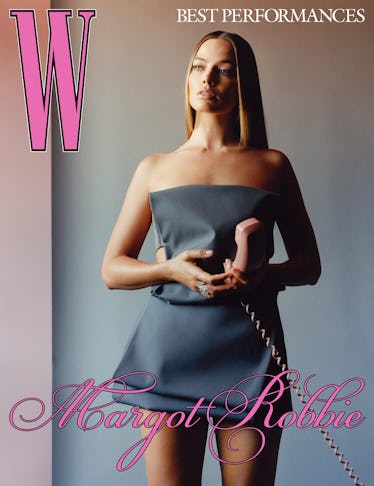 Robbie wears a Prada dress; Pasquale Bruni ring.
Star power, that hard-to-define magic possessed by a handful of humans, is something Margot Robbie has in abundance. In Babylon, she channels every ounce of it in her portrayal of Nellie LaRoy, a silent-film actor at the center of a messy, decadent era in Hollywood. Here, Robbie talks about how connected she felt with the role—and how disconnected she feels from her astrological sign.
How did Babylon come into your life?
When I got the script for Babylon, I felt I had to do it. I've never felt that way about a script. I was frantic—at one point, I suggested showing up at the director's house. When we eventually met, I said, "I have to play this character—she's mine."
Did you know a lot about the Hollywood silent-film era that's portrayed in the film?
I hadn't watched too many silent films. The Charlie Chaplin stuff, sure—I'd seen clips. But silent films are incredible. And Damien [Chazelle, the writer and director] is the biggest advocate for the silent era because he's such a cinephile. He's watched everything and can tell you the great ones to watch. The first Best Picture winner for the Oscars in 1927 was a film called Wings. Clara Bow is in it. And it is a masterpiece. Like, it is better than 90 percent of the movies I've ever seen in my life.
Your character, Nellie LaRoy, resembles Clara Bow, the silent-movie star who was quite wild.
Playing a crazy girl isn't difficult for me. [Laughs] Back then, in the 1920s, there was more cocaine in L.A. than there is today. Thirty-year-olds were running the studios, and 20-year-olds were becoming millionaires. There were no rules—it was a completely new industry, and nothing was regulated. They had a lot of fun, a lot of partying. Nellie is at the center of that world. And she doesn't wear a lot of clothing! One of the main costumes I wear in the film is overalls with no bra, no top, nothing—and no one loves dressing up more than me. Anytime I'm having a party, my friends say, "What's the theme? We're all going to have to dress up, aren't we?" Last year, I had a Love Island–themed birthday. Everyone had to dress as a contestant. There were a lot of fake tans, hair extensions, and acrylic nails.
Do you remember your first on-camera kiss?
I can't remember…but in Babylon, Nellie kisses a lot of people. I actually improvised a kiss that wasn't in the script. We were doing a party scene, and Nellie goes up to Brad Pitt's character and Katherine Waterston's character, and I was like, "Fuck it. I'm just gonna kiss them and see what happens." They were a little bit shocked. I don't know if it made it into the movie.
It definitely made the movie. Have you ever been starstruck?
Yeah, of course. I think I hide it well. Even when I've worked with people before, I'm still, like, "Oh, wow. That's Brad Pitt. That's amazing."
Have you ever, like Nellie, crashed a party?
Oh, I've crashed heaps of parties. I crashed a wedding once, just to see how that would be. I had a great time.
What's your astrological sign?
I'm a Cancer. But I don't really identify as a Cancer, to be honest with you. Everything I've ever heard about Cancers doesn't sound like me: that they're very sensitive, wear their emotions on their sleeve, and are real homebodies. I hate being at home, I'm not particularly sensitive, and I don't really wear my emotions on my sleeve. And I've checked and double-checked my rising signs and all that kind of stuff, and it's all Cancer. I think I'm, like, triple Cancer. I even checked with my mum that she didn't get my birth date wrong, which she was very offended by. I think I'm more of a Gemini, maybe.
Hair by Bryce Scarlett for Dyson at the Wall Group; makeup by Pati Dubroff for Chanel at Forward Artists. Senior style editor Allia Alliata di Montereale; senior fashion market editor Jenna Wojciechowski.
Produced by Connect the Dots; executive producer: Wes Olson; producer: Zack Higginbottom; production manager: Nicole Morra; photo assistants: Cecilia Byrne, Jack Buster, David Gurzhiev; retouching: Simon Thistle; fashion assistants: Julia McClatchy, Tori López, Jacqueline Chen, India Reed, Nycole Sariol, Derek Ezra Brown, Karla Garcia, Rosa Schorr; production assistants: Khari Cousins, Tchad Cousins, Kelsey Swope Romero, Mateo Calvo, Juan Calvo, Rayon Pollard, Gina York, Peter Ditzler, Nico Robledo; hair assistants: John Allan, Dylan Michael, Ramdasha Bikceem, Malika Palmer; makeup assistants: Kate O'Reilly, Lilly Pollan, Bailee Wolfson; manicure assistants: Pilar Lafargue and Victoria Valenzuela, Jolene Brodeur; set assistants: Cory Bailey, Dirk Knibbe, Joel Garcia, Matt Day; tailors: Irina Tshartaryan, Ripsime Vartanyan at Susie's Custom Designs, Inc.