Tom Hanks and Robin Wright Are Embracing Deep Fake Technology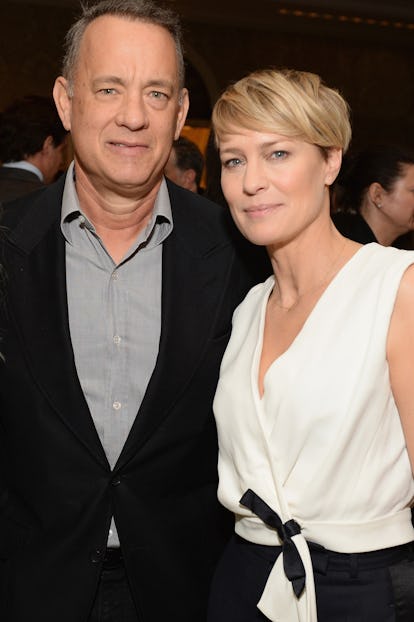 Michael Kovac/Getty Images for AFI
Forrest Gump fans rejoice. Almost thirty years after they played Forrest and Jenny in the Oscar-winning film, Tom Hanks and Robin Wright are reuniting with the film's director, Robert Zemeckis, for his new project, Here. And, as an added bonus, the actors will be "de-aged" using AI-technology, so it might just feel like you're watching Gump all over again.
Based off Richard McGuire's graphic novel of the same name, Here tells the story of a room corner in New England, and what transpires there over hundreds of thousands of years. The New York Times called the story "a lovely evocation of the spirit of place, a family drama under the gaze of eternity and a ghost story in which all of us are enlisted to haunt and be haunted in turn."
According to Variety, the film will use "hyperrealistic technology, including AI-generated face replacements and de-aging," to tell this multi-generational story. This technology comes from a partnership between the technology firm Metaphysic and Hollywood agency CAA. Here—which will also star Paul Bettany and Kelly Reilly—will be the first project to take advantage of this partnership, which was created in the hopes of being used in various film, television, and entertainment projects in the future.
"I've always been attracted to technology that helps me to tell a story," Zemeckis said in a statement. "With Here, the film simply wouldn't work without our actors seamlessly transforming into younger versions of themselves. Metaphysic's AI tools do exactly that, in ways that were previously impossible. Having tested every flavor of face replacement and de-aging technology available today, Metaphysic are clearly the global leaders in feature-quality AI content and the perfect choice for this incredibly challenging, emotional film."
Metaphysics is largely known for their @DeepTomCruise accounts across social media platforms, which feature a very realistic version of the actor participating in out-of-character situations like performing viral dances and DJing with Diplo. The company caught the eye of CAA last September after they placed a deepfake Elvis Presley on America's Got Talent.
Of course, Hanks and Zemeckis are used to playing around with technology after working on The Polar Express together, where Hanks had to wear a motion capture suit in order to portray multiple character in the first-ever all-digital capture film. While the movie was successful, many maligned it for looking too much like a video game. Luckily, technology has come a long way since 2004, and likely Here will benefit from that. We still have a bit of time before we see if this tech gamble pays off. As of now, the film is set for a 2024 release.