The Coolest New Jewelry is Colorful, Cheerful and a Little Bit '90s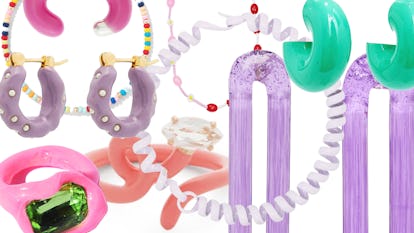 Collage by Tilden Bissell for W Magazine.
Is it just me, or does a lot of new jewelry take you back to the dELiA*s days? You know, back in the late 1990s, when you snuck a bead box into school and made friendship bracelets for your girls. Maybe I'm experiencing a wave of millennial nostalgia, but when I saw Bottega Veneta selling earrings reminiscent of the flower beads I made at summer camp, I knew there was something going on. As funny as it is to observe the cyclical nature of fashion, I have to say that this lighthearted new direction makes me smile. Typically I stick to a jewelry uniform of minimalist pieces in silver or gold, but lately I've been wanting to shake things up with a big flower pendant from Brooke Callahan, or an artfully chaotic (in the best possible way) ring from Blobb. Don't we all need a little happiness and nostalgia right now? Get yours with some of my favorite picks below.