The Black Trans Lives Matter Rally in Brooklyn Drew Thousands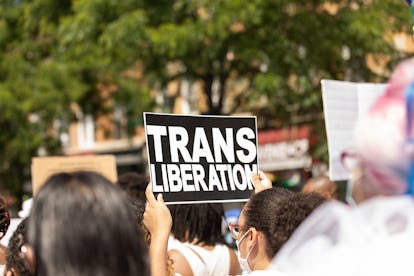 Scenes from Brooklyn Liberation: An Action for Black Trans Lives, on Sunday, June 14th, 2020 in Brooklyn, New York City. All subjects consented to having their photo taken and published, with clearance from the New York City Anti-Violence Project. Photograph by Serichai Traipoom for W magazine.
On Sunday afternoon in the Prospect Heights neighborhood of Brooklyn, New York, waves of people walked and biked up the main thoroughfares of Flatbush Avenue and Eastern Parkway, most of them wearing white, carrying signs that read, "Black Trans Lives Matter." They were on their way to Brooklyn Liberation: An Action for Black Trans Lives, one of many rallies held this weekend nationwide. In cities like Los Angeles, Boston, and Chicago, tens of thousands of protestors gathered in the streets (in L.A., an estimated 25,000 people participated) after two trans women, 27-year-old Dominique "Rem'Mie" Fells and Riah Milton, 25, were killed last week. Since January 2020, 14 trans and gender-nonconforming people have been reported murdered—including Tony McDade, who was shot by a police officer in Tallahassee in May; and Nina Pop, a transgender woman who was fatally stabbed in Missouri that same month. The rally and subsequent silent march on June 14 took place amid protests that have proliferated around the world since the killing of George Floyd—and also happened to mark the middle of Pride month. Attendees were encouraged to wear white as a nod to the NAACP's Silent Protest Parade in 1917, which was one of the first public marches by Black Americans demanding civil rights. In Brooklyn, the founder and executive director of GLITS Inc., a grassroots organization supporting LGBTQIA+ folks on a global level, Cayenne Doroshow spoke at the rally; as did Raquel Willis, the sister of Layleen Xtravaganza Cubilette-Polanco, a trans woman who died last year at Rikers Island jail. Standing in front of the crowd, which extended through two-lane streets and multiple blocks, Willis chanted, "I believe in black trans power." Photographer Serichai Traipoom was on the ground for the rally—see the moving moments he captured, below.