Riccardo Tisci's Vision For Burberry Redefines "British" Style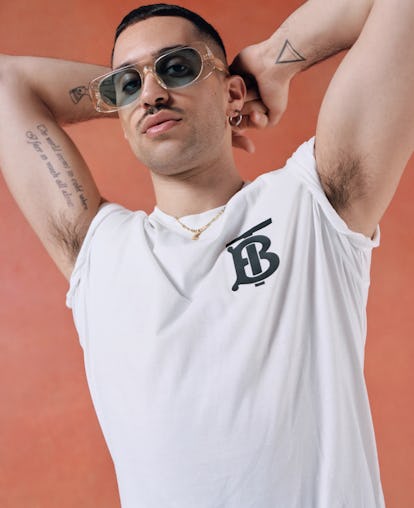 It's a good thing heads of state aren't the only ones who represent nations, and that music and fashion are powerful tools that can help shape national identities. When Riccardo Tisci took his post as creative director of Burberry, in 2018, two years after a hotly contested vote in which the United Kingdom chose to separate from the European Union, the Italian designer assumed responsibility for quite possibly the most iconic symbol of Britishness aside from the Queen herself. Today, the U.K.—like the U.S.—is mired in a righteous debate over what it means to be a citizen. Tisci, in his own way, has made an important contribution to that conversation.
Anyone who has followed his career—the die-hards remember him from Ruffo Research, the early-aughts design incubator, though most of us got to know him when he was appointed creative director of Givenchy, in 2005—knows that it would have been out of the question for him to take Burberry back into the traditional old-Englishness from whence it first came. Instead, Tisci, who was a teenage goth and was raised with eight sisters, has invested his creative energy into claiming new social and stylistic territory for Burberry. He works the house's legacy codes adeptly, rehashing the trenchcoat six ways from Sunday, and shooting up tartans with unexpected colors and scales. A talented tailor, he's infused Burberry's considerable tranche of business clothes with edge and sensuality, and brought new urgency to his unique brand of elevated, funked-up streetwear.
Tisci has figured out how to bring Burberry to where people actually are, while simultaneously providing something for them to wear when they get to where they want to be. He is a designer who is invigorated by in-between spaces—whether in gender identities, ethnicities, or walks of life. When we asked him to assemble a dream team of musicians and muses who represent the spirit of his vision for Burberry, we knew the result would be anything but timid. Almost all of the talent you see here comes from an immigrant background. Only a handful are even officially British, in the old-school sense of the word. If nations are ideas more than they are passports and borders, Tisci's Burberry Britain is a place that celebrates exuberance, power, diversity, and fierceness above all.