120 of Sol LeWitt's Photographs Decorate Downtown New York for Special Exhibition
Sol LeWitt's late-seventies snapshots of the loopy Dr. E graffiti, Hebrew-and Chinese-letter signage, and slapped-on anti-nuclear power posters that once embellished New York's Lower East Side were dragged through a few decades and a...
---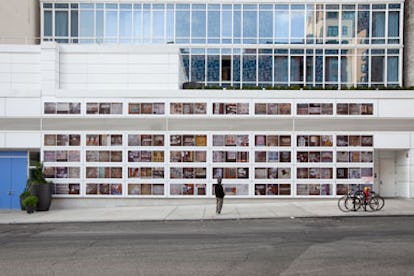 The project, called On the Walls of the Lower East Side—the images were pulled from LeWitt's photographic essay of the same name—was put together by curator Adam Shopkorn, Morgans Hotel Group, and Paula Cooper Gallery. Though best known for his wall drawings and "structures," LeWitt also took photographs throughout his career, oftentimes turning his lens on the bedecked brick and mortar of his own neighborhood walls (he lived and worked at 117 Hester Street).
Shopkorn was sold on hosting an exhibition on the pristine stretch of Lafayette Street between Grand and Howard, right next to the back entrance of the luxury lodging. He explained, "I started working with Morgans and they showed me this white wall in the middle of Chinatown, Little Italy, and the Lower East side, and I asked them, 'Well, has anyone bombed or vandalized the wall?' and they said, 'What do you mean? No.' And I was like, 'No one's written Die Yuppie Scum or F*ck You, Morgans?' and they said no. So I said, 'Well, I think we should do this.'"
Earlier this week, Duggal Visual Solutions billboards mounted 120 of LeWitt's photos, all taken in 1979, for Shopkorn and co., building a 20-feet-high by 60-feet-wide blur of Bridget loves Bernie, Lisa's Social Club, Free Meals All Summer Long, a sidewalk memorial for Roberto Clemente, GIRDLES CORSETS BRASSIERES, Sol Stein Jeweler, Spanish Rebels, and a stencil of Robert Indiana's Love. "It blends in perfectly with the neighborhood," Shopkorn said, observing passersby outside the hotel on Monday. "People don't just stop and stare and gawk. It's not some in-your-face public installation…people are just walking by as if it's been here forever."
Watch: A time lapse video of the installation
This marks the first time On the Walls of the Lower East Side will be shown in the city and perhaps worldwide, save for what might have counted as an exhibit of LeWiit's snapshots ten or fifteen years ago somewhere in Spain, according to Shopkorn. After celebrating with a reception at Mister H tonight, he hopes to keep up The Walls for the next year or so, remarking, "I always get scared that New York is getting too nice and too suburbanized…so I kind of wanted to do something that took you back to an earlier time." LeWitt would've been happy to help.
Click here to see photos from the opening.
Photos: ©Estate of Sol LeWitt / ARS. Courtesy Paula Cooper Gallery, New York