FIVE MINUTES WITH ADAM GREEN
"I definitely don't want to think of myself as being an authentic rock star—I feel more like a video game character," says singer Adam Green. "I just think of myself as someone who's doing...
---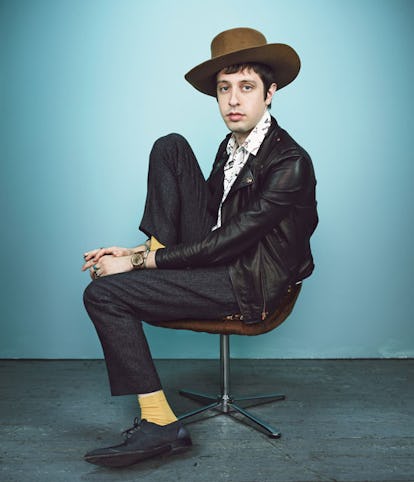 "I definitely don't want to think of myself as being an authentic rock star—I feel more like a video game character," says singer Adam Green. "I just think of myself as someone who's doing creative projects, and one of them is being a musician." While the former Moldy Peach has recently broadened his creative horizons — painting Houseface, a series of Mondrian-esque architectural cartoon abstractions for his first show at The Hole; directing his first feature film, The Wrong Ferrari: A Screwball Tragedy, starring Macaulay Culkin— Green is still every bit the rock star when he wants to be, as Dima Dubson's forthcoming documentary How to Act Bad demonstrates.
Dubson spent two years following Green as he goes on a groupie- and drug-fueled European tour in support of his Minor Love album. On camera, he reconciles a divorce that prompted reporters to question whether he was schizophrenic ("I'm not schizophrenic—I'm just Jewish," Green says), embarks on his art career, attempts to make his film, and catalogues his drug use while snorting and smoking various substances (and performing mile-high-club activities) with his girlfriends the Shining Twins and committing another lover to Bellevue.
Though the chronically oversharing Green worries to the camera that Dubson is only capturing his "uncharismatic" moments, his wry humor through the awkward moments is at least as compelling as his quirky music. We caught up with the singer, who overshared some more about his new spate of art, film, and musical projects.
You seem to worry sometimes about the person you're portraying in this film. Were you amplifying certain aspects of your personality for the camera? It's definitely me during that time—and at that time, I was in certain towns to do this fucked-up rock performance. Now I'm doing architectural design with cartoon production, and next year I'm going to be Aladdin. But I was trying to do the performance really passionately as a singer and I think it's cool that on that tour I was able to be very sexual. At this moment, I'm just not on tour—I'm not living some crazy promiscuous lifestyle; I'm not being a flirt. Right now I'm just working on some paintings.
You reassembled the set from The Wrong Ferrari for the Houseface show at The Hole. How did that piece—and the rest of the work in the show—happen? The Wrong Ferrari was really my first attempt to fully actualize a visual aesthetic, and it inspired me to do a lot of visual art. We built the set in a corner of a room in Macaulay Culkin's house, and he kept it up for a year. We had the instinct to know it was a good installation, so we numbered it and packed it up it so we could do it somewhere else. Then I showed the set at the Jamboree at The Old School [in SoHo] about seven weeks ago, and that's when Kathy [Grayson, the owner of The Hole] came in, saw the set and offered me the show. I had some other characters that I had been drawing, so I took Big Bird, Garfield, and Elmo and reduced them into these formal cubic cells, and then I rearranged them into architectural design.
Do you think you'll do more set design for your shows now? I did a little bit on the Gemstones tour—I designed the backdrop and some musical notes—but I think it would be more fun now to do it with a more developed idea. I'm also going be Alladin—it's going to be a movie and an album, and I've been writing a script on index cards—I write down lines I think would be good for a particular character, then I lay out the cards on the floor and see how they connect. Aladdin is a really interesting idea because it's this capitalist fairy tale about unlimited material wealth and having a genie. I want the genie to be Benicio del Toro, even though I don't know the chap. It just seems like a cool motif, and I really want to have a genie—like an older brother type of situation. And when I go on tour for the soundtrack I'll make all the sets look like Aladdin.
Aren't you working on another album as well? I have a new duets album with Binki Shapiro from Little Joy that's coming out in January. I started recording that album right after I finished filming the documentary. It's a really interesting album—it's sort of a breakup record. We both were breaking up with people, and it's interesting because it's two people singing but they're both alone. It's got this existential vibe, but I'm really proud of the lyrics. It's a very pretty album. We're going to go on tour, but I want to be Aladdin after that. So I'll be Aladdin next time I come to your town.
Portait: Emma Summerton