After Trump, a Question: To Canada, or not to Canada?
Once glib comments about moving to Canada in the wake of a Trump victory have become all too real. Some are still laughing it off — but for others, it's a time to stand their ground.
---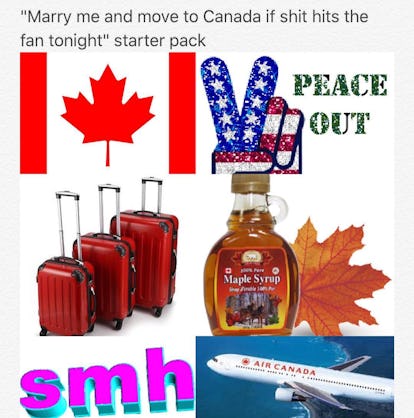 @chloewise_
Artist and noted carb-lover Chloe Wise is Canadian, born in Montreal and now based in New York. When the returns coming in from Tuesday's presidential election took a turn for the worst, and Donald Trump looked like he was going to clinch the presidency, she posted an Instagram, partly in jest, that drove home what various celebrities — and probably also your neighbors — have been saying for weeks: If Trump wins, we're moving to [insert country here]. "'Marry me and move to Canada if s–t hits the fan tonight' starter pack," the post read, depicting maple syrup, an Air Canada plane, and the Canadian maple-leaf flag. "U know I got them passports," Wise captioned it.
But in the aftermath of Trump's actual victory, celebrities have been forced to confront what was once a thoughtless joke, as commentators on social media have pointed out that being able to flee the country is an indicator of privilege not afforded to many Americans now facing possible deportation or who simply don't have the means to escape. (The Canadian immigrations site reportedly crashed repeatedly on Wednesday morning as Americans began to look hard at their options.) Plus, it's not like Canadians have had an easy week: Just two days after Trump Actress and comedian Amy Schumer and her pal Lena Dunham, Public School and DKNY designer Dao-Yi Chow, Wise, and rapper Snoop Dogg have all weighed in on the question: to Canada, or not to Canada?
Snoop Dogg
The rapper and noted Martha Stewart cooking partner called on noted Canadian Drake to help him with the relocation process. Champagne Papi declined to weigh in. (Anyways, where would that leave Martha and Snoop's Potluck Dinner?)
Lena Dunham
Back when Trump still looked like a long shot, actress and activist Lena Dunham said she'd be heading to Vancouver if he won. She was a staunch Hillary Clinton supporter and hit the campaign trail for the former Secretary of State; she's written at length about her emotions in the aftermath of Clinton's defeat. But she's staying: In an Instagram Friday morning, she wrote, "For those demanding I move to Canada based on something I said when this man seemed like a steak salesman with a long shot at the presidency: stay busy reveling in your new regime."
Chloe Wise
The Canadian-born, New York-based artist input her own location for this choice post: "Trump is Basically Hitler Though."
Amy Schumer
Schumer once promised to move in the event of a Trump victory, though in the wake of his win she took to Instagram to decry the idea of relocating. "Anyone saying pack your bags is just as disgusting as anyone who voted for this racist homophobic openly disrespectful woman abuser," she wrote.
Dao-Yi Chow
"Instead of retracting and moving overseas, that wouldn't be very New York of me," the Public School and DKNY designer wrote, "I promise to get out there and help prepare my children and other children to see the world for what it is."
Grimes
Meanwhile, Canadian musician Grimes has continued to be vocal about the election and the impact Trump's victory is sure to have on trans individuals in particular. In the midst of all of it, she provided some much-needed puppy inspiration in the form of her new pitbull. "thank u to those protesting and protecting freedom tonite," she wrote.