Alex Prager's Crowd Control
The artist captures the sensations of living alone in her new exhibit
---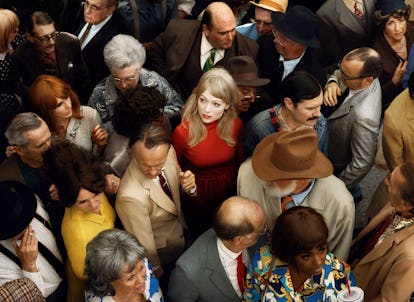 Alex Prager has long been fascinated with the psychology of crowds. So when the Corcoran Gallery of Art in Washington, D.C., asked Prager, 34, to shoot new work for her first solo museum exhibition in the U.S., which runs November 23 through March 9, 2014, the photographer decided to tackle the subject head-on. "Face in the Crowd," as the show is aptly titled, is built around 10 large-format prints of scenarios created in the studio (among them, a beach, a crosswalk, and an airport terminal), some populated with as many as 300 extras.
It will also highlight Prager's earlier film and video explorations and include a new short, starring Elizabeth Banks as a woman who watches the street from her apartment window before venturing into the noirish action below. "I wanted to take an intimate look at an individual surrounded by a sea of strangers—and how it feels to get lost in that crowd and become anonymous," Prager says.
"Face in the Crowd" is on view through December 9, 2014, at Corcoran Gallery of Art in Washington, D.C. Follow @wmagazine on Instagram for exclusive photographs Alex Prager took while setting up for her show.
Photos: Alex Prager's Crowd Control
Poster for Alex Prager's Face in the Crowd.
Crowd #1 (Stan Douglas), 2012.