Alexander Wang Calls Out Philipp Plein For Copying One of His Shows
Do you see the similarities?
---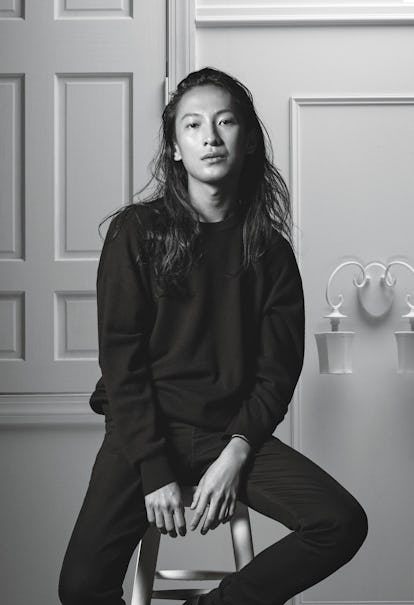 Photographer: Roe Ethridge Stylist: Sarah Richardson
If you follow Alexander Wang on Instagram then you already know that there are few things the designer loves more than a good meme. His latest, however, doesn't seem like one to laugh at.
In a post uploaded on February 14, Wang suggested designer Philipp Plein, who staged a high-profile and celebrity infested show earlier this week in New York, might have copied one of Wang's own past productions. Then, Wang appended the note with side-by-side comparison.
"'Can I copy your homework?'" reads the caption, which consists of an imaginary conversation. "'Yeah just change it up a bit so it doesn't look obvious you copied.'" The last line reads, "'Ok.'" Finished off with a thinking emoji, the Instagram post combines clips of the Alexander Wang x H&M fashion show that debuted in 2014, where the designer transformed the Armory at Hudson in Manhattan's West Harlem into a race track, and footage of the Plein Sport show which was unveiled last month during Milan Fashion Week Men's.
Clothing aside, the similarities between both sets are enough to give pause.
Plein Sport, for instance, opted for a linear design on their runway, only instead of aiming for a race track, the designer created a running track complete with white-bordered running lanes and numbers marking each one. Like Wang, Plein also hired performers for the show. Both designers tapped acrobats to jump around a box-strewn set in all-black creations. The performers even held the same pose: a handstand on top of one of the boxes.
Watching the two shows simultaneously, it's hard not to pick up on the similar accessories as well. At Wang's H&M collaboration debut, models wore goth takes on harnesses and sporty headgear as well as boxing gloves draped around a model's neck. There are versions of these items in Plein's show as well.
Then, there's the way both designers closed their respective shows, by jogging on the track after their models retired backstage.
Plein has been accused of plagiarism before: In 2015, the designer showed a fur stole emblazoned with the word "warrior" in a font and style similar to one by VFiles alum Hyein Seo, which she sent on the runway a year earlier.
Was Wang being playful? He is known to be a master at spilling the proverbial tea. Or was his accusation intended to be cheeky? For now, there's only his Instagram to go by. Plein hasn't taken to his own platform (nearly 500,000 followers to Wang's 2.9 million) to respond to his design peer.
Philipp Plein Fall 2017: Madonna, Kylie Jenner and The "Hot Felon" Help To Make NYFW "Great" Again
Madonna showed up in one of the coats that would later make its official debut on the runway at the Philipp Plein fashion show.

Photo by Mark Peterson
"The Hot Felon" model Jeremy Meeks wore a shirt on the runway, but didn't feel the need to be encumbered backstage.

Photo by Mark Peterson
Philipp Plein, a man whose fashion shows are all about optics, gives interviews at his New York Fashion Week debut.

Photo by Mark Peterson
Coco Rocha, decked out in some serious chains, attend the Philipp Plein show held at the New York Public Library.

Photo by Mark Peterson
Carine Roitfeld, Tyga, Kylie Jenner and Madonna sat front at Philipp Plein's first runway show during New York Fashion Week.

Photo by Mark Peterson
Philipp Plein addressed models backstage before his grand debut at New York Fashion Week on Monday night at the New York Public Library.

Photo by Mark Peterson
Nicky Hilton Rothschild, Paris Hilton and Olivia Culpo take time for a selfie before the Philipp Plein fashion show during New York Fashion Week.

Photo by Mark Peterson
The accessory of the night was Philipp Plein-branded underwear as this model shows off backstage before the designer's New York City debut.

Photo by Mark Peterson
A model shows off some serious gold chain nail art at the Philipp Plein show during New York Fashion Week.

Photo by Mark Peterson
Coco Rocha, Nicky Hilton Rothschild, Paris Hilton and Olivia Culpo observer some thigh-high boots on the runway at Philipp Plein's first NYFW show.

Photo by Mark Peterson
Jeremy "Hot Felon" Meeks was the focus of attention backstage at the Philipp Plein show held at the New York Public Library.

Photo by Mark Peterson
Tyga, Kylie Jenner, Madonna and photographer Steven Klein occupied the best seats in the house at the Philipp Plein show.

Photo by Mark Peterson
A look backstage at the Philipp Plein Fall 2017 show held at the New York Public Library on Monday night,

Photo by Mark Peterson
More of "Hot Felon" Jeremy Meek's Torso backstage at Philipp Plein's Fall 2017 fashion show during New York Fashion Week.

Photo by Mark Peterson
Jeremy Meeks, "the Hot Felon," finally puts on some clothes backstage at Philipp Plein's Fall 2017 fashion show during NYFW.

Photo by Mark Peterson
Models compare and contrast their eye-popping nail art at Philipp Plein's Fall 2017 fashion show at New York Fashion Week.

Photo by Mark Peterson
Guests stare at their phones to pass the time while waiting for Philipp Plein's Fall 2017 show to begin on Monday night.

Photo by Mark Peterson
The celebrity-filled casting board backstage at the Philipp Plein Fall 2017 Show during New York Fashion Week on Monday night.

Photo by Mark Peterson
Jeremy Meeks, the mugshot model, was game to pose for pictures backstage at Philipp Plein's Fall 2017 show on Monday night.

Photo by Mark Peterson
An Elvis Presley impersonator stands on the steps in front of the New York Public Library before Philipp Plein's show during NYFW.

Photo by Mark Peterson
A bit of selfie time backstage at Philipp Plein's first-ever New York City show held at the New York Public Library.

Photo by Mark Peterson
A member of 2 Live Crew performs "Banned In the USA" after the Philipp Plein Fall 2017 show at NYFW on Monday night.

Photo by Mark Peterson
Rapper Remy Ma's Terror Squad necklace in detail at the Philipp Plein Fall 2017 Show during New York Fashion Week.

Photo by Mark Peterson
Models, including Jeremy Meeks, wait backstage before the Philipp Plein Fall 2017 show at the Public Library during New York Fashion Week.

Photo by Mark Peterson
Jeremy Meeks, the "Hot Felon" model, backstage before the Philipp Plein Fall 2017 show during New York Fashion Week on Monday night.

Photo by Mark Peterson
Vladimir Restoin Roitfeld, Eniko Mihalik, Carine Roitfeld, Tyga, Kylie Jenner, Madonna, Steven Klein, and Victor Cruz in the front forw at Philipp Plein's Fall 2017 fashion show.

Photo by Mark Peterson
Fat Joe, Remy Ma, Philipp Plein and wife Andreaa Sasu at the designer's Fall 2017 show during New York Fashion Week,

Photo by Mark Peterson
Sofia Richie gets her hair done backstage before walking in designer Philipp Plein's Fall 2017 runway show during Fashion Week.

Photo by Mark Peterson
Sofia Richie shows off her look at the Philipp Plein Fall 2017 show before hitting the runway during New York Fashion Week.

Photo by Mark Peterson
Model Coco Rocha and designer Philipp Plein catch up at the designer's Fall 2017 show held at the New York Public Library.

Photo by Mark Peterson
Watch W's most popular videos here: