Oh Rio!
Brazilian It girl Alexia Niedzielski shares her travel guide for the South American city.
---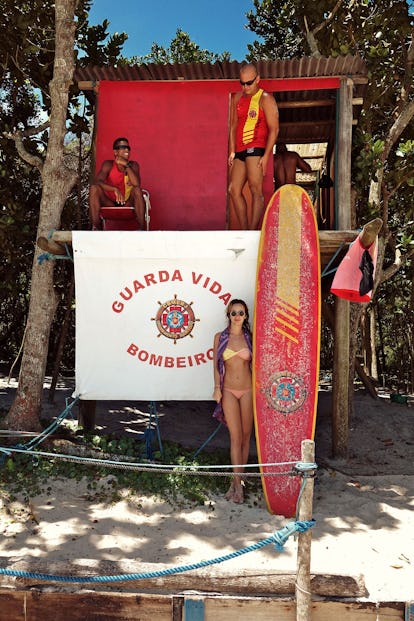 "Rio is part of me, I love this city!" exclaims Brazilian native and System Magazine editor Alexia Niedzielski. The international fashion icon and brand consultant (she has worked with Louis Vuitton, H&M, and most recently Osklen, to name a few) finds herself back in her hometown at least 10 times a year. "I go back whenever I feel the need to escape the intensity of the big European cities," explains Niedzielski, who is based in London. "From hikes, to waterfalls, I find Rio inspiring, and I feel so close to nature." It was Rio's lush natural beauty that inspired her to start her biennial zine, EVER Manifesto with Charlotte Casiraghi and business partner Elizabeth Von Guttman. The project urges local and global brands to become more ethically conscious and responsible about the materials they use as well as their methods of production. Here, Niedzielski shares her Rio memories and musts.
Best Rio memory? The great carnival parade. The first time I went as a butterfly with my friend Charlotte Dellal and the second time Tatiana Santo Domingo, Elisa Sednaoui and Christian Louboutin and I all dressed up as pink flowers and danced and sang along the whole avenue. It incredible to see so much devotion and happiness.
Favorite Beach Bag? The Mochila bag from the Muzungu Sisters.
Outfit for a night out on the town? My long black-and-gold pleated Proenza Schouler skirt, Charlotte Olympia shoes, Fendi By The Way bag and Venyx ring.
Go-to swimsuit? That's a tough one, I have so many! To name a few: The Alexia bikini that Lisa Marie Fernandez designed for me, anything from the Missoni Mare collection, and of course the bikinis and beachwear I designed for Osklen!
What's your perfect Rio day? I would start at Prainha beach—one of my favorites—and from there head to Bira, which is one of the best fish restaurants. It also comes with a great view!
Favorite Store? Osklen was originally a surfer brand, and it's still the best place to get that laidback 'carioca' look. My friend Bianca Brandolini and I are currently designing a beach wear collection which will be available in the brand's New York store in November. We are doing a presentation in Paris at the Brazilian Embassy on 7th July.
Favorite workouts? Hiking the Pedra da Gavea –I love to start my day exercising there. The view of the city is breathtaking and I never get bored of the lush outdoors.
Paragliding in Sao Conrado, which I have been doing a lot lately. Once I even crossed the entire city—flying over two favelas and landing on Ipanema beach.
I have become completely obsessed with paddle surfing. It is very common in Rio and you don't even need to own a board. I rent one for 50 reals an hour on Ipanema or Copacabana beach.
Favorite art spots? Insituto Moreira Salles is a beautiful art foundation located in the Gavea neighborhood. They have a great photo collection.
Favorite Rio-based artist? Getúlio Damado spends his time in Santa Teresa collecting people's garbage and making incredible sculptures out of it.
Most exotic discovery? Ouro preto is a former colonial mining town with the most beautiful chapels that are completely covered in gold!
Favorite weekend trip? Angra dos Reis (translation: King's Cove) is an archipelago located 2 hours away from Rio by car. There are 365 islands in the area, and as of late I have been spending my holidays in Ilha Grande (the big island). I love the lush vegetation on these tropical beaches and the rugged landscapes. This particular island used to have a very famous prison—it is said that is where organized crime first started in Brazil.
Alexia Niedzielski with life guards in Angra dos Reis.
Niedzielski and Charlotte Dellal in their favorite Charlotte Olympia shoes.
Alexia Niedzielski in Angra dos Reis.
Bianca Brandolini preparing an Osklen model.
Niedzielski and Eugenie Niarchos in their favorite Venyx rings.