Not Another Happy Day
Another Happy Day, the directorial debut from 26-year-old wunderkind Sam Levinson, is anything but. The movie centers on Lynn (Ellen Barkin, above), who returns to her fraught childhood home along with two of her sons,...
---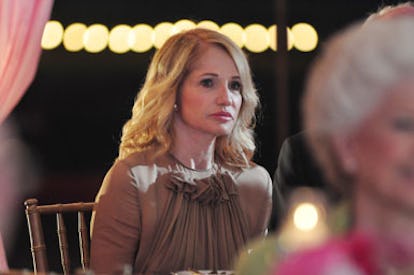 The film, which took home the Sundance Screenwriting Award, could be summed up as a movie about a seriously dysfunctional family; it could easily sound like the hormonal, melodramatic concoction of a 20-something writer. On one level, that would correct: Levinson, son of director Barry Levinson, wrote the script in three weeks at the age of 22. "I had just hit puberty," he said at a recent screening with a laugh. "I was going through a lot." But few parts of Another Happy Day are so easy to summarize. Not because the script is particularly complex, but because of the allowances Levinson gave his actors, helping the characters transform into something much more than the audience–or even Levinson–expected.
While there was no rehearsal for the film, which was produced on a shoestring budget and shot in only 25 days, the cast did put together a table read that set the tone for the rest of the filming schedule. "I don't know what the fuck happened, but it was astounding," said Levinson. "You look at the script for two-and-a-half years and think it will be played one way, but at the table reading, [Ellen Burstyn] immediately latched onto the idea that there was this humorous side to her character, and she took it to this whole other level that I was completely astounded by."
"When I heard her say her first two lines, I thought: 'Holy shit. This is where we're going to go? I better get my fuckin' tap shoes on fast,'" says Barkin.
She wasn't the only actor to exceed expectations. Bosworth delivers a hauntingly fragile performance and Miller's Elliot is easily the most compelling character on screen. Coupled with his upcoming starring role in We Need To Talk About Kevin, costarring Tilda Swinton, he's clearly one to watch.
If the writing was great and the actors were brilliant, the directing was genius. As Barkin said of Levinson at the screening, "Dude, you're a first fucking time director. You've never directed a short, or a music video, or a student film." But his inexperience might have been an asset. While everything was planned–there was even a strict sound script–Levinson managed to avoid the pitfall of most novices in his position: over-directing. "All I'll say is as a writer and a director, I search for the flaws in life, and on screen," he says. "If someone fucks up a line, that's the take I'll use. I want people to fall out of their light. I want life to seep in through film. There's a certain messiness that I cherish. That, I think, makes it feel real."
In a Levinson film, there's no cutting to reaction shots. Rather, the audience gets to choose what to focus on and how they will watch the action unfold–wide shots are used to capture even the most intimate scenes, and actors will talk over each other, forcing the viewer to pick out threads of dialogue. "That was a very specific decision," says Levinson. "It's this idea that people are constantly talking and no one is every listening. It's very painful. To allow that to unfold in the sound of the film and the images was of paramount importance."
The audience is left to sift through it all, piece it together, and to draw their own conclusions–like an outsider meeting the whole family for the first time. "I don't want people to walk out of this film and say 'Oh that was fun, what do you want to eat for lunch?' I want it to be unsettling. I want it to be polarizing. I want people to have differing opinions and strong opinions," says Levinson. "It's not about the film, it's not about what you've just seen. It's about you."