Arlo Parks's Music Captures the Angst and Agony of Growing Up
The 19-year-old singer-songwriter from London distills the afflictions and optimisms that characterize Gen Z youth with unflinching vulnerability.
---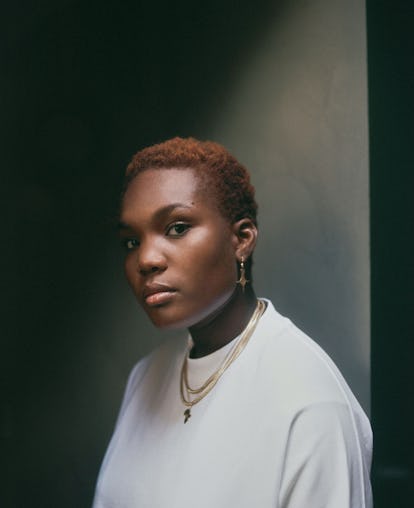 Arlo Parks photographed by Alex Waespi.
"I'm in reflection mode these days, rereading old journals and that sort of thing," says Arlo Parks, the South London-born singer-songwriter. She's speaking via FaceTime from the sun-filled bedroom where she passed her adolescence learning how to spin quotidian moments into earth-shattering odes. "I've spent most of lockdown at my parents', so I'm focused on nostalgia."
At just 19 years old, Parks has captivated music critics (and approximately 1.7 million monthly Spotify listeners) with her ability to render the full spectrum of teenage emotion—from heartache to betrayal and loneliness— in all its raw splendor while simultaneously assuring her listener that it's all part of the ride. Parks' latest single, "Hurt," was released yesterday to rave reviews, a reception that is unsurprising given the artist's steady rise since "Cola," her 2018 breakout track, earned her a spot on the roster at Transgressive Records (home to lo-fi indie outfits like Alvvays and Foals).
In barely two years, Parks has managed to distill the entwined afflictions and optimisms that characterize Gen Z youth: from jaded overmedication to unflinching vulnerability. "I'm blowing bubbles in the faces of thugs, I'm smoking licorice tobacco for lunch," murmurs Parks in her velvety drawl on last year's Sophie EP, "still denying that I'm anxious as fuck."
Born Anaïs Oluwatoyin Estelle Marinho, Parks crafted her pithy musical moniker in the tradition of Frank Ocean and King Krule, two role models whose commitment to illuminating the darkest recesses of the human psyche inspire Parks' R&B-inflected literary-loner sound. "So much of my writing is about quite specific experiences in my life, so when I hear all those people singing my words back to me, I still can't believe it," laughs Parks.
Before the onset of COVID-19, Parks was poised to help shape the zeitgeist of 2020: a young, queer, and outspoken mental health advocate born to Nigerian, French, and Chadian parents; a poet-musician staunchly disinterested in the rigidities of genre. She was slated to perform at South by Southwest and Glastonbury this spring, and then to join Hayley Williams, another of her musical idols, on her U.S. tour. But the world shut down, we went indoors, and Parks' career whirlwind, which involved passing up a place in the English department at University College London, ground to a halt.
It turns out, however, that the artist is just as well-positioned to articulate our mid-COVID present as she was our pre-COVID past, refracting shared feelings of isolation and vulnerability through the prism of the internet to produce spare lyrics layered over bass-heavy, blissed-out beats. Though she was forced to bid farewell to a barely realized fantasy of tour buses and sold-out shows, Arlo Parks is not a pop star who derives her creative momentum from audience worship or social media affirmation. She's spent her days in lockdown reading and drinking tea.
All the same, Parks has adapted to the newly virtual performance space with confidence, releasing two singles and three covers since the start of the pandemic. This May, she dropped the breezy queer anthem "Eugene," a frank account of a friendship-turned-hopeless crush: "You play him records I showed you/ And read him Sylvia Plath/ I thought that was our thing." Next came "Black Dog," a stirring depiction of the invisible havoc wrought by mental illness on victims and their loved ones ("Let's go to the corner store and buy some fruit/ I would do anything to get you out your room"). The song's release drew a flood of YouTube comments from thousands of listeners longing for intimacy in a time of social distance: a quick scroll down the page reveals just how deeply the 19-year-old's lyrics resonate against a backdrop of utter social tumult.
Parks has married her knack—for conjuring an adolescent ache in her listener regardless of age—with a dedicated writing practice. Her songs are actually poems, stitched together from discarded moments (like the end of a party, for example, "when everyone is at their most uninhibited, exhausted and emotional.") and adorned with musical arrangements crafted by Parks and her producer in a London AirBnB. "I make sure to sit down for at least five minutes a day to just capture whatever passes through my mind," she says. For Parks, a perfect song traps a mercurial feeling in words like a bug under glass. "Hurt" charts a young man's journey through the empty rooms of his own mind; in the music video he lies on the floor staring at a fly trapped in an overturned drinking glass and hurls down hallways performing bursts of ecstatic, at times exorcistic, choreography. "I was listening to a lot of Big Thief at the time," Parks says, "that inspired me to really explore the nuances of a character."
Indeed, the simultaneous universality and specificity of Parks' blossoming oeuvre stems from an ability to dwell in contradiction. Her songs are the results of an alchemy that combines shiver-inducing highs with sweet, molasses-coated lows, timeless references with passing observations. Nods to Sylvia Plath and Winston Churchill (who famously likened his depression to a "black dog" that followed him everywhere) mingle with lyrics about dropping acid in a Prius and references to Twin Peaks.
Likewise, Parks envisioned "Hurt," with its defiantly optimistic hook, as a palette cleanser after the weightiness of her previous quarantine releases. "It came from that desire to remind loved ones that no pain is permanent," says Parks with an adamant shake of her head. "I wanted to write a song that offered the possibility for joy. Ultimately, it's a bop."
Lately, Parks has spent her time hard at work on her debut album, and "Hurt" is our first glimpse of the constellation of influences and experiences she's channeling into it. "I think a lot of the album," she murmurs, thumbing through one of her old journals, "is already in here."