At Art Basel, You Can Try On the Vintage Raf Simons and Helmut Lang Collections Only Kanye West and Rihanna Can Borrow From
On Dec. 1, visitors to the MRKT Avenue Deux store can interact with drool-worthy vintage Raf Simons pieces in a special exhibit from the extensive fashion archives of the stylist David Casavant.
---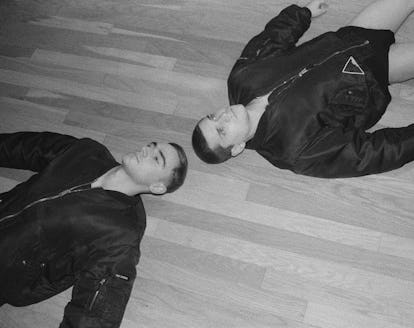 Of all of the polished collectors, dealers, and assorted partygoers who will be descending on Miami for Art Basel next week, the stylist David Casavant is likely one of the only ones who'll be bringing along a sleeping bag. And while he doesn't actually intend to sleep in it, he's willing to share: The varsity letter-adorned sack, circa fall 2002, is just one of the many vintage Raf Simons pieces he's bringing to Florida from the extensive fashion archive he keeps back home in New York. In a collaboration with the new men's store MRKT Avenue Deux in the Miami Design District, they will be free for the public to try on on December 1, when the fair kicks off.
It's not the first time Casavant has let people put on his vintage collection: Rihanna is among the celebrities for whom stylists and editors are frequently arranging loans, along with Travis Scott and Kanye West. In fact, West has even come over to Casavant's downtown Manhattan apartment himself to take his pick. And there's plenty to choose from: the 26-year-old estimates that he now owns thousands of pieces, and quite a few gems. Of the 150 or so making their way to Miami are the many early aughts Raf bombers that are Rihanna, Scott, and West's personal favorites, as well as the denim Helmut Lang jacket West wore in the video for "FourFiveSeconds."
Casavant has been collecting fashion since he was 14, and this celebrity adoration has come, much to his surprise, only in the last couple of years. So if like him you're a fashion nerd, there'll be plenty of fodder, too, like Margiela, Dior Homme by Hedi Slimane, Helmut Lang's strappy takes on bondage, and silky mementoes from Tom Ford's era at Gucci. "I'm not holding back at all," Casavant of his curatorial approach, which is to simply bring the best of the best, including even his most prized possessions, like the denim flag toted down the runway of Simons' fall '99 show that usually hangs in his bedroom. "It's the coolest, most expensive stuff I have."
His worst fear is a rote fashion presentation. A mannequin in a glass case, say, may protect the items in questions, but also dulls their purpose, and their magic. "In a store, you naturally get to try things on, and I want to make sure people feel that way about the clothes — that they're not too precious that you can't touch them," Casavant said. "At the end of the day, this is all about interaction."
Exclusive: What Happens When Ryan McNamara, Hanne Gaby Odiele, and Other Artists Get Hold of a Vintage Helmut Lang and Raf Simons Archive
Heji Shin, Burke Battelle, and Mathieu Malouf.
Stewart Uoo, Sophie Mörner, and Natalie de Segonzac.
Stewart Uoo, Sophie Mörner, and Natalie de Segonzac.
Heji Shin, Burke Battelle, and Mathieu Malouf.
That's also why he produced a print-only, newspaper-sized zine, which will be handed out to visitors for free — a youth culture-friendly medium that's more appropriate than the fashion magazines where his pieces usually end up, styled in glossy editorials or on the backs of cover subjects like Lorde. Here, the clothes are used in and serve as a jumping-off point for original works by a cadre of artists including Ryan McNamara, Jacolby Satterwhite, and Stewart Uoo, who, like Kanye before them, came by Casavant's and perused his dozen-plus racks until inspiration struck. And while the contributors are a Basel-appropriate spread of artists, one fashion figure managed to sneak in there, too: Hanne Gaby Odiele, the Belgian model who's also something of a Raf muse. "She was over one day and she just started drawing," Casavant said.
There are also a few up-and-comers, like the 18-year-old photographer Matao Chamorro, who Casavant found on Instagram. He came by with his crew of teen friends, who pulled the pieces of their liking and photographed their ensuing romp in Vetements and shaggy boots downtown — a "really raw, natural, and young" approach of which Simons would no doubt approve.