Ava DuVernay on Agnes Gund's Gift: "Better Than Any Box Office or Any Review"
In an interview that touches on Queen Sugar, its all-female directors crew, and the box office success of Wonder Woman, DuVernay also talks about how her film 13th inspired Gund's $165 million donation.
---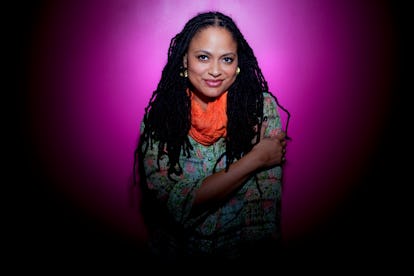 Liz O. Baylen
Though Queen Sugar is the first television series created by Ava DuVernay, it has in its two seasons on Oprah Winfrey's Own Network, where it airs on Wednesday nights, become one of most acclaimed dramas on television. Based on Natalie Bazile's 2014 novel of the same name, Queen Sugar is the multilayered epic of the Bordelon family, a group of three African-American siblings who have inherited their recently deceased father's sugarcane farm in the heart of Louisiana.
When the series returned earlier this summer, with a two-part season premiere, it was its highest-rated episode ever, drawing about 2.3 million viewers, according to Nielsen, who have found in DuVernay's adaptation a visual tone poem disguised as a soap opera, a post-millennial saga of Southern Gothic proportions, powered by Black Girl Magic and Black Lives Matter, among the revenants of the old Jim Crow.
At the heart of the show are three complicated but empathetic leads—Nova Bordelon, by True Blood's Rutina Wesley, is a fiery investigative journalist/activist who has an undercover relationship with a married white detective; Kofi Siriboe's Ralph Angel Bordelon is a hardened if sincere ex-con with an adorable young son; and Dawn-Lyen Gardner's Charley Bordelon West is a calculating businesswoman who means well, but is often swept up by the crosswinds of her hurricane-like ambition.
After the acclaim that followed her 2014 biopic Selma, DuVernay, who was finally nominated for an Academy Award for her Netflix documentary 13th earlier this year, had her pick of projects—there's even talk of a buddy caper with Rihanna, Lupita Nyong'o and Issa Rae—but she chose television for the narrative canvas a series offers.
Shortly after wrapping A Wrinkle In Time, her highly anticipated film based on Madeleine L'Engle's iconic children's novel starring Reese Witherspoon and Chris Pine, DuVernay got on the phone to talk about her insistence on hiring female filmmakers for the second season of Queen Sugar, her admiration for Wonder Woman director Patty Jenkins, and the still powerful real-life influence of 13th on criminal justice reform.
In all of your work, and especially with a powerful drama like Queen Sugar and 13th, the story is the star. Did your work as a publicist, where it's all about the creation of a narrative for a client, also inform this kind of classic filmmaking.
I don't know. I see my life so different as a publicist than my life as a filmmaker. The question provokes thought, in terms of the skill set that one has to have to be an effective publicist. We're telling stories and pitching stories to paint the picture of our clients. Perhaps.
You have done something not only admirable, but something very substantive for the culture, in terms of hiring female directors and writers for Queen Sugar. This is not just art, but it is also a much needed advocacy that allows women to tell their own stories in their own voices. Why was this so important to you, and do you hope this kind of groundbreaking effort will become a paradigmatic shift in Hollywood?
I hope so. This was a very intimate goal to me, to make sure that our show was as robust, full-bodied, and yet as nuanced as possible. And knowing that these really, really talented women could bring a similar sensibility to the work, when I wasn't there. It has become a larger mission—with this second season of all women directors—and seeing how effective the first group of women were in infiltrating a very locked-in structure that is episodic directing. This has now taken on a new life of its own, and it's one we're happy to step into, and my hope is that this continues and grows even stronger.
Each episode of Queen Sugar feels almost like a movie unto itself. Was that your goal in creating the series?
Certainly, aesthetically and visually, we tried to use cinematic principles and bring that into our storytelling as much as possible. We try not to shoot it like a TV show, we try to shoot it like a film. Our founding cinematographer, Antonio Calvache, and I come from the film world, so the visual grammar is like the visual grammar of the big screen, and in that way it may feel like a film every week. Otherwise, we are approaching it from the elongated storytelling that you find in most drama series. But I take it as a compliment that people feel it has a film-like quality.
What do you think of the phenomenal success of Wonder Woman and a female director, Patty Jenkins, driving that film to extraordinary success at the box office.
I love the film. I know Patty a little bit, and she's not only talented but smart, funny, and she has great instincts that she brought to Wonder Woman. Patty has broken down a major door for all of us, and she did it with grace, generosity, and a really humble spirit. I applaud her and I am super proud of her.
How do you feel about the powerful New York philanthropist and arts patron Agnes Gund saying that your doc 13th was a major influence on her decision to create the Art For Justice Fund, which seeks supports criminal justice reform and seeks to reduce mass incarceration in the United States?
Yes, I haven't had an opportunity to speak about this publicly, but it is a stunning and spectacular development. Completely unexpected. It hits me emotionally in a very profound way as an artist, that something that came from my mind and my heart influenced someone to do something so big and so transformative. To have $165 million dollars, to have access to that and give that to a cause so close to my heart, it's a jaw dropping and beautiful blessing. I feel this will touch untold numbers of people and untold numbers of lives, and this will be a major part of Agnes Gund's legacy, that is already quite lovely. For me to be any part of that, and my work to have instigated that, is better than any box office or any review. It really moves me.
Charley Bordelon West, played by Dawn-Lyen Gardner, is one the most intriguing characters I have ever seen on television. She is a conniving and calculating woman, but she is not despicable. How did you come up with such a intriguing character, and will we ever get so meet Charley's mom?
We will definitely meet Charley's mom this season. We have shot those episodes, and they are pretty great. You will get so see who Ernest (the late Bordelon patriarch, played by the magnificent Glynn Turnman in season one) fell in love with, and that backstory, and who made Charley. Charley is unique, and in certain ways, both Charley and Nova are two sides of the same coin. Nova was born completely out of my head—she's not in Natalie Bazile's book—and in the book Charley had a very different demeanor. In the book, she wasn't the top sports manager of an NBA superstar husband. Nova and Charley feel very close to me in certain ways, but Charley was just taken into hyper-drive, with being both calculating and vulnerable. The viewers know that Charley can do pretty much anything she sets her mind to. Some of the best characters on television recently are unlikable characters with a lot of power, be it Breaking Bad or House. Unlikeable characters who you can't help but like. However, we are now seeing character in the form of a black woman with Charley Bordelon West. She's been a lot of fun to develop.
Do you think Queen Sugar, has become more than a television show for your audience? Is it on the verge of becoming a movement?
I don't know if its a movement, but it might be a cult classic. I think the audience is passionate group of people who share a psycho-graphic more than a demographic. It speaks to black people when we make it, squarely, to tell out stories. I definitely think there is a potent brew of social consciousness, family drama, romance, and a sense of place. It's an interesting stew, and I think that's what people are being attracted to, because we've not seen this stew made this way with this kind of people before. Hopefully, we can keep it unique.
Watch: Inside Spider-Man: Homecoming Star Laura Harrier's Brooklyn Hideaway from Peter Parker
Lupita Nyong'o's Best Red Carpet Moments, from 12 Years a Slave to Queen of Katwe
Lupita Nyong'o stole the show in a dramatic vermilion Ralph Lauren cape dress and minimal jewelry at the 2014 Golden GLobes.
Photo by Getty Images.
Following her red carpet hit at the Golden Globes, Nyong'o chose a similarly dramatic take on a simple silhouette for the 2014 Critics' Choice Awards. The combination of her white Calvin Klein Collection dress, Paul Andrew shoes, and Kimberly Macdonald jewelry was simply stunning.
Photo by Getty Images
For the less formal Producers Guild Awards, the 12 Years a Slave ** star looked smart in a beige cutout dress and strappy black sandals by Stella McCartney. She added a bit of texture to the otherwise simple look with a snakeskin-printed Chesneau Heltzel Minaudières clutch and Jamie Wolf jewelry.
Photo by Getty Images
Though nothing could diminish our love for Nyong'o, her outfit of choice for the SAG Awards—a turquoise Gucci dress and matching makeup—was a little too blue for our tastes.

Ethan Miller
Nyong'o's pretty vintage Valentino dress at Entertainment Weekly's SAG Awards Pre-Party demonstrated her masterful style.
Nyong'o looked sweet at the Oscar Nominees Luncheon in a light pink, printed Dior dress and Paul Andrew blue velvet pumps. Mise en Dior blue pearl earrings (the trendiest accessory of the season) and a Judith Leiber clutch polished off the pretty look.
In a glamorous green Dior at the BAFTAs—accessorized with a gold metal belt and cuffs, no less—the star reminded us what Hollywood is all about.
Lupita Nyong'o in Prada at the 2014 Met Gala.
Lupita Nyong'o at the 86th Annual Academy Awards in 2014 wearing Prada.
Lupita Nyong'o at the Oscars in 2015.
Lupita Nyong'o in Gucci at Cannes in 2015.
Lupita Nyong'o at the 2015 Golden Globes.
Lupita Nyong'o in Alessandra Rich in 2015. Photo by Getty Images
Lupita Nyong'o in Dior and Sophia Webster in 2014. Photo by StartraksPhoto.com.
Lupita Nyong'o in Gucci in New York, New York, March 2016.

GC Images
Lupita Nyong'o in Balmain on Late Night with Seth Meyers, March 2016.

NBCU Photo Bank via Getty Images
Lupita Nyong'o in Dolce & Gabbana at Variety's Power of Women lunch in New York, New York, April 2016.

WireImage
Lupita Nyong'o in Calvin Klein at the Metropolitan Museum of Art's Costume Institute Gala for Manus x Machina: Fashion in an Age of Technology in New York, New York, May 2016.

Getty Images
Lupita Nyong'o in Boss at the 70th annual Tony Awards in New York, New York, June 2016.

FilmMagic
Lupita Nyong'o in DPipertwins at the Fem the Future Pre-VMAs Brunch hosted by Janelle Monáe in New York, New York, August 2016.

Getty Images
Lupita Nyong'o in Carolina Herrera at the premiere of Queen of Katwe at the Toronto International Film Festival in Toronto, Canada, September 2016.

Getty Images
Lupita Nyong'o in Mary Katrantzou at the Vanity Fair and Tiffany & Co. dinner in her honor in Toronto, Canada, September 2016.

Getty Images for Vanity Fair
Lupita Nyong'o in Erdem on Jimmy Kimmel Live, September 2016.

ABC via Getty Images
Lupita Nyong'o and David Oyelowo attend a screening of Queen of Katwe on September 25, 2016 in New York City.

Getty Images
Lupita Nyong'o in Kibonen NY promoting Queen of Katwe at Sirius XM Studios in New York, New York, September 2016.

Getty Images
Lupita Nyong'o in Elie Saab at the premiere of Queen of Katwe in Hollywood, California, September 2016.

FilmMagic
Lupita Nyong'o in an Escada coat at The Late Show with Stephen Colbert, September 2016.

GC Images
Lupita Nyong'o in Monse leaving The Late Show with Stephen Colbert, September 2016.

GC Images
Lupita Nyong'o at the 2016 Met Gala.