The New Guard: Azealia Banks
Azealia Banks conquers the music establishment with sheer raw talent.
---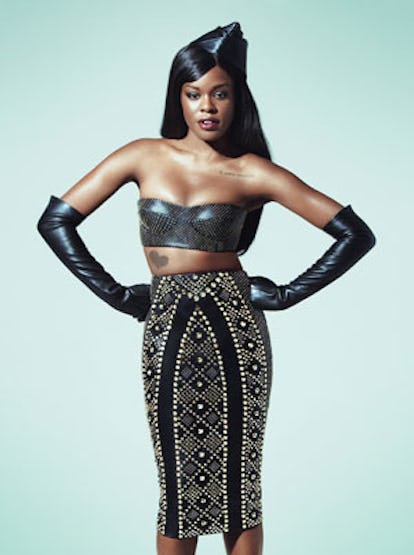 Pop stars—they blow up so quickly these days. Take Azealia Banks, the 21-year-old doe-eyed, dirty-mouthed phenom from Harlem who rose to fame eight months ago when she ­posted the video for her single "212" on YouTube. A jovial hip-hop tour de force in which she spits five emphatic verses while doing the conga in pigtails and a pair of cutoffs, the video made an instant fan out of Gwyneth Paltrow ("Obsessed. Wow," the actress tweeted), earned Banks the top slot on NME's Cool List for 2011, and led to an invitation from Karl Lagerfeld to perform in his Paris apartment. The video also showcased Banks's versatility—when she's not spewing taunts, she's singing with all the depth and prowess of an R&B star, a talent that's even more apparent in her soulful cover of Interpol's "Slow Hands." The buzz culminated in a record deal with Interscope earlier this year, which will bear its first fruits this fall with the release of her album, tentatively titled Broke With Expensive Taste. Had Banks not been prepping for stardom since the age of 10, when she began performing in Off Broadway musicals, such a meteoric rise would be head-spinning.
"It's something I've been asking the universe for for a long time," she says over the phone from Paris, where Kanye West—who called her "the future of music"—had flown her to perform at his fall 2012 fashion show afterparty. Sustaining that trajectory, however, is another matter. Having seen fellow newcomer Lana Del Rey knocked down by the online masses as swiftly as they had built her up, Banks can't help but be wary. "The Internet is a weird, scary place full of people who get bored real quick. You just have to have a thick skin and do what feels right."
For Banks, that entails presenting an honest portrait. While she may have a soft spot for outrageous fashion ("I love Christopher Kane and all his big shiny shit"), she isn't taking the stage dressed like an intergalactic creature, as others are inclined to do. Nor is she assuming different personas in her songs. Her upcoming album, which, she discloses, will have lots of house music, tells of a girl much like herself working hard to make it big. "I'm not here to sell a fantasy," Banks says. "I think that's why people are interested in me. They're like, 'Who's this girl making pop music and wearing a Mickey Mouse sweater?'"
Hair by Jamal Hammadi for Hamadi Organics at Starworksartists.com; Makeup by Lisa Storey at The Wall Group; Manicure by Lisa Jachno for Sephora by OPI at Aim Artists.