Becky G on YouTube, Mala Santa and Achieving the Crossover Dream
Ahead of a performance in celebration of Bulgari's new B.zero1 Rock collection at New York Fashion Week, Gomez sits down with W.
---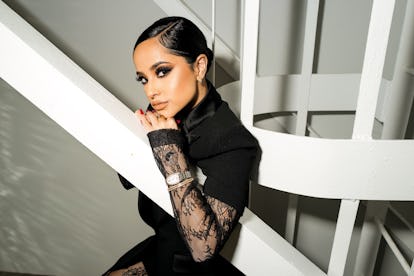 In 2013, then-16-year old Becky G (born Rebecca Marie Gomez), released her first single, "Becky from the Block," a West Coast take on the J. Lo classic. In the video, a preternaturally confident Gomez strolls around her native Inglewood, the camera lingering on famous local sites like the enormous Randy's Donuts sign. "It all started when my grandpa crossed over," she raps. "Now, one day, Im'a be a crossover."
She didn't know it at the time, but the lyrics were prophetic—in 2020, after nearly a decade of successes (2014's massive hit "Shower") and disappointments (album release delays), Gomez, now 22, has become a crossover star. The Mexican-American artist has transitioned from primarily performing in English to singing mostly in Spanish, working with some of the biggest stars in Latin music: Bad Bunny, Maluma, Daddy Yankee, J. Balvin, and Natti Natasha. The shift was both an artistically fulfilling and commercially canny choice—Gomez got her first record deal at 14, but in 2019 she finally released her debut album, Mala Santa (Bad Saint in English), a Spanish language record chock-full of undeniable bangers. It debuted at No. 3 on the Billboard Latin Albums chart.
In an interview on Thursday ahead of a performance in celebration of Bulgari's new B.zero1 Rock collection at New York Fashion Week, her first-ever performance at NYFW, Gomez told W that she was initially nervous to start working in Spanish. "To be honest, it was one of my biggest fears, actually," she said. "I always reference the movie Selena, when her dad says 'You're too Mexican for the Americans and too American for the Mexicans, it's exhausting, you can't be in the middle!' And my whole life I was like, I'm in the middle! I don't know how to explain it, it's like I've lived my life simultaneously in both worlds. And I never really see that represented in the mainstream.
"I was so young, and was being constantly told by one side that, 'Well, you don't necessarily have a place on this side,'" she continued. "But then I realized there's an entire generation that's just like me, that was born and raised here but so proud of the culture that we carry within our blood and the story that came before us. So I thought, maybe it's time to conquer the fear and take that step, take that leap of faith and see what happens. And it was the best decision I ever made because I kind of discovered who I am as an artist, that voice that I was always seeking to find. I really found it in a place that I did not expect to. And I was welcomed with open arms, which I didn't expect, either." She said that she was happy to make her grandparents proud, and that working in Spanish led her to find "the voice that I was always seeking to find."
Gomez, friendly and pint-sized with a trendy angular bob and broom-like lashes, has been performing for her entire life. She grew up surrounded by a big family in LA (nineteen grandchildren on her mother's side, fifteen on her father's), and was constantly performing at family weddings and parties: dancing on tables, putting on talent shows in the living room. "I always had such a love for making people laugh, and entertaining them," she said. She started putting videos on YouTube at just 11, posting original raps and covers of hit songs, and quickly amassed a large following.
She was discovered on YouTube, and has now been in the public eye for half her life (she said she couldn't watch her oldest videos for years, until her boyfriend, Los Angeles Galaxy player Sebastian Lletget, found a cute old clip while scrolling Instagram).
"The fact that I've managed to stay in the game and really pivot when thrown curveballs and had doors shut in my face—I've always been like, 'ok, well, that's not gonna stop me, what do I do to keep the ball rolling?'" she said. "And that has given me thicker skin, but hasn't taken away that vulnerability I've always had. I like to be transparent with my audience. My generation and generations to come—we're so smart, we can tell when something's manufactured, we can tell when something's not authentic. And I think I've gotten to where I am because I've always just been very real."
As most female former child stars will tell you, growing up famous is not exactly easy. People, especially men, are eager to sexualize young girls, and to punish them for it once they become adults. Gomez, who says that she highly values "women's empowerment" and enthusiastically describes herself as "such a girl's girl," told W that Mala Santa is about that journey, and what it's like to come out of "boxes people try to put you in."
"[The album] is something that really embodies the adventure that I've had, going from young girl to young woman in front of what felt like the entire world," she said. "Obviously growing up in the age of social media, and being discovered off of the internet, and going through trial and error and evolving before everyone's eyes, it's never an easy process."
"Mala Santa represents the good girl who can be bad," she continued. "Just because I'm outspoken and sexy and own my sexuality and go out and have fun doesn't mean I'm not a good woman. I feel like we are very easily put in those boxes, and Mala Santa represents the beauty of being multi-faceted, of being vulnerable while at the same time, being a boss bitch."
Later on Thursday, Bulgari threw a massive, star-studded party at the Duggal Greenhouse event space in Brooklyn–a pregnant Ciara delivered a glorious performance, and America's favorite adult male blonde Diplo closed out the night with a DJ set. There were giant light installations and tasty passed apps (the steak crostinis were a highlight). In celebration of the new collection, jewelry inspired by both an '80s-era Bulgari stud style and the structure of the Roman Colosseum, jewels were displayed on replicas of Italian renaissance-era sculptures.Becky G took the stage a little after ten, clad in a sharp tuxedo jacket over a sheer lace top and pants. She performed a raucous set, a medley of some of her biggest songs: "Mala Santa," "Mayores," "Dollar," "Sin Pijama." "No soy ni mala ni santa," she sang. Neither bad nor holy.