In Beirut's Cultural Center, Up-and-Coming Designers Work to Rebuild
Couturiers George Azzi and Assaad Osta of Azzi and Osta and fine jewelry designer Nada Ghazal take stock of their city, after the August 4 explosion.
---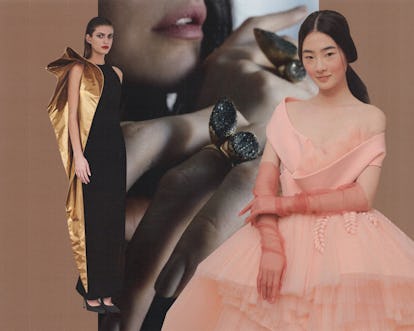 Images courtesy of Azzi and Osta and Nada Ghazal Jewelry. Collage by Maridelis Morales Rosado.
The evening of August 4 in Beirut, Lebanon, the jewelry designer Nada Ghazal was inside her workshop, which doubles as her office, located just opposite the city's port. Ghazal, who has spent her whole life in the city, had experienced the Lebanese Civil War from 1975 to 1990. She'd endured a triple gut-punch since October 2019, when Lebanon suffered a significant economic downturn, followed by a civil uprising and mass protests known as the October Revolution, and then the coronavirus pandemic. But nothing, she says, prepared her for the explosion that occurred on the 4th—a horrific blast that injured around 6,000 people and killed nearly 200, while demolishing much of the city's downtown area and cultural hub—a center for museums, art galleries, and many designers' ateliers.
"It was a big, unexpected bang," Ghazal said one week after the explosion, which occurred because 3,000 tons of ammonium nitrate were illegally stored in Beirut's port. "I had shattered glass all over me, and I thought that our building was bombed."
Lebanon is home to designers like Reem Acra, Elie Saab, Georges Chakra, and many other big-name couturiers known for making fantastical clothes, often with an emphasis on bridal. But a number of up-and-coming creatives in the area—like Ghazal, George Azzi and Assaad Osta of Azzi and Osta, and Rami Kadi—have begun creating red carpet-ready looks for Beyoncé, Jennifer Lopez, Angela Bassett, and many others. And at the heart of this surge in Lebanese fashion was precisely the area of Beirut damaged by the blast.
Ghazal said she was due to open her flagship boutique in Beirut last year, but the location was destroyed during the revolution.
"It's a material loss," she added, acknowledging that she's just glad her husband and two daughters are safe. "People thought that I would leave the country and go and open somewhere else, but I thought, 'No way, I'm going to stay here.'"
Designers Azzi and Osta, who spoke via WhatsApp three weeks after the blast, said they'd left their workshop, located in the same area of Beirut, five minutes prior to the explosion. They'd recently moved into a "really nice, old space," Assaad Osta said—three beautiful Lebanese buildings which constituted their design space and offices. There was a courtyard in the middle, with an enormous olive tree, perfect for lunch breaks or taking calls.
On the fourth of August, some members of their staff were at work in the atelier. Some were injured, and a couple of them needed surgery, Osta noted. The second floor of their workshop collapsed completely, and all three buildings were damaged.
"Everyone's getting better day by day, and thankfully, this is physically, but I think mentally it will take much, much longer to get over this," he said.
"It was a massive blow," Azzi added. "I wouldn't be exaggerating if I say that just a handful of Lebanese designers were spared and everybody else was affected, because everybody is in this region or around it. What Lebanon needs desperately is international support, and for people to keep talking about Lebanon, and for the fashion community to offer opportunities to those designers and brands who have been struggling through the economic crisis, despite being so talented."
It might feel like an unfit time to be hawking luxury goods at a time like this; what is the purpose of a luxury brand, when a country's citizens are struggling to open hospital beds? What good is selling a couture dress or a piece of fine jewelry when people are searching for ways to repair their demolished homes? The answer is that most couturiers have stopped selling inside Lebanon—Ghazal admits she would feel bad trying to promote her products to Beirut citizens and beyond during this time. But the goal is to bring outside business and therefore aid into the country, while the designers work to rebuild their homes, workshops, offices, and stores. This is a moment to rebuild—in both the physical and emotional senses of the word—and to make things work, not to try and bolster sales.
"At no point now would I ever be able to promote or even try to sell in Lebanon. I would feel really bad about it," Ghazal said. "However, I would do my best to promote outside Lebanon because by doing that I'll be able to somehow give back to my own community. I'm not going to shut down. I don't want to let my team down. I just feel a lot of people count on me and my own city counts on me. And I'm not going to give up for anyone."
Ghazal has started to rebuild a new workshop, this time outside of the city. Azzi and Osta, too, have moved into a temporary space where they are working on their couture collection, which was supposed to be released in August, but was delayed due to COVID-19. The two designers have also started to go to the mountainous regions outside of Beirut "to feel inspired, and to feel a little less stressed and sad," Azzi said. The upcoming fall 2020 couture line was being made months ago, and they were able to save much of it after the explosion. Now that those pieces, a large part of the collection, have been salvaged, they have room for creating new clothes—which they will infuse with "a certain message from after August 4th," Azzi added.
Although the city has suffered, the resilience within the people who live there is palpable—both Azzi and Osta, along with Ghazal, expressed desires to pick back up and keep moving forward with their lives, even if their voices shook while they said it.
"It's not just about stones and the walls of buildings falling down," Ghazal said. "It's about restoring the soul of the city."