Bella Hadid, Kendall Jenner and None of Fyre Festival's Other Super Models Appeared to be There to Witness the Debacle
Bella Hadid, Kendall Jenner, Emily Ratajkowski and more appeared to be nowhere near Fyre Festival despite helping to promote it.
---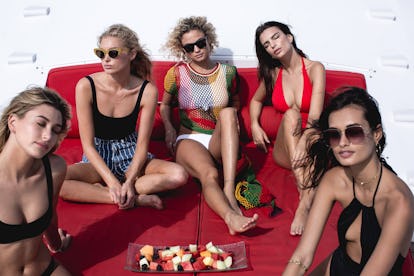 Getting paid to pose for pictures to promote a product is literally a model's job description. Yet, the fact Fyre Festival recruited so many social media-connected models to help promote its doomed event helped explain part of the festival's appeal, and contributed to its value as a storyline in the news media. Of course, it doesn't seem that any of those models actually made an appearance at the cursed festival.
Back in December, Fyre Festival flew a bevvy of models including Bella Hadid, Alessandra Ambrosio, Emily Ratajkowski, Gizele Oliveira, Hailey Baldwin, Paulina Vega, Lais Ribeiro, Rose Bertram, Shanina Shaik, Hannah Ferguson, and Elsa Hosk down to the Bahamas to drum up hype for the festival. Most ended up posting about the event on their Instagram. Kendall Jenner later joined in with the social media promo.
Exclusive: Bella Hadid, Alessandra Ambrosio, and Emily Ratajkowski Take the Bahamas by Storm
Many assumed that meant that the models themselves would actually be there, but as it turns out, most seem to be far, far away from The Lord of the Flies situation that unfurled Thursday down in Great Exuma.
Kendall Jenner is still safely ensconced in the Los Angeles area. On Thursday night she was with family celebrating the 10th anniversary of Keeping Up With The Kardashians.
Bella Hadid, as per her Instagram story, was in New York Thursday evening.
Elsa Hosk seems to be in the midst of a grueling mission involving unfortunate travel incidents of her own, but it appears to be in the name of a photoshoot and not for the festival. "A sprained heel, a 4h car ride from France to Spain, 3 flights and one boat… #GettingToTheJobOnTime wish me luck," she wrote on Instagram. The photo was geotagged well across the Atlantic Ocean at the Barcelona–El Prat Airport.
Emily Ratajkowski was in Vegas Thursday night at Intrigue nightclub.
According to Shanina Shaik's social media, she is in Miami, where the Fyre Festival charter flights were supposed to depart from, but Thursday night night it seems she was getting a workout in and was in town for a photoshoot, and not as a stopover on her way to the fest.
Gizele Oliveira posted this #TBT yesterday, and according to her Instagram story she spent Thursday night in New York binging Girlboss on Netflix and had a hair appointment earlier this afternoon.
Hailey Baldwin seems more concerned with Monday's Met Ball, and as The Sun points out, was last spotted on Instagram stories playing tennis in her underwear.
Lais Ribiero also appeared to be in Miami recently, but it seems to have been for a shoot. Last night she shared an Instagram story snap from Dogpound fitness in New York.
According to Rose Bertram's dog's Instagram, the pair is somewhere that is decidedly not the Bahamas and getting ready for a photoshoot.
Hannah Ferguson meanwhile was busy Instagram story-ing from Italy. No clue as to where exactly Chanel Iman and Alessandra Ambrosio are exactly (both supermodels came to fame pre-social media, so maybe they're not quite as dependent on it as the others), but there's no suggestion that they're anywhere near Fyre Festival.
Though, the models appearing wasn't actually promised by promoters, it is possible that at least some of them might have planned to head there either today or tomorrow after the general population. As it stands though, it doesn't seem like any of them got caught up in the ensuing mess. Well, other than the fact that they took a gig promoting in the place, but, that is their job. No one blames the supermodel in the ad when the strap of their designer bag breaks. Or when they appear in the tone-deaf Pepsi commercial.
Related: Fyre Festival Burns Out: A First-Hand Account of the Music Festival Fiasco that Became #FyreFraud
See What's Trending in W Video: