Bella Hadid Channels a Panther in Burberry's Latest Campaign
In photographs and a video by Inez and Vinoodh, the model shows off the house's newest bag while prowling around a warehouse.
---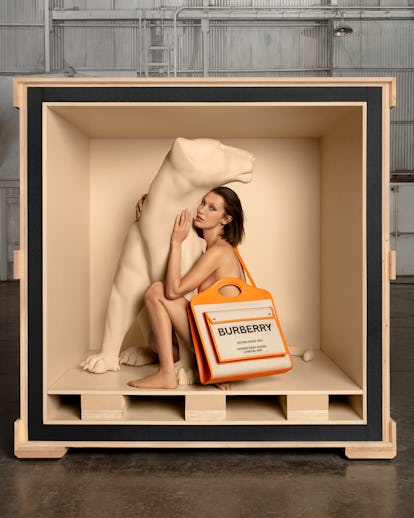 Burberry introduces the Pocket Bag campaign starring Bella Hadid. Courtesy of Burberry, photo by Inez and Vinoodh.
While Burberry might be best known for its signature tartan plaid, there's another design code that has played just as much of a part in the history of the house: the animal kingdom. Founder Thomas Burberry chose a horse for the original logo, and current chief creative officer Riccardo Tisci has been playing around with four-legged friends since he started in 2018. (See: monkey prints on bags, zebra-striped sweaters, dresses inspired by the midnight-black feathering of a raven).
For Burberry's first-ever bag campaign, Tisci turned his sights toward the panther—and to the model who most clearly embodies one, Bella Hadid. In a series of photos and videos, shot earlier this year by Inez & Vinoodh in Los Angeles (right before lockdown measures were put in place,) Hadid appears inside a stylized wooden art crate, channeling the mood and movements of the famously elegant wild cat. In the video, an actual panther prowls around in the warehouse behind her, while in the stills, she embraces a sand-hued statue of one.
Slung over Hadid's shoulder are various iterations of the pocket bag, a new signature piece introduced by Tisci and inspired by an archival item. With a flat profile, exaggerated proportions and sleek ovoid handles, the bag is part portfolio case, part sculpture. Available now, it comes in various sizes (from mini to XL) and materials (printed canvas, embossed leather, and, of course, that famous tartan).
"Animals have always been a creative obsession and signature of mine, and it was so amazing to see Bella Hadid bring this to life as the panther," Tisci said in a written statement this week. "She has this fierce power and raw femininity that perfectly embodies the animal spirit."
"We had so much fun on set, the mood was really sultry and playful. I felt we were really capturing that feline energy and power," Hadid added.
Related: Riccardo Tisci's Vision for Burberry Redefines "British" Style