Billie Lourd Couldn't Be More Impressed by Her Own ASMR Skills
Watch—and listen to—Lourd opening a can of soda, struggling with a bag of Sour Patch Kids, and eating barbecue chips (her favorite flavor).
---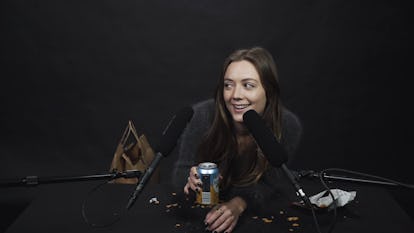 It's rare for a participant in our ASMR series to be this pleased by their skills in front of the high-sensitivity microphone. But Billie Lourd takes the cake in her episode.
Where Awkwafina was self-deprecating, Cardi B was entirely serious and successfully prompted tingles, and Rosalía put her musical spin on her ASMR interview, Lourd couldn't contain her shock and awe at her own prowess. While struggling to rip open a bag of Sour Patch Kids, she oohs and aahs; and when Lourd encounters a jar of mixed nuts, she equates their sound to being on a beach in the Seychelles. "I don't even want to eat these, because it sounds so good," she says. "I don't want to ruin the sanctity."
The actress is featured in the upcoming Disney documentary on Star Wars Episode IX: The Rise of Skywalker, in which Lourd stepped in during a fight scene to portray her late mother, Carrie Fisher.
Watch Lourd open a can of San Pellegrino and eat barbecue Pop Chips (her favorite flavor)—in her eyes, "Now that was soothing."