Genneya Walton Hopes #blackAF Pushes Families to Be More "Open and Honest"
The 20-year-old star of Kenya Barris's latest Netflix creation thinks there's something in #blackAF that everyone can find relatable.
---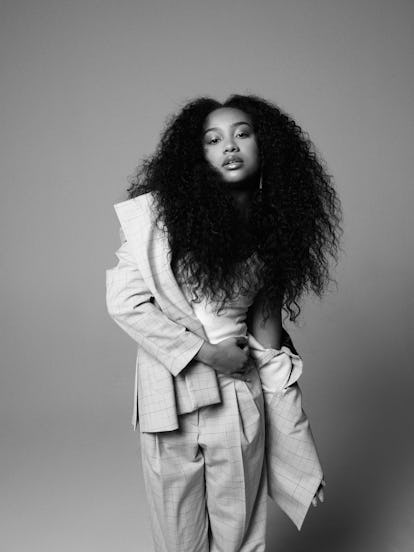 Genneya Walton. Photo courtesy of Ben Cope. Styling by Amanda Lim. Hair by Sophia Porter. Makeup by Leibi Carias.
Netflix's newest family sitcom, #blackAF, is "raw and unfiltered,"according to one of its stars, Genneya Walton.
Told from the point of view of Drea, the second eldest of six children, #blackAF follows the Barris family, based on the real-life family led by series creator Kenya Barris.
Kenya Barris plays Kenya Barris, a semi-fictionalized version of himself, Rashida Jones plays his wife Joya, and together they have six kids. The show is told from the point of view of the second eldest child, Drea, whose application to NYU film school involves shooting a documentary about her family. Her older sister, Chloe, is already a student at USC.
Walton initially auditioned for the role of Drea, but it was the part of Chloe, the eldest daughter based on one of the show creator's real kids (and semi-based on the character Yara Shahidi plays on black-ish and grown-ish), that she eventually won. Chloe and Drea don't necessarily see eye to eye, but their relationship as the oldest sisters in a family of six develops over the course of the show's eight episodes. Walton was able to tap into her real-life sibling relationship to relate to the dynamic she played out on screen. "I have an older sister," she said. "We're two and a half years apart. She's not necessarily involved in the industry, but she's had a big impact on my life and who I am as a person now."
As much as #blackAF aims to get at what it means to be a black creator in Hollywood today, it's also very much about the antics of a well-to-do family, awash in financial privilege, and within this culturally specific story, there is a universal quality that viewers will recognize as relatable. It's not so much the Barris family's material wealth or zip code that's an anchor, but the dynamic involving five kids under the age of 20 and their cranky dad feels familiar. Somewhere between Curb Your Enthusiasm, black-ish and Better Things, you get #blackAF.
"Not only do I hope that the show can provide entertainment, I really hope it can provide inspiration for more open, honest, and understanding conversations," Walton said. "I hope it can give people insight into the black experience and something for people to relate to in the black community. With the overall state of the world and its divisiveness, I hope it can bring people together and make everyone more understanding and connected to one another. It's not exclusive, there are a lot of things to relate to regardless of who you are."
It turns out that being able to relate to Chloe on a deep level was a huge draw for Walton to take the role. "When I was filming, I was 20 and Chloe is 19. I think a lot of 19, 20 year olds during this particular time can relate a lot more often than not," she said. "This was the first role that I got to play that close to my age. Before I would have to think about the mindset of a 15 or 16 year old, whereas with Chloe I was able to be like, 'What would 19 year old me have done in this situation?' It was really just kind of finding my similarities between myself and Chloe and letting it ride from there, and trusting my instincts with her."
"With my older sister—I think a lot of people can relate to this—there was a point in time when we didn't get along, we were always fighting, for mostly no reason at all, but now my sister and I are so much closer and have a much better relationship and understanding of each other," Walton went on. "Chloe and Drea have their time when they're not going to get along, but I think you'll see that they grow closer and have more of an appreciation for each other."
While the Barris family in #blackAF is based on the real Barris family (who has been fictionalized before on black-ish, where Anthony Anderson plays an avatar of the show's creator, and Tracee Ellis Ross plays his physician wife) Walton said that she and her on-screen siblings never met their off-screen counterparts. "Both Kenya and Rashida made it a point to make it feel very free and comfortable to take our characters anywhere we wanted," she said. "There were multiple conversations where they instilled in us that we had complete freedom to really just have fun, and take it wherever we wanted to go. I didn't have that freedom before ever on any other project."
Before Walton was cast as Chloe Barris in #blackAF, and long before she even began acting at all, she had ambitions to be a dancer. "I can't say that as a child I had the goal of becoming an actor," Walton said. "I actually started dancing when I was six years old, after my mom saw me copying the Barbie in The Nutcracker movie, and asked if I wanted to dance and threw me into a dance class. I was doing that and was introduced to professional dancing and the industry at about 13, which then put me into acting when I got an audition for an American Girl movie, where they needed someone who could do ballet. I booked that and it introduced me to the acting world, and really threw me for a loop and gave me a challenge that was really interesting to me so I kept going with it."
As Chloe, the fashion-forward, boundary-pushing oldest child with a penchant for bending her dad's rules, like dyeing her hair purple or posing in a bikini on Instagram, Walton gets to play someone she describes as "underestimated." An episode in which Kenya and Joya decide to do MDMA and go to a music festival, only to unexpectedly run into their daughter Chloe while there, was a scene Walton auditioned with before being cast in the role. "That's what drew me to Chloe in particular," Walton said. "The writing itself was very authentic and the conversation that I had to have with Kenya was a very similar conversation that I'd already had with my own dad. It felt like a really authentic father-daughter relationship and something I think a lot of people could relate to as well."
"There are definitely some things that I said to my parents on the show that I could not say to my parents in real life," she laughed. "But I think that's what's so interesting to see. Not everyone could necessarily relate to how open and honest they can be with their parents, but I think what's cool is that it almost encourages open and honest conversations between parents and their kids."
Related: Yara Shahidi, In Between Acting and Attending Harvard, Is Emerging as a Political Force