Debbie Harry Stole the Coach Show With a Surprise Blondie Performance
New York Fashion Week needed the energy, and Blondie delivered.
---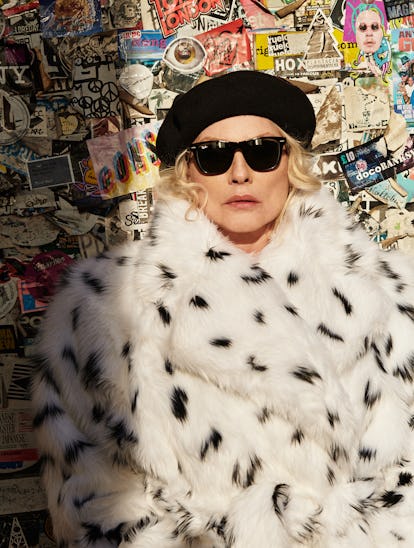 Directed by Noah Baumbach; Photographed by Stephen Shore; Styled by Sara Moonves.
For fall 2020, Coach teamed up with the estate of Jean-Michel Basquiat on a series of limited-edition pieces, such as a tan patent leather coat scrawled with line drawings and words like "potato." While certainly not the flashiest look the brand sent out at its New York Fashion Week show on Tuesday afternoon, it was by far the most attention-grabbing; to the crowd's surprise and immediate delight, the model wearing it was none other than Blondie's Debbie Harry.
To get across the collection's vibe, which the brand described as "pop heritage," Coach's creative director, Stuart Vevers, enlisted the garage-punk band the Coathangers to set up shop on the runway and serve up the soundtrack. Tellingly, they opened with a cover of Blondie's "One Way or Another," but eventually Coach took its nods to the main inspiration—"a downtown New York art scene, circa 1981"—up a notch. As the regular runway portion of the show came to a close, Harry emerged onto the runway, waving and grinning before stepping up to the mic.
Once again, the Coathangers played a song by Blondie. But this time, the real deal took charge of the vocals, performing "Dreaming" as models filed out for the show's finale. Harry stuck around just long enough for showgoers to get a good Instagram Story before making her exit, too, walking off the runway hand in hand with Vevers.
Harry has been a style icon for decades, but it's only relatively recently that the 74-year-old singer came to accept as much. "When Blondie burst onto the scene in the mid-'70s, we couldn't imagine that designers would be interested in us," Harry wrote in an essay for W in 2011. "We had no access to that world. Most of our fashion choices—ripped-up fishnets and pinned-together things—were economical, what we could afford."
Debbie Harry of Blondie Defined the Punk Style That's Everywhere Again
Debbie Harry wears a one shoulder blue jumpsuit to perform with Blondie circa 1970. She would wear similar silhouettes throughout her career.

Chris Gabrin/Getty Images
Bondie was doing merch long before everyone else. Here, Debbie Harry models the punk rock band's embroidered script sweater top.

Anthony Barboza/Getty Images
Being a punk rocker and all, Debbie Harry's style was flashy but never ostentatious; stylish not fashionable. Here, she wears jean shorts and a tank on Coney Island.

Roberta Bayley/Getty Images
Debbie Harry wears a "punk" t-shirt and scarf to a photo session on January 1, 1977 in New York City.

Waring Abbott/Getty Images
Debbie Harry performs with Blondie onstage in February 1977 in Los Angeles, California wearing a pink beret, sunglasses, and pants.

Michael Ochs Archives/Getty Images
Debbie Harry wears a striped (and ripped) halter top to perform onstage with Blondie in April 1977 in Los Angeles, California.

Michael Ochs Archives/Getty Images
Debbie Harry poses with Blondie wearing a Starliner 77 tank top, jeans, and pumps at the Bel Air Sand Hotel in 1977 in Los Angeles, California.

Michael Ochs Archives/Getty Images
Debbie Harry poses in front of the Hollywood sign in 1977 wearing a floral skirt, striped shirt, sunglasses, and her signature heels.

Michael Ochs Archives/Getty Images
Debbie Harry toughens up her look by wearing cargo pants, boots, a button-up and a leather jacket in London, England circa 1977.

Chris Walter/Getty Images
Debbie Harry wears a one shoulder t-shirt and a red tie while performing circa 1977. To offset the top, she pulled her hair into a right-sided ponytail.

Ebet Roberts/Getty Images
While visiting Shinko Music in Tokyo in January 1978, Debbie Harry wore a black mini dress with figure-eight cutouts and knee-high boots.

Shinko Music/Getty Images
While backstage at the Whisky a Go Go circa 1978 in Los Angeles, California, Debbie Harry was photographed in a "Vulture" shirt and a beret.

Brad Elterman/Getty Images
Debbie Harry sings in blue gloves at Blanford Studios in Marylebone, London during the making of a pop promo for Blondie's single 'I'm Always Touched By Your Presence Dear' for Chrysalis Records.

Brian Cooke/Getty Images
Debbie Harry performs 'Heart of Glass' on the TV show Midnight Special that aired on January 19, 1979 in Los Angeles, California. She wears a blue cutout romper with matching tights and a headband.

Michael Ochs Archives/Getty Images
In the late-70s and early-80s, Debbie Harry really began to experiment with color from head-to-toe. Here, she wears a yellow romper and matching tights.

Maureen Donaldson/Getty Images
Debbie Harry attends the "Art Against AIDS" Cocktail Party and Auction at Sotheby's in New York City with Richard Gere wearing a colorful ensemble.

Ron Galella, Ltd.
Debbie Harry performs in Amsterdam in 1989 wearing a leopard print onesie and knee-high black boots. Even in her middle-age, she wasn't afraid to take risks.

Paul Bergen
Debbie Harry poses against a wall at the Marcus Ampitheater in Milwaukee, Wisconsin wearing a bold, red fringe suit set.

Paul Natkin/Getty Images
Debbie Harry wears a surreal, colorful jumpsuit to the City Kids Foundation Benefit in New York City circa the year 1999.

Ron Galella, Ltd./Getty Images
Debbie Harry attends the "Coach Prom" in a letterman's jacket, camo dress, and metallic boots at Hotel Salomon de Rothschild on March 1, 2016 in Paris, France.

Julien M. Hekimian/Getty Images
Never one for subtlety, Debbie Harry performs at The Roundhouse in London in 2017 wearing a dress that reads: "Stop Fucking the Planet."

Brian Rasic/Getty Images
"I loved fashion magazines back when I was starting out, but it was painful at times because I couldn't get any of that stuff," Harry continued. Fast-forward to the present, and she's both the cover stars of those magazines and the inspiration behind "that stuff."
Related: Noah Baumbach Casts Debbie Harry as the Ultimate Queen of New York