Bottega Veneta's Spring 2021 Presentation Was Anything but Digital
"For this collection, I wanted to find a format that, in this moment, felt human—domestic, even," creative director Daniel Lee explained.
---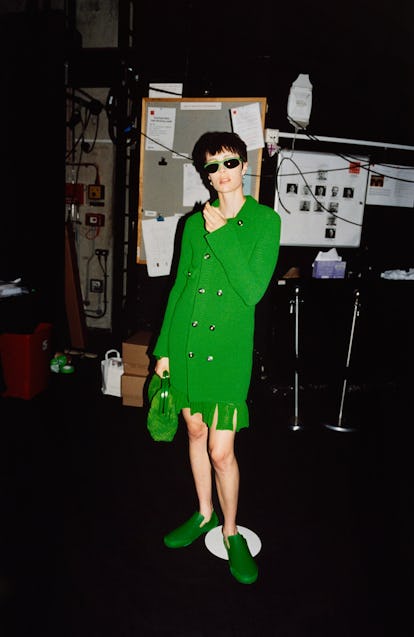 Courtesy of Bottega Veneta
When Bottega Veneta creative director Daniel Lee collaborated with the filmmaker and photographer Tyrone Lebon on a short film titled "Men," in July—a time when fashion leaned on video as a central form of expression while runway shows were on hold—he opted to distribute the film in a more tactical, IRL manner. The brand shipped large boxes containing projectors and film to fashion editors, allowing them to watch the eight-minute movie in their homes, giving them the feeling of being in a theater rather than on the couch.
So when it came time to unveil his spring 2021 show—Lee's third since being appointed head of the Italian fashion house in 2018—it makes sense that the Central Saint Martins grad who cut his teeth at Balenciaga and Maison Margiela would choose something that shied away from digital and leaned deeply into the alternative.
Back in October, Bottega Veneta held a secret runway show for the spring 2021 collection, called "Salon 01," in London's Sadler's Wells theater. That presentation, attended by Kanye West and Skepta along with a select number of editors and celebrity guests seated on white folding chairs carefully placed six feet away from one another, was recorded and released on Monday in a video posted to YouTube.
But in the days before that footage circulated, editors received in the mail canvas totes that held three books and a record. Each book served as a lookbook-slash-mood board—featuring images shot during the runway presentation and pictures of various items: a lavender-colored lace bra, a seatbelt, a close-up of a picture frame. The record, meanwhile, held the soundtrack of the Salon 01 event: a spoken word piece by Neneh Cherry (who also served as a model in the "Men" video during the summer). Using audio and text, Lee's gave a peek into his personal process and the inspirations behind Salon 01. At the same time, they also served as tangible ways for people to see the show, instead of merely observing looks from behind a screen.
"For this collection, I wanted to find a format that, in this moment, felt human—domestic, even," Lee told W. "I felt that fashion was moving toward becoming reliant on digital presentations—which is not necessarily something that resonated particularly with me or the brand. We are currently lacking the intimacy that comes with human contact with our friends and family, so our answer was: Okay well, let's do some very, very intimate viewings of the collection."
The groups assembled for these intimate viewings were treated to a killer lineup. Bottega Veneta's clothing for next season focused on touch—minidresses in shades of '90s lime green were crocheted, miniskirts bore chunky fringe, and the hemline of one skirt and v-neck set was adorned with spherical beads. Each piece was calling out to be felt, which will happen when it's safe. In the meantime, we have plenty of other material from Daniel Lee to covet, from a distance.
Related: Bottega Veneta's New Short Film Examines Toxic Masculinity