Cara Delevingne Supports Both Teams
In case you missed it, here are the best style stories of the week.
---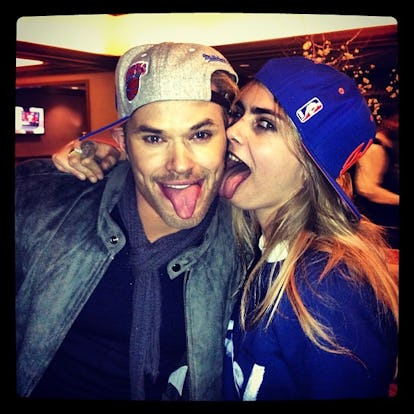 Beckham, David Is releasing a line of kid's clothes for H&M. Who else thinks this was baby Harper's idea.
Beckham, Victoria May have a cameo on Girls. No Harper mentioned.
Bundchen, Gisele The model's curls now have a Twitter account. Cara's eyebrows are way jealous.
Cyrus, Miley Appears super unsmiley in Marc Jacobs's moody new ad campaign.
Delevingne, Cara Got so much press from making faces with Rihanna in courtside seats at the Nets game that she attended a Knicks game the following night for a makeout session with actress Michelle Rodriguez.
Elba, Idris The Mandela: Long Walk to Freedom actor says he is turned on by his own bow tie. Us too?
Lagerfeld, Karl Will design suites for Paris' Hotel de Crillon. Chanel bedding, please!
Mean Girls A jewelry company designed a film-inspired collection that will certainly make frenemies say, "Oh my God, I love your bracelet."
Miu Miu Cast one of W's February cover stars Lupita Nyong'o in its new campaign, alongside Elle Fanning, Elizabeth Olsen, and Bella Heathcote. Okay, that's too many pretty young things for us to process at once.
Moss, Lottie Kate's younger sister signs with Storm Model Management because… duh.
Spears, Britney Channels her own previous looks for her new fragrance ad. How innovative.
Target Accidentally wrote "plus size" when they meant "pregnant." Oops.
The Row The Olsen twins cast only models older than 39 for their lookbook to prove that they are really, really growing up.
Tisci, Riccardo The designer announced a collaboration with Nike. Stay tuned to see Kimye wear the inaugural ensembles.