Cara Delevingne Reveals Newly Shaved Head for Role in Life in a Year
Cara Delevingne steps out with her newly shaved head in preparation for her upcoming role in Life in a Year.
---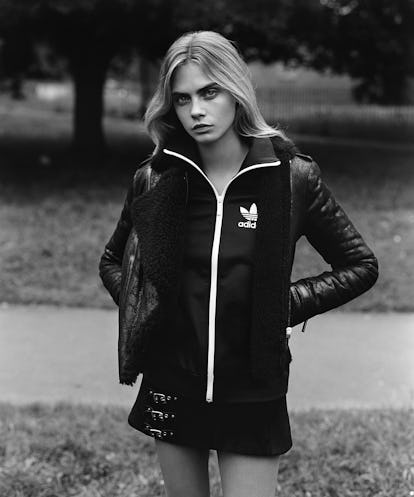 For most of her career, Cara Delevingne's hair has been the same: long, blonde, and effortlessly wavy. In the past few months, however, she's tried a variety of looks thanks to her role in the new film Life in a Year, in which she plays a cancer-stricken patient who has one year left to live alongside costar Jaden Smith.
The transformation began at Paris Fashion Week, when Delevingne debuted a new platinum bob at the Chanel show. At first, most thought she was just following in the foot steps of actresses Kristen Stewart and Zoe Kravitz, who both recently went platinum, but that was not the case. The model-turned-actress told USA Today that her new hairstyle was for her upcoming part in Life in a Year. "I have to shave my head for my next part, so I have to do something different," she explained. "So I dyed it. Just for fun. Just to change it up."
Then, Delevingne teased her millions of Instagram followers with a variety of hair experiments–including dying her blonde hair a shade of pastel pink, and posting a photo on Instagram Stories showing her hair on the floor, captioning it, "Oh no!" Soon after, Delevingne posted a selfie showing off an ultra chic, lightly pink pixie cut
Now, she's debuted the completely buzzed look.
So, what's next? Only time will tell.
Cara Delevingne, Kate Hudson, Angelina Jolie and More Actresses Who Have Cut Their Hair for Hollywood
To play the '70s and '80s supermodel Gia Carangi in the HBO TV film Gia, actress Angelina Jolie cut her dark hair into a shorter style.

Photo by Getty.
After shaving her hair for her role in V for Vendetta, actress Natalie Portman paired her buzz cut with taupe smoky eye and a nude lip on the red carpet.

Photo by Getty.
Anne Hathaway chopped off her long, brunette hair for her role in the musical Les Misérables, and won an Oscar.

Photo by Getty.
Actress Tilda Swinton went completely bald for her role in Doctor Strange, but let her hair grow back in stages.

Photo by Getty.
Attending theComic-Con International 2013, actress Karen Gillian debuts her buzzed cut that shaved her head for her role in Guardians of The Galaxy.

Photo by Getty.
South African beauty Charlize Theron went short for her role in the film Mad Max: Fury Road.

Photo by Getty.
Model and actress Cara Delevingne debuted her newly shaved head as she prepares for her role in her upcoming film Life in a Year.

Photo by Splash News
Kate Hudson gets into character for her role in her new film with singer Sia, debuting her recently shaved head.

Photo by Backgrid.
Cara Delevingne Opens Up in W's Screen Test: