Celebrating 35 Years of Carolina Herrera with Karlie Kloss in Madrid
After the publication of the designer's new book, Karlie Kloss and James Costos, the U.S. Ambassador to Spain, threw the designer a party in her honor in Madrid.
---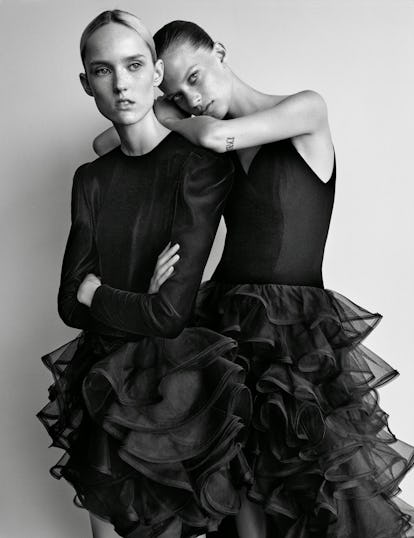 Over the last three and a half decades, Carolina Herrera has carefully tailored her name so that it has become synonymous with class and elegance, all the while building an iconic business with hundreds of stores across the world.
Carolina Herrera: 35 Years of Fashion, her new book from Rizzoli, highlights her journey from fabric designer, which Diana Vreeland famously told her was too boring, to respected designer, the go-to dressmaker for the Ladies Who Lunch and a whole new generation of young society ladies, from Karlie Kloss, the face of the brand, to Caroline Vreeland, Lauren Remington Platt, and Nicky Hilton.
Kloss, in fact, turned up earlier this week at the U.S. embassy in Madrid, presently occupied by ambassador James Costos and his partner, the White House decorator Michael Smith, for a party in Herrera's honor and her new book. (In October, the New York party for the book drew Priyanka Chopra, Serena Williams and Herrera's own children, Patricia Herrera Lansing and Carolina Herrera Baez.)
It was familiar terrain for the designer, who grew up in the comfort of Venezuelan aristocracy and was already consuming fashion at 13, when she attended a Balenciaga show in Paris. Even before her very own first show in 1981 in New York, Herrera was already a society fixture in the city, a regular at Studio 54 with her husband Reinaldo who was regularly photographed by everyone from Robert Mapplethorpe, who caught her glamorously in repose in Mustique in 1976, to Andy Warhol, who in 1979 traded her a bejeweled clutch in exchange for a portrait.
Her friends from that era, the likes of Bob Colacello and Fran Lebowitz, still turn up front row at her shows, only now they're sitting alongside the new It girls of the day, like Kiernan Shipka, Kate Bosworth and Olivia Palermo.
The Rizzoli book traces the whole arc of her career, lovingly documented via Warhol's Polaroids and new editorials of the archival designs that made the brand into a top red-carpet choice. Take a look inside, below.
A Fresh Look at Carolina Herrera's 35-Year-Old Legacy
Carolina Herrera Spring 2011.

Rizzoli
Carolina Herrera Fall 2012.

Rizzoli
Carolina Herrera Fall 2014

Rizzoli
Carolina Herrera Spring 2007.

Rizzoli
Carolina Herrera Fall 1991.

Rizzoli
In addition to her accomplishments as a designer, Herrera is also a pioneer for Latinos working in New York, and she was named among the city's most stylish in a new book published earlier this year:
Meet New York's Most Stylish Latinos
"When my family and I first moved to New York, we took an apartment that happened to be across from a roller-disco and right around the corner from Studio 54. My introductory years in New York were a fantastical time filled with school, drag queens, and dance parties. My parents were lively and fun and never snobbish. I spent so much time in that roller-disco as a young child, and listened to the music from Studio 54 through the wall next to my bed. It filled me with enchantment and fantasy."

Hans Neumann and Gabriel Rivera-Barazza, courtesy of Damiani
"When I was twenty, I was on a flight to Miami with Anna Wintour. The whole flight I was trying to muster the courage to talk to her. So I wrote her a note in a napkin with my art school markers, telling her that I was a student at Parsons, I had just moved to New York, and I was trying to get a foothold in the fashion world. I walked up to her and tapped her on the shoulder, but she didn't move. So I lifted up her coffee cup and put my note underneath. Three weeks later, someone from Michael Kors's office called me to say that they had gotten a message from Anna that they had to meet me. So I got an internship at Michael Kors."

Hans Neumann and Gabriel Rivera-Barazza, courtesy of Damiani
"Being an art director sounds very glamorous. I get emails from students all over the world saying, 'I'd love to be an art director. It sounds amazing!' Sometimes I do take interns, and when we spend whole days at the office until late hours they say, 'Oh! It's an office job!'"

Hans Neumann and Gabriel Rivera-Barazza, courtesy of Damiani
"I started my career in New York. Diana Vreeland gave me the impetus to become a fashion designer. I told her that I wanted to become a textile designer, and she said, "That is so boring, do something else!" That was my 'Aha!' moment."

Hans Neumann and Gabriel Rivera-Barazza, courtesy of Damiani
"The whole of Manhattan was our school and laboratory. I [Rubén] met Andy Warhol while I was still in high school and working at Fiorucci, the legendary shop that was the daytime office of Studio 54. Andy, Keith Haring, Kenny Scharf, Jean-Michel Basquiat, and many other artists taught us by example. Each one was an individualist and did things their own way — watching them living as working artists was an education in itself."
"I grew up traveling between the Dominican Republic and Spain. Both of my parents were always attracted to the arts — my father studied architecture and my mother painted. I actually studied architecture at Notre Dame, but I turned to fashion when Oscar de la Renta offered me an incredible opportunity. I met him in Punta Cana, through a friend, and he looked at some of my sketches. He encouraged me to come to New York to do an internship at his fashion house when I finished school."
"When I was growing up in Brazil, my mom manufactured children's sweaters. She started out sewing herself, but over time her business became a small company that employed a lot of women in the area – at one point there were about 215 employees, which was a lot in our small town. We had a very rigorous schedule. My siblings and I would go to school, have lunch, and then we all had to go to the factory. We all learned that somehow all of us had to be doing something all the time."

Hans Neumann and Gabriel Rivera-Barazza, courtesy of Damiani
"For almost a year, I lived in my studio in Bushwick, Brooklyn. It had a beautiful view of the Manhattan skyline. I set up a corner with my mattress, and that was my living space. I created my own little shower. Everything had to be very discreet, so I took a hula-hoop and connected it to the wall, attached a curtain to it, and placed a big bucket beneath. I bought one of those canteen shower bags and put it on the wall and would heat some water to take a shower. It was freezing, but I was so excited about my art."

Hans Neumann and Gabriel Rivera-Barazza, courtesy of Damiani
"My father left Chile first, after the coup d'état. Then my family was taken out by the United Nations and went to Peru, and later we became political refugees and got asylum in England.I came to New York first in 1996 from Paris."

Hans Neumann and Gabriel Rivera-Barazza, courtesy of Damiani
"My family and I moved to Florida in the early 1980s, after living in Cuba, where I was born, and Puerto Rico. Those were the golden years of the hip-hop era. Breakdancing was big, hip-hop, and what we called at that time writing. Everybody was writing their name and making art on walls, in school, around the neighborhood, and pretty much all over."

Hans Neumann and Gabriel Rivera-Barazza, courtesy of Damiani
"I was very fortunate to be part of a family that loved traveling, and a lot of my style influence came from those experiences. My parents used to take me out of school in Barranquilla to travel to places such as New York, Paris, Japan, India, and Italy. I would complain to my father that I was a month behind in math, and he would look at me and say, 'But you saw the world! There's always time to catch up on long division!'"

Hans Neumann and Gabriel Rivera-Barazza, courtesy of Damiani
"I grew up in a very Cuban environment. Everything that I knew, from the music to the food to the people was Cuban, Spanish, and Puerto Rican. It was a very rich mix of Latin cultures, and I still keep in touch with many of the people from my childhood. In Latino culture there's a great appreciation for women, and that was essential for me. I've always wanted to celebrate my heritage."

Hans Neumann and Gabriel Rivera-Barazza, courtesy of Damiani
"I thought that Piss Christ was only a photograph. It is only a part of me, and I don't feel there's anything shocking, provocative, or controversial about me; it's just the way I am. I am always surprised when some people feel like you've done something where you crossed the line, because I don't see that line as an artist."

Hans Neumann and Gabriel Rivera-Barazza, courtesy of Damiani
"I wasn't groomed for a career in fashion. I don't really look at people as stars. I look at people as people, and I think they appreciate that. So when I meet celebrities, I am not scared. I am thrilled to be there, with someone that I respect and admire for his or her talent. I did Yves Saint Laurent's farewell television show in France, and some of my favorite models were there, people like Jerry Hall and Katousha. I think it was the highlight of my career."

Hans Neumann and Gabriel Rivera-Barazza, courtesy of Damiani