Kristen Stewart Was the Only Guest at Chanel's Métiers d'Art Show
The French house showed their latest collection in the ballroom of a Château in the Loire Valley, with a crew of 300 and an audience of one.
---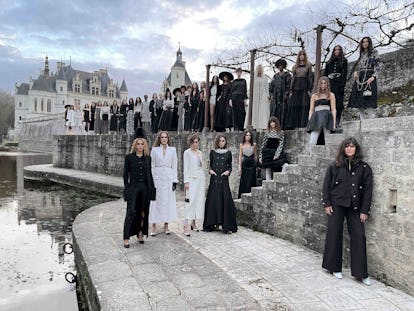 Photograph by Juergen Teller, courtesy of Chanel.
At this point in the pandemic, the highly produced runway video is nothing new. But leave it to Chanel to do it with an uniquely elegant wink. To showcase their 2020/2021 Métiers d'Art collection, the French house took over the ballroom of the Château de Chenonceau, a castle in the Loire Valley that happens to be covered in interlocking Cs—an emblem of Catherine de Medici, a former resident.
Today, in the video streamed on Chanel's website, the only resident aside from a phalanx of models (and a 300+ person team backstage) appeared to be Kristen Stewart. The first thing we see after a shot of the castle at dusk is the actress, swathed in black and draped in pearls, politely taking her seat on a wooden bench before the show begins. As the models strolled by, the camera cut back to Stewart, who gave an incredibly convincing performance as "woman thoughtfully watching from the front row."
Artistic director Virginie Viard selected the Château de Chenonceau, also known as the "Château des Dames," not just because of the coincidental synergy of the logo, but also because of the legacy of powerful women who inhabited it over the years. "Deep down, this place is a part of Chanel's history," Viard said, noting that Coco Chanel herself was directly inspired by the majesty and simplicity of Renaissance women.
In terms of the references for this particular collection, Viard told WWD "It's somewhere between an animated film and the swashbuckling B movies I used to watch as a child…The women in them were always quite sexy. I was also extremely inspired by the checkerboard floor in the ballroom, Catherine de' Medici, Coco Chanel—it's a mix of everything."
On the clothes themselves, the castle showed up rendered in rhinestones, while plants from the surrounding gardens appeared as delicate embroidery on blazer lapels and in intarsia knitwear. Models with crimped waves and heavy black eye makeup also wore jewelry and accessories fit for a 17th-century royal: headbands were embellished with dangling clusters of pearls, chest pieces with cages of gemstones. There were even a few crystallized takes on the house's signature black and cream court shoes.
As we've come to expect from Viard, the color palette relied heavily on black and white, combined in a shimmering oversized houndstooth coat, jacket-and-hot-pant combos, red-carpet worthy gowns and minimalist pintuck voile dresses alike. There were lots of leggings as well, including a velvet pair dotted with gold coins. Tiny bags were layered decadently over each other or slung like a sidekick onto larger totes, and pearls were worn in generous, tangled ropes.
Like every Métiers d'Art collection, the lineup served as a showcase and celebration of the 38 specialized workshops that supply Chanel with the finest handcrafted techniques, like hand embroidery and specialized knitwear, all details that Stewart clearly appreciated. When Viard emerged at the end of the show, Stewart rose to give her a round of applause—a standing ovation of one.
Related: Sofia Coppola Collaborated With Chanel Creative Director Virginie Viard on the 2019–2020 Metiers d'Art Collection