Gift Ideas From the Crew Behind Chifa, L.A.'s Most Exciting New Restaurant
Founded by Humberto Leon, his sister Ricardina Leon, and her husband, John Liu, the Taiwanese-Peruvian spot is a family affair inspired by the Leons' mother.
---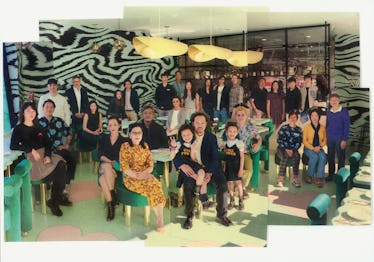 From left: Coltrane Liu, Jarod Wang, Christovo Liu, Danny Johnson, Josefina Leon, Rica Leon, Emma Jay Johnson, Griffin Humberto Johnson, Wendy "Popo" Leon, John Liu, Spencer Liu, Jeffery Liu, Emily Liu, Samantha Liu (back), Emi Todd Leon-Wilson (on Humberto's lap), Humberto Leon, Joanne Sundeen, Richard Sundeen (three people in back), Mazzarine Wendy Leon-Wilson, Patrick Wilson, Kevin Chau, Helen Chin, Kenneth Chau, Kyle Chau (back row), Peggy Tsang, Sandy Leung, Stanley Leung (three in front). Photographed by Keith Oshiro.
Wendy Leon's cooking has bound her family together through generations, no matter how far away they are from one another. After her daughter Ricardina was married decades ago, Ricardina's husband, John Liu, would call Wendy up for cooking lessons over the phone, eager to make his wife's favorite foods for her. From her home in Pasadena, California, Wendy would teach John how to make braised spare ribs and soups in the kitchen he and Ricardina shared in Malibu. The dishes Wendy passed along were a blend of the Chinese meals she ate growing up in Zhongshan, a region in Southern China, and the Peruvian-inspired fare she sold at the Lima restaurant she ran in the 1970s, called Chifa, before immigrating to the United States with her children.
Now the spirit of Chifa is being resurrected in Los Angeles by John, Ricardina, and her brother, the fashion designer and Opening Ceremony cofounder Humberto Leon. The newly opened restaurant, which is offering takeout only until lockdown restrictions are lifted, is very much a family affair: John and Ricardina stand alongside Humberto at Chifa's helm—John is head chef, Humberto is chief marketing officer, and Rica, as her brother calls her, serves as the CEO. As a result, the menu consists of "about 70 percent" of Wendy's well-loved recipes, according to Humberto, mixed with some touches from John's own upbringing as a Taiwanese-American. "This dialogue and communication between the two of them has been going on for 20 years," Humberto said on a recent morning from his home in L.A.
There's Wendy's pollo ala brasa (a Peruvian roasted chicken), John's Dan Dan Mian noodles, her wood-fired char siu pork, and his beef noodle soup (a Taiwanese specialty). And there is her si yao chicken: a poached bird served at room temperature with soy sauce. The latter is, like many items available at Chifa, a holiday mainstay on the Leon-Liu table. "Most people have a whole turkey or a whole chicken during the holidays. And in our house, it's always my mom's si yao chicken," Humberto said. "She has an aged soy sauce that requires a starter, and must be re-cured; the more you cook with it, the better it gets. She only breaks it out for special occasions."
Another holiday tradition for their extended family is a white-elephant gift exchange. This year's will, of course, happen from a distance: Each family member will send their present in the mail. Humberto has already bought his, but wouldn't spill the gift of choice just yet, in an effort to preserve the surprise. Instead, he shared a list of Chifa-adjacent presents he will be giving to friends and family when December 25 rolls around.
"Our restaurant has Chinese sausage, called lap cheong, made by the Butcher Girls," he said. "It's usually a preserved sausage, but they made a fresh version for us. We're selling sausage packages for gifting—I would cry with happiness if somebody gave me a gift like that, personally."
Humberto also recommends wares by local artists and artisans, including the Highland Park ceramicist Linda Hsiao, whose pitchers and creamers are used at the restaurant, and sculptor Charlie Mai's pieces, which decorate the interior and recall the signature aesthetic Humberto applied to his work at Kenzo and Opening Ceremony. Mai's process involves painting over Chinese figurines from the 1960s and 1970s, giving the statuettes technicolor garments inspired by Telfar, Marine Serre, Gucci, and Louis Vuitton. "I'm going to give one to a very special person, probably my sister," Humberto added.
The Chifa Holiday Gift Guide:
Charlie Mai Sculpture, price upon request, chifa-la.com
Linda Hsiao Family Pitcher, $220, knotworkla.com
Butcher Girls Essential Meat Box, $30, ny.butchergirls.co
Chifa SPG Sauce (Serrano Chili, Garlic, and Aged Soy Sauce), $4 for a 4 oz. bottle, chifa-la.com
Almond Jelly Corn by Lexie Park, chifa-la.com
Gold Heart Locket Earrings, $390, peterdo.net
Downtown Women's Center Soap Bundle, $34 (proceeds go toward helping unhoused women find shelter and work opportunities), madebydwc.org
Hay Lounge Chair, $75, hay.com
Sonos Move, $399, sonos.com
Floral Tasting Collection Tea, $36, the-qi.com