60 Years of Chloé
Chloé celebrated its sixtieth anniversary by reissuing sixteen of its most iconic clothing designs and partnered with Barneys New York to throw a sparkling bash.
---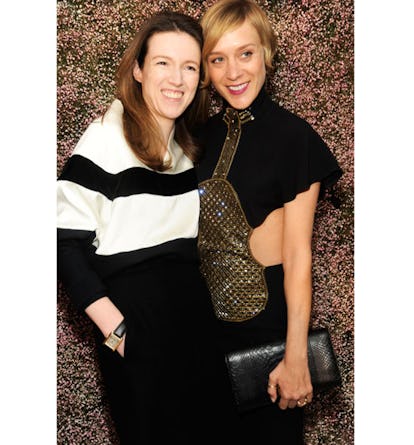 Tradition dictates that one-year anniversaries should be celebrated with paper, twenty-five years with silver and fifty years with gold. What to do with six decades, a milestone—not to be morbid—most couples won't reach? Well, if you're Chloé you celebrate your sixtieth anniversary by reissuing sixteen of your most iconic clothing designs and you partner with Barneys New York to throw a sparkling bash. The department store enlisted the hairstylist Bob Recine to create special windows and on Wednesday night held a high-energy cocktail on its third floor. There were balloons, silver trays of cotton candy—model Hanne Gaby Odiele made a beeline for one, much to the phalanx of photographers' delight—and video screens showing footage from current Chloé designer Clare Waight Keller's collections, as well as images of Pat Cleveland walking the runway when Karl Lagerfeld was the house's designer.
"I can still feel the clothes—they were so light," said Cleveland, dressed in circa 1979 Chloé. "I'm having an orgasm watching this!"
"I'm having an orgasm watching you!" declared Simon Doonan as he approached her. "I used to go out to the discos with her in those days. There was no talking, only moving."
Speaking of which, the entire party seemed to move towards a floral step and repeat upon the arrival of Waight Keller and Chloe Sevigny, who were swallowed up in a crowd of admirers.
"For me, definitely Chloé has been about youthful Paris, it's a house that loves women, there's a sense of femininity," said Waight Keller, offering of her contribution. "I live in Paris and I think I bring that mix by living there and being a British woman."
Sevigny evinced a longtime connection to the brand, having starred in its fragrance campaign and has adored "the whole Chloé romance" since she was a child. The actress went with a surrealist Karl Lagerfeld-for-Chloe-era black dress with a gold violin down the front that left her side torso and lower back bare.
"Actually, my mother chose it. She thought I looked frumpy in the other ones," said Sevigny. "I'm a little worried about her, actually."
Click here to see more photos.
Photo: Sherly Rabbani & Josephine Solimene