Chloé's Fall Show Was a Rare Example of an Artist Collaboration Done Right
During a season in which some designers have struggled to incorporate capital-F feminism into their collections, Natacha Ramsay-Levi provided a refreshing contrast.
---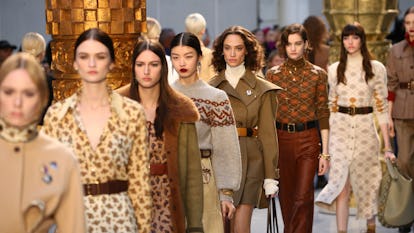 Courtesy of Chloé
Fashion-art crossovers are risky. The wrong combination can feel corny or forced, the dissonance between culture and commerce too jarring. Sometimes, the transmutation of an artwork onto leather or fabric simultaneously cheapens the original and makes the accessory or garment feel like a flimsy simulacrum.
Not so with Chloé's relaxed, confident fall 2020 collection, for which the creative director Natacha Ramsay-Levi looked to the Hungarian-born, New York–based artist Rita Ackermann for inspiration. The collaboration was emphasized before any clothes even appeared on the runway: A miniature reproduction of one of Ackermann's works was included with the show invitation, and the title "If You Listen Carefully . . . I'll Show You How to Dance. . ." is borrowed from a 1995 collage by the artist.
Ackermann, 51, a longtime friend of Ramsay-Levi's, is known for her gestural, unabashedly feminine paintings that abstract the human form. She works on large-scale canvases with serene, saturated colors like forest green, Mediterranean blue, and reddish-pink. (She's also having something of a resurgent moment, with a solo show that opened last week at the Hauser & Wirth gallery in New York's Chelsea neighborhood.) Her work shares DNA with Chloé in the sense that it's subtly rebellious, restrained but never severe, both diaphanous and thoroughly grounded.
Rendered in silk on button-front dresses, staring out from below lace shirt collars, or printed onto ankle-length wrap skirts and leather-trimmed bags, Ackermann's women retained the same power they have on canvas. Even the looks that didn't exhibit Ackermann's distinctive lines showed her influence. Ramsay-Levi's overall palette—lots of golden browns, cool greens, shades of mauve and brick red—mirrored the painter's, giving the whole collection a strong sense of cohesion.
Kaia Gerber opened the show in a grid checked shirtdress and a belt dotted with enamel pins based on Ackermann motifs, which also showed up on lapels and collars throughout the rest of the collection. On Gigi Hadid, an Ackermann painting with thick black lines and a sunset pink background was transformed into a slip dress, toughened up with a slash of black mesh and a natty camel coat. Every piece was not just wearable but refreshingly quotidian—closet staples in the truest sense.
Along with Ackermann, Ramsay-Levi also brought in the legendary singer Marianne Faithfull, who read lines from Louisa May Alcott and William Butler Yeats poetry for the show's soundtrack, and the French sculptor Marion Verboom, who constructed five totemic golden columns decorated with pine cones, beehives, fruits, and uteruses. Faithfull, elegant in a blue robe coat, sat in the front row next to the actress Lucy Boynton, who wore a white gown from the fall 2019 collection (you might recognize it from our director's issue cover story with Quentin Tarantino and Margaret Qualley).
During a season in which some designers have struggled to incorporate political buzzwords and capital-F feminism into their collections, Ramsay-Levi's decision to celebrate femininity by bringing in a murderers' row of powerful female creatives was a refreshing contrast. Sometimes whispering is more effective than shouting.