Paris Toasted Christian Louboutin at the Opening of His Museum Exhibition Last Night
The shoe designer filled the Palais de la Porte Dorée with his designs, his inspirations, and his glamorous gang of friends.
---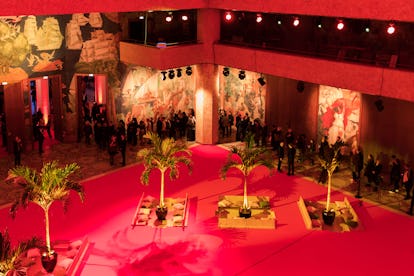 One surefire way to become an iconic fashion brand is to lay claim to a color: think of Hermès orange, Tiffany blue, or Dior gray. The most recent entrant to this select club is the shoe designer Christian Louboutin, whose crimson soles have come to define a very specific sort of ambulatory va-va-voom since he launched his company in 1991. It's hardly surprising, then, that he should be the subject of a major museum retrospective. "Christian Louboutin: Exhibition(niste)" is currently on view at the Palais de la Porte Dorée, in Paris's 12th arrondissement, just around the corner from where Louboutin grew up.
Louboutin used to visit the Palais de la Porte Dorée as a kid, and credits its trove of treasures from faraway places—Polynesian totems, African masks, feathered headpieces—as early sources of inspiration. A few years ago, the designer struck up a friendship with the bigwigs at the museum, and soon enough he was invited to stage a show there with the help of Olivier Gabet, the director of the Museé des Arts Décoratifs.
For the opening of the exhibition, which was sponsored by Nordstrom, the Palais de la Porte Dorée's facade was appropriately bathed in glowing red lights. Inside, there was far more than just the patent pumps we have come to associate with virtually every actress, celebrity, and powerful woman you could think of. Louboutin crammed walls with the names of every shoe he's made (he baptizes them all himself); grouped together some of his very first creations, including a shoe made of fish leather, and another with its sole half-painted red with nail varnish; and moved on to some of his most iconic numbers, like the strappy heels he made for Yves Saint Laurent's final haute couture show in 2002, and the fearsome spikes bedecked with actual metal spikes that have become a signature.
Rather than simply present his greatest hits, Louboutin wanted to explain why he is obsessed with his craft and share how his ideas come to life. So he also included photographs of his well-lived life, tributes to other shoemakers such as Pierre Hardy and Roger Vivier, inspirational artworks ranging from pop art to 16th-century paintings, and cheeky videos that show the work that goes into making one pair of his shoes. A commission from the British artists Whitaker & Malem features an assortment of leather sculptures based on the singer and actress Arielle Dombasle's body, rendered in multiple shades of nude and anchored by red Louboutin soles.
Just as important to Louboutin's legacy as what was in the museum, however, is who was in it for the opening. In the 1980s, Louboutin and his gang of friends, which included Dombasle; Farida Khelfa, the model who is now a brand ambassador for Schiapparelli; and Vincent Darré, who went on to become a sought-after interior designer, were fixtures in the creative nightlife scene in Paris and London. All these friends were there to toast him, as well as the actresses Charlotte Rampling and Fanny Ardent, Pedro Almodóvar's muse Rossy de Palma, the fashion designer Diane von Furstenberg, the singer Janelle Monáe, and the burlesque star Dita von Teese, to name but a few.
"I'm not going to give a speech because that's very Anglo-Saxon, and I am very French," said Louboutin, who nonetheless managed to squeeze out a few words, recounting how, as a kid, he had found a way to be expelled from not one, or two, but three schools. "The Palais de la Porte Dorée was so important for my childhood, that it was the only place where I felt I could have an exhibition that felt authentic. This is where I was born. And everyone who is here has been a part of my story."