Commission Designers Huy Luong, Jin Kay, and Dylan Cao Look to Corporate Retreats for Inspiration
Exhausted by lazy portrayals of Asian culture in fashion, they decided to tell a more personal story.
Photographs by Charlie Gates
---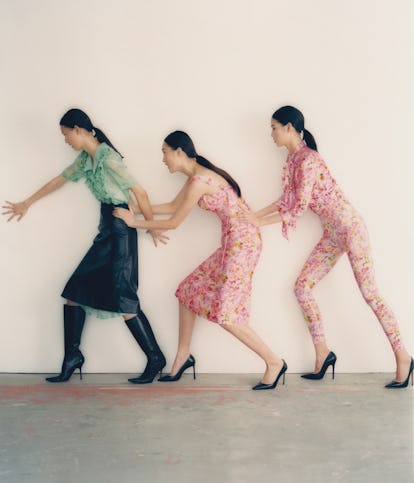 Photographed by Charlie Gates; Styled by Allia Alliata di Montereale.
In the past decade, the fashion industry has made major strides when it comes to diversity. But despite all the discussions and changes and hiring of corporate diversity officers, there is still a lack of representation, particularly from the Asian perspective. The designers Jin Kay, Dylan Cao, and Huy Luong sought to address that with the launch in 2018 of their New York label, Commission. "It really stems from being exhausted by the way art and design in the West portray Asia," Cao says. "We were done with seeing lotuses and dragons, when there are so many nuances and such a variety of cultures."
Both Cao and Luong grew up in Vietnam; Kay, in South Korea. Whether lured by Project Runway or the prospect of attending Marc Jacobs's alma mater, they all made their way to Parsons School of Design, and then spent a few years working for established fashion companies. Cao, who had just quit his job designing accessories for R13, and Luong, whose forte is graphic design, met Kay, who worked as the senior designer at Prabal Gurung, at a birthday party in Chinatown. They began gathering every night over dinner to discuss how they could address Asian culture in a fresh and authentic manner. They knew they needed to make it personal. "We started talking about our shared backgrounds," Kay recalls. "We decided to tell our stories of growing up in the late '80s and early '90s; of us looking at our moms."
As such, Commission, which was picked up in its first season by Net-a-Porter, takes its cues from the wardrobes of working women from that era: floral silk blouses, slit pencil skirts, boxy, strong-shouldered suiting that had been adopted from the Western world and reinterpreted by local tailors with different fabrics and more subdued silhouettes. "Fashion-wise, the period was the same as in the West, but what the countries were going through, economically, was different," says Kay, whose mother worked as a physician, and layered a lab coat over modest tailoring. "Asia wasn't as opulent as the West. People were more conservative. And fashion was more utilitarian." To some, the style would seem unremarkable; to the designers, it held a sense of romance, made all the more intriguing when contrasted with cleaner, cooler, of-the-moment elements.
Their suiting, inspired in part by Asian dads, leans masculine, and there is an abundance each season of animal prints and vegan leather. "It's nostalgic, but not retro," says Kay, noting as well the inclusion of playful details like chain straps that hang off a slip dress and trousers with fanny packs placed flush on the hip bone.
Working out of Cao and Kay's apartment in West Chelsea, they begin each collection with a visualization of their muse in situ. For spring 2020, she was on the beach—not on holiday in the South of France, as tends to be the case in fashion, but on a corporate seaside retreat two hours outside of Ho Chi Minh City. "My mom would organize a beach trip every two to three weekends with the whole company," recalls Cao, whose mother worked in human resources for the oil company where his father was president. "We'd leave in a van right after the workday on Friday, and the moms, still in their skirts and blazers, would go straight to the beach to let the kids play. They'd dip their feet in the sea, holding their shoes."
Shot by Luong for their lookbook on the pebbled shores of Long Island, the collection includes Commission's signature strong suiting. This season, there are crisp white knee-length shorts and silk blouses made from a pink rose print designed by Luong to recall the chintzy upholstery of their childhoods. The collection also expands into more off-duty terrain with recycled terry cloth "souvenir" T-shirts and raw denim jeans, available on their website. For next season, they are planning a far moodier vibe. Inspired in part by the Japanese photographer Keizo Kitajima's two-volume book The Joy of Portraits, the trio is depicting Mom dressed in sexy slip dresses and faux fur coats, lingering in a hotel lobby well after the kids would have been put to bed.
"Maybe it was before she was a mother," suggests Luong. In any case, needless to say, the looks don't require parental approval. While the guys regularly message their moms asking for photos, they do not solicit input. As Cao explains, "That would be too many opinions."