Keeping Score: New York Fashion Week Fall 2014 Day 1
Creatures of the Wind fall 2014 show divided the social sphere.
---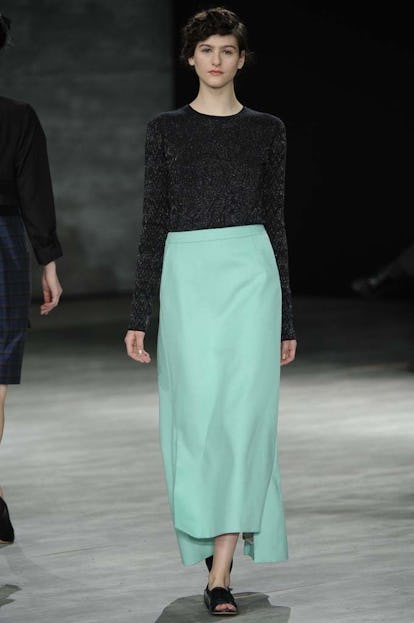 In news that should surprise exactly no one, critical darling bricolage masters Shane Gabier and Christopher Peters continued to rack up accolades on the first day of New York Fashion Week for a Rainbow Road (as in the bridge to Norse paradise)-inspired collection deemed "very fresh," a model of "muted elegance" and "high fashion quietude," and an "evolution of eclectic wearability and creative refinement." All was not sweetness and light in fashion land, however. "About two thirds of the way into the Creatures of the Wind presentation," wrote Robin Givhan of the show in the Pavilion at Lincoln Center, "a model appeared wearing an ankle-length skirt in one of the most unattractive shades of mint green to ever spring from the color wheel. It was institutional in its pallid lack of depth, so sad in its woozy torpor." The Cut's contributing fashion critic just wasn't feeling look 14, citing the "whiplash" induced by pairing what the designers termed a "jade textured wool evening skirt" with a sparkly black Lurex-blend pullover. Leandra Mendine "manstagramed" that exact combo with the caption "Never has a mint green wool almost maxi skirt made so much sense."
Read more of "Keeping Score" here.
New York Fashion Week Fall 2014
Juan Carlos Obando Fall 2014
"This black-and-blue gown paired with fringe boots by Paul Andrew is a great evening look that's not overly sexy." – Karla Martinez de Salas
Adam Selman Fall 2014
"A cool blend of ethnic prints and street-savvy attitude at Adam Selman." – Armand Limnander
Creatures of the Wind Fall 2014
"Creatures of the Wind's quirky, arts 'n' crafts aesthetic continues to grow more sophisticated each season, as exemplified by this cashmere lurex sweater and dusty rose wool evening skirt." – Karin Nelson
BCBG Max Azria Fall 2014
"On a runway filled with rich '70s-style furs and blanket coats, this simple look—a modern dress and pastel fur muff—stood out." – Lindsey Frugier
Rachel Comey Fall 2014
"Complete with a delicious vegetarian dinner prepared by Julia Ziegler-Haynes and an amusing musical performance by Amber Martin and Nath Ann Carrera, Rachel Comey's cozy, cool show was unarguably worth the trek in 6-inch slush to Red Hook." – Karin Nelson
Lisa Perry Fall 2014
"Lisa Perry gave the classic sweatshirt a space age makeover with gleaming silver foil and an oversized silhouette." – Lindsey Frugier
Coach Fall 2014
"This shearling coat was just one of many great outerwear pieces that Stuart Vevers, the new creative director for Coach, introduced for fall 2014; the boots were covetable, too!" – Karla Martinez de Salas
Veronica Beard Fall 2014
"Veronica Beard, a brand known for jumpsuits and blazers, has now perfected the dress—one that I will add to my Fall 2014 shopping list." – Karla Martinez de Salas
Tome Fall 2014
"The Tome Fall 2014 collection was loaded with rich evening looks-—like this red dress with a satin skirt, plunging neckline, and matching opera-length gloves—all with a ladylike twist." – Lindsey Frugier
Richard Chai Fall 2014"For Fall 2014, Richard Chai translated menswear-inspired tailoring and fabrics into casually retro, edgy looks." – Sam Milner
Nonoo Fall 2014
"Designer Misha Nonoo amped up an Annie Hall-inspired tailored suit with a feminine fit and the playful touch of a fur collar." – Lindsey Frugier
Rag & Bone Fall 2014
"The Rag & Bone Fall 2014 collection, which was filled with cool, 50s-inspired jackets, has Joan Smalls's name written all over it." – Karla Martinez de Salas
Peter Som Fall 2014
"Peter Som channeled a modern day Brigitte Bardot for his Fall 2014 collection by pairing classics like a cropped peacoat with a leopard print miniskirt." – Sam Milner
Suno Fall 2014
"Suno gave this thoughtfully layered schoolgirl-inspired look the Midas touch." – Ryann Foulke
Helmut Lang Fall 2014
"This ultimate teddy bear coat's cocoon-like silhouette had me dreaming of next winter already." – Lindsey Frugier
Alexander Wang Fall 2014
"As someone who hates carrying a bag, I find Alexander Wang's opening series of urban-survivalist coat dresses—complete with pockets for pens, notebooks, phones, and lipstick—quite clever." – Karin Nelson
Altuzarra Fall 2014
"Craftsmanship and comfort were the key words of Altuzarra's fall collection—perhaps best exemplified by this technicolor dreamcoat, which required nearly seventy pieces of mink to assemble." – Karin Nelson
Lacoste Fall 2014
"Inspired by the Basque region of France, Lacoste injected some fashion-forward silhouettes into conservative golf wear." – Karla Martinez de Salas
Jason Wu Fall 2014
"Jason Wu's luxe ladies wear the richest of looks with elegant insouciance. Case in point: this black angora coat casually thrown over a grape panne velvet bias slip gown." – Vanessa Lawrence
Hood by Air Fall 2014
"It is inaccurate to simply define Hood by Air as "urban streetwear"—rather, in its blend of hip-hop, punk, athletics, androgyny, club gear, goth, and tribal aesthetics, Shayne Oliver's emerging label is one of the weirdest, wildest, and most intriguing things happening in New York fashion right now." – Karin Nelson
Derek Lam Fall 2014
"The strategically placed slashes on this dress at Derek Lam's Fall 2014 show remind me of a Lucio Fontana painting." – Karla Martinez de Salas
Thakoon Fall 2014
"At Thakoon, scarves morphed into sweaters–and vice versa." – Armand Limnander
Rebecca Taylor Fall 2014
"At Rebecca Taylor, the best looks came in icy pastel shades that were simultaneously minimalist and cozy." – Karla Martinez de Salas
Lela Rose Fall 2014
"You could argue that Lela Rose was sending a mixed message by leaving a pair of lacy thong undies and an oven mitt on each guest's chair at her Fall 2014 presentation, but the clothes, particularly daywear looks like pretty, sweatshirt easy top and skirt, spoke directly to her sophisticated lady." – Alix Browne
Prabal Gurung Fall 2014
"A cozy, oversized cable-knit sweater with a high-slit chiffon wrap skirt is exactly the look I will be going for this Fall." – Sam Milner
Opening Ceremony Fall 2014
"After spring's rip-roaring show, Opening Ceremony went a sweeter route this season, showing quilted puffers and cozy knits before a backdrop of cascading chocolate." – Karin Nelson
Yigal Azrouel Fall 2014
"Simple silhouettes and rich, wintery textures were the key elements to Yigal Azrouel's Fall 2014 show; this oversized gray wool coat and clean black leather culottes was our favorite look." – Lindsey Frugier
Public School Fall 2014
"Public School's first foray into women's wear didn't disappoint—the Fall 2014 collection had the cool aesthetic we've come to expect from designers Dao-Yi Chow and Maxwell Osborne." – Karla Martinez de Salas
Carolina Herrera Fall 2014
"Carolina Herrera updated the classic shift dress with a cool geometric print." – Karla Martinez de Salas
The Row Fall 2014
"The ultimate in monastic luxury for the Row's chic fashion nuns." – Armand Limnander