Keeping Up with Daniel Arsham
A rundown of the artist's whereabouts during Art Basel Miami Beach.
---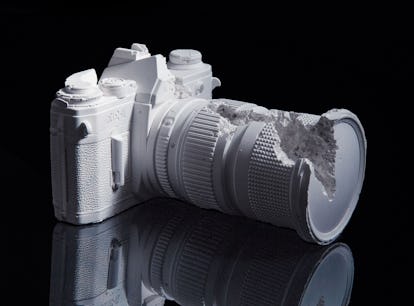 It seems that almost no one at this year's Art Basel Miami Beach is busier than artist Daniel Arsham. As one half of Snarkitecture, the experimental architecture and art practice he formed with Alex Mustonen, the Miami-raised Arsham has created several installations throughout the city and will even be leading a talk. Here's where to find him.
"Marble Run" at the Delano At the Delano Snarkitecture has installed "Marble Run," a stark white 10-foot high marble run constructed over a circular mirror plinth. Hotel guests can take a black marble and drop it at any point in the twisting path to watch it make its way to the end, where it joins thousands of other marbles that ended up with the same fate. "I have a two-year-old son," said Arsham. "I'm constantly looking at games and the idea play."
"Welcome to the Future at Locust Projects" For this massive installation at Locust Projects which runs through January 2015 in ‪Miami's fashionable Design District, Arsham excavated a giant hole in the gallery's floor, filling it with calcified casts of items purchased on eBay — cameras, keyboards, telephones and more that he coated with geological materials like ash and crystal. "It's like looking down in an archeological site in the future," Arsham explained.
Airball: Snarkitecture vs. Alchemist Airball, an installation on view through December 7 at Alchemist in the Herzog & de Meuron parking garage at 1111Lincoln Road, consists of and elevated "arena" with two arcade-style basketball games, as well as bleachers where visitors can take a break or watch. "It's very quiet and simple," said Arsham. "Everything is white." Those in the mood to shop can peruse through the Airball fashion collaborations made by Rick Owens, Hood by Air, and Del Toro made just for the occasion.
Breakfast in the Park at the Frost Museum From 9:30 am to noon on Sunday collectors, gallerists and art enthusiasts gathered at the Frost Museum for its annual Miami Art Week breakfast. Arsham was the event's guest speaker.