Daphne Guinness at FIT
Ask most people what they wore last week and they can hardly recall, but if it was Chanel made by Karl Lagerfeld just for you, the memories may come rushing back. So is the life...
---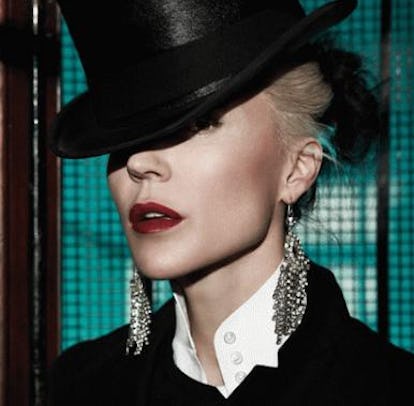 Ask most people what they wore last week and they can hardly recall, but if it was Chanel made by Karl Lagerfeld just for you, the memories may come rushing back. So is the life of the Honorable Daphne Guinness whose wardrobe of iconic clothing goes on exhibit at The Fashion Institute of Technology show simply named, "Daphne Guinness" opening September 16th. Expect to see more than 100 garments and accessories hand selected by Guinness as well as films, videos and images of her in her most memorable ensembles. How did this come about? "Through my friendship with Valerie Steele (FIT Costume Institute curator). Everything I do comes through friendships," Guinness demurred.
We sat down with Daphne, who has been called a "fashion fantasy" and "the most stylish women living" (by Tom Ford no less) in Valerie's office to hear about five fantastic pieces of clothing from the exhibit and the stories behind them:
"I admired him and didn't want to meet him because I am quite shy, but Isabella [Blow] said I must. But I didn't want to be a groupie. It had to happen organically. You don't have to know someone to love their work.
One day he saw me walking across the street in his kimono and he ran up to me and said, " I'm the person you don't want to meet!" We went to a pub and hit it off. Of course after that I was so irritated not to have known him before!"
"This is a piece I wore to the open of the "American Beauty" exhibition at FIT.
Valerie asked me to come to one of the lunches hosted by the Couture Council and we started chatting. I'd never met someone so clever and so interesting and fascinating and this is how this whole thing happened. Then she proposed this exhibition of my clothes and I said sure. I then got really nervous at the thought of the whole thing but I feel totally comfortable in her hands. And you never know how something's going to turn out until you put it on!"
[#image: /photos/5853b4f7d3b7a5db18f3c4b7]|||||| Chanel Haute Couture "David Lachappelle and I were doing backstage for Tatler Magazine when Issy [Isabella Blow] was editor. Issy kept disappearing and we couldn't find her. So David and I were on our own and we decided to set up a cardboard box backstage at various shots to shoot models in. It was a total marathon and we had to talk all these designers into letting us do it. There I was in Chanel couture setting up boxes backstage! I am not sure if anyone ever noticed but each model held a mug with a different letter on it and in the layout they spell, 'All You Need is Love.' What I remember most about that moment was how everyone was so very happy."
"This dress is just so beautiful. I was with my friend, art historian, John Richardson at a big dinner party and he kept asking, 'What is that amazing dress?' Everyone thought I was going to fall down on my shoes and I kept saying, 'Well if I do I'll just get up!'
Gareth's designs are quite simple yet so complex. Quite intellectual too."
"I wore this piece with Gareth when we were doing the cover of Time Out London. All I can remember was how freezing it was in that studio and we were blowing up balloons and taping them on the walls but they kept exploding. I really will do anything to help! It was super fun but it was really very, very, very cold and I had the worst bronchitis afterwards."
Daphne Guinness" is on view at The Museum at FIT in New York City, September 16, 2011 – January 7, 2012.
The exhibition will be accompanied by a book, also titled Daphne Guinness, written by Valerie Steele and Daphne Guinness, and published by Yale University Press. All royalties from sales of the book will benefit the Fashion Institute of Technology.
Click here to read September's "The Empress's New Clothes."
Photos: Pugh (gray) and Chanel: The Museum at FIT. McQueen: Getty Images. Time Out London: Gareth Pugh. Balmain: PMC.