Dolly Parton Keeps It Simple: "Our Little White Asses" Aren't the Only Ones Who Matter
The 74-year-old icon got characteristically candid in making it clear she supports Black Lives Matter.
---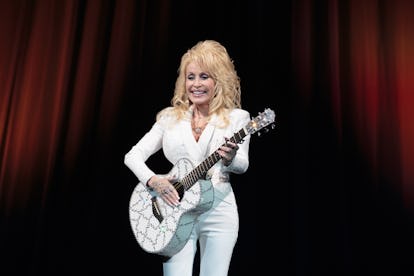 Photo courtesy of SUZANNE CORDEIRO/AFP via Getty Images
"Ho ho ho, Santa came early," Dolly Parton tweeted on Thursday night with a Santa Claus emoji. She was referring to the surprise drop of her "A Holly Dolly Christmas" merch, but might as well have been announcing another surprise drop that came just a few hours later: a Billboard cover story that marks the 74-year-old's official departure from her apolitical past.
"There's such a thing as innocent ignorance, and so many of us are guilty of that," she said on the subject of Dolly Parton's Dixie Stampede, a Dollywood drive-in attraction that faced criticism in 2017 for glamorizing the pre-Civil War era South. A few months later, Parton made it clear that she'd heard her critics, and quietly removed the word "dixie" from its name "in recog[nition] that attitudes change."
"When they said 'Dixie' was an offensive word, I thought, 'Well, I don't want to offend anybody,'" Parton said. ("Dixie" is an age-old nickname for the Civil War-era South, and one that the band now known as The Chicks also recently removed from their name.) "As soon as you realize that [something] is a problem, you should fix it. Don't be a dumbass. That's where my heart is. I would never dream of hurting anybody on purpose."
In sum: Parton actually listened to criticism, and responded accordingly. It's a rare move for a public figure—at least with seeming authenticity—and one that spells out Parton's politics pretty clearly. But just in case they weren't clear enough, Parton went on to state them explicitly (and, of course, candidly): The Black Lives Matter movement has her full and unequivocal support.
"I understand people having to make themselves known and felt and seen," Parton said of the protests since the death of George Floyd. "And of course Black lives matter. Do we think our little white asses are the only ones that matter?"
In response to that question, Parton had a resounding, one-word answer: "No!"
Related: When Did Dolly Parton Become an Iconic Twitter Meme Queen?