Dries Van Noten's L.A. Store Includes "Archive Rooms" and Performance Spaces
Flying in the face of nationwide retail collapse, the Belgian designer's first U.S. store is his largest and most ambitious yet.
---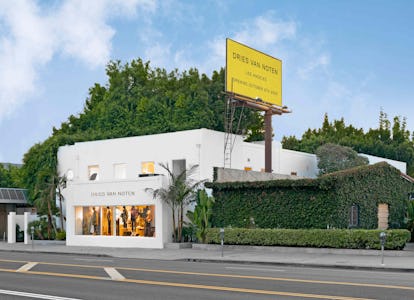 Photo by Jim Mangan, courtesy of Dries Van Noten
Dries Van Noten helped bring Belgian fashion to the world in the early 1990s, as part of the avant-garde cabal of designers known as the Antwerp Six. Now, he's bringing his signature brand of cerebral, romantic elegance to Los Angeles, where his first U.S. store opens today.
The 8,500-square-foot compound on La Cienega Boulevard is his largest store to date, and represents an aesthetic departure from the opulent retail environments he's known for (red lacquer walls in Paris, fuchsia couches and carpets in Hong Kong). The space, which spreads across two buildings, "the little house" and "the big house," used to be an Opening Ceremony, until the retailer filed for bankruptcy earlier this year. (Along with the also-defunct Barneys, OC was a one of the more significant stockists of the brand, so the move to make his own mark on the brick-and-mortar landscape makes particular sense here.) "This is the perfect opportunity and the perfect space for us to rethink what a store could be for the future," Van Noten said in a video Q&A this week.
Van Noten designed the store via Zoom and FaceTime, working with local teams to outfit the post-industrial space. He sourced most of the mid-century modern furniture for the space on 1stDibs and collaborated with a friend in Los Angeles to arrange the jungle-like planters at the entrance.
"The store is full of adventures," Van Noten said, and in conceptualizing it sought to answer the question: "How can we mix clothes with art, with music, with food?"
In addition to sleek rooms to display the designer's latest wares, the store will have a kitchen and spaces to host pop-ups from local designers and friends of the brand (first up: fellow Antwerp designer Ann Demeulemeester), music performances (there's a grand piano), lectures, and even drive-in movies in the parking lot. Van Noten invited young artists to paint and draw directly on the walls, enlivening the space with rotating, site-specific artworks. Tucked into various corners, shoppers will find books that inspire Van Noten and his team, gardening tools made by a Japanese blacksmith ("Everybody knows I'm really a garden lover," Van Noten said,) and a monthly selection of vinyl records curated by musicians, DJs, and performers.
Another innovative feature: mens and women's "archive rooms," where customers can shop vintage pieces from prior seasons, from the 1990s to Van Noten's recent collaborative collection with Christian Lacroix. Eventually, Dries devotees will be able to bring in their own vintage pieces, provided they're in good condition, to resell them through the store. "Fast fashion is so much on people's minds—that it's not making sense anymore," Van Noten told The Cut. "A beautiful thing stays beautiful whether it's five years old or ten."
While the status of L.A. as a fashion capital has been long debated, Van Noten's decision to open there as opposed to in New York was both strategic and intuitive. "Los Angeles is a great city because you can do things by trial and error," he said. "You can do experiments. I don't know that New York would be so forgiving if you do some things that don't work."
As for whether he'll eventually open in New York, "The space is very important, so it really has to be the right building," the designer said. "The moment we find that, here we are in New York!"
Related: