Putting it Bluntly
With four new films this fall, Emily Blunt shows she's more than just a lackey to Miranda Priestly.
---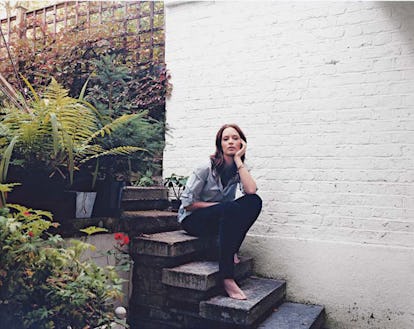 There's an unwritten rule that all beautiful actresses must claim to have been total geeks in high school, whether or not they genuinely were, but Emily Blunt makes a far more convincing case than most. While growing up in a posh suburb of London, Blunt developed a stutter so debilitating that she could barely hold a conversation, let alone elbow her way into the limelight. "I was a smart kid, and I had a lot to say, but I just couldn't say it," she says during an interview at the Soho Hotel in London. "It would just haunt me. I never thought I'd be able to sit and talk to someone like I'm talking to you right now."
Then a teacher suggested acting lessons, and by age 18, Blunt was starring opposite Judi Dench in Peter Hall's London production of The Royal Family. (When she pretended to be someone else, Blunt says, "something lifted in me.") Today, at 24, she's one of those poised, silver-tongued Englishwomen who seems at ease in almost any situation, whether it's playing the catty assistant of Meryl Streep's Miranda Priestly in The Devil Wears Prada or lobbying for a chance to star as the young Queen Victoria in a new film produced by Martin Scorsese. With four movies due for release between now and the holidays, Blunt is at a juncture where she could easily transform herself into an Us Weekly mainstay—she's even got a celebrity boyfriend, retro-style crooner Michael Bublé—though lately she's been lying low in Bublé's native Vancouver.
Blunt credits most of her current career opportunities to her breakout role in The Devil Wears Prada, which she calls "the most important thing that has happened to me." During the shoot she often worried that she was hamming it up too much, though her doubts were somewhat soothed when she received multiple award nominations, including a Golden Globe and a BAFTA. ("Maybe it works, overacting," she jokes. "Maybe I'll do it for the rest of my career.") In fact, Blunt's take on the character was probably more nuanced than the script's. "I decided that it would be better to play her as desperate and vulnerable, rather than bitchy," she says. "She just defines herself by this association with her boss, and that's so sad."
In the new romantic comedy The Jane Austen Book Club, out in September, Blunt once again engages in some dignified scene stealing. Based on Karen Joy Fowler's novel, the movie is about a group who meet to discuss Austen's novels and begin seeing their own messy relationships reflected in the books. Blunt plays an awkward, uptight French teacher with a doomed crush on a hot acting student (Kevin Zegers). "She can appear imperious and snobby, but she's socially hopeless, and I liked that contradiction—that was me growing up," Blunt says.
The film's director, Robin Swicord, says Blunt's ease in drawing upon her wounded former self is a key to her appeal. "On the surface you see this beautiful and commanding woman with perfect posture," Swicord says. "You can cast that, or you can look underneath and cast the person that's in there, which is what I was going for." After Jane Austen, Blunt will share the screen with a trio of heavyweight American actors: Tom Hanks (the two have a raunchy scene in Charlie Wilson's War, directed by Mike Nichols), John Malkovich (Blunt plays his beleaguered publicist in The Great Buck Howard) and Alan Arkin (she's his daughter in the dark comedy Sunshine Cleaning).
Meanwhile, there's her Canadian main man, Bublé, whom Blunt began dating in 2005, after meeting him backstage at one of his concerts. Asked about the pros and cons of celebrity coupledom, Blunt says it's actually a relief to be dating someone who's more famous than she is. "It's harder when you're the one emasculating [your boyfriend]. I've done that, and it doesn't work," she says. "If someone is not fulfilled in what they do and you're a successful girl, it will work against you."
Blunt—who in person exudes the delicate voluptuousness that she brought to the acclaimed My Summer of Love (2004), with none of her Prada character's skittish frigidity—is more candid than your typical actress on the verge, having not yet adopted the habit of self-protective caginess. ("I think that when you give an interview, you should give an interview," she says.) She describes Empire, the 2005 ABC miniseries in which she starred, as "the sad little brother of Rome," admitting that she did it mainly for the money. She says that her parents—a lawyer and a teacher—have been justifiably unnerved as they watch their daughter dip her toe into the dark waters of celebrityhood. At the Prada premiere in New York, where they found Blunt a little too good at playing the red-carpet robot, her mother told her, "I just feel like I don't have a place with you here." In response, "I got cross," Blunt recalls. "I said, 'You've just got to blend in. I'm dealing with insecurities—you've got to f—ing blend in!' Those nights are not fun for me."
If Blunt is conflicted about the growing discrepancy between her public and private selves, The Young Victoria, in which she has 42 costume changes, should give her a chance to put that uncertainty to good use. Directed by Jean-Marc Vallée and written by Julian Fellowes (an Oscar winner for Gosford Park), the movie begins in 1836, when 18-year-old Victoria first emerges from the shadow of her neurotically overprotective mother—who forbade her to climb the stairs without adult supervision—and figures out how to tackle the role of Queen of England, a performance that would last for six decades. Blunt says she liked the script for its modern take on Victoria's romance with Prince Albert ("I felt there weren't any lutes playing gently in the background") and for its view of the youthful Queen as a feisty and warmhearted woman forced into a job that's way over her head. Sarah Ferguson, the Duchess of York, initially developed the idea with financier Graham King, and shooting is now under way in London. During a private tour last spring of Windsor Castle, where some scenes are being shot, Blunt was allowed to read a few of the ardent love letters that Victoria wrote, in German, to Albert. "They were so romantic," Blunt recalls, adding that the Queen had terrible penmanship. "Illegible," she says. "Albert's was very neat."
As Blunt gets used to life under public scrutiny, she's developed a few coping mechanisms, including poker games, hiking and cooking. And after several years spent primarily in the company of North Americans, she's also finding that their directness is rubbing off on her, mostly in a good way. "I've become more confrontational and more inclined to voice my feelings if I'm excited about something," she says. "Now I can be tenacious and say, 'I want this part.' " But there are still a few areas where her natural reticence holds sway. The scariest people in the world for Blunt: any group of confident 16-year-old girls, including her young sister's friends. ("They're like little gaggles of witches, and I always feel like I can't say anything sensible or cool," she says. "I'm like, 'Hi guys!' and it just sounds so lame.") And Blunt remains English at heart, so no matter how dissatisfied she might be with a dish she orders in a restaurant, she will never, ever complain about it.
"I'll let Michael send it back for me," she says. "I still embarrass very easily."