Emmys Snubs and Surprises 2020: Zendaya Prevails, The Women of 'Pose' Get Left Out
Someone is probably feeling, well, euphoric.
---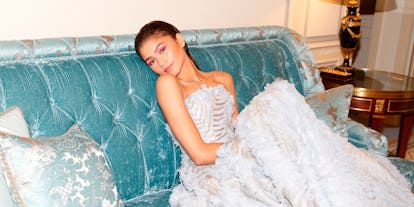 The 2020 Emmy nominations come under very unusual circumstances, but at least we get to quibble over the snubs and surprises as we do every year. This year, the Emmys finally recognized Succession, played catch up with beloved comedies like Insecure, The Good Place, and Schitt's Creek, and absolutely loved Watchmen like the rest of us. (And, yes, Cheer and Tiger King got a healthy number of nominations as well). Still, the Academy of Television Arts & Sciences still find ways to surprise with some of their choices, while leaving us feeling salty about things they left unrecognized.
Surprise: Zendaya Comes Through
Euphoria certainly caused a stir when it premiered last summer on HBO, but aside from nominations for its makeup and music supervision, its other Emmy chances seemed murky. Turns out the Emmys are the latest to get aboard the unstoppable Zendaya star train, and recognized her in the Drama Actress category, which recently has been one of the most competitive.
Snub: Reese Witherspoon Goes 0 for 3
Reese Witherspoon co-starred in not one, not two, but three major television events this year with The Morning Show, Little Fires Everywhere, and the second installment of Big Little Lies. Although her co-stars from each show got nominations, Reese went without. It's fine, though. She's a producer on each project, and her Hello Sunshine company still picked up 18 nominations. She's a mogul now. The new Norman Lear. Watch out.
Surprise: The Good Place and Schitt's Creek Get Proper Send-Offs
The Emmys tend to go big on television shows during their earlier seasons, but in the case of these two widely beloved sitcoms, they saved their adoration for their final seasons. Both got Best Comedy Series nods. Schitt's Creek, meanwhile, pulled off the rare feat of having a nomination in all four major comedy acting categories. The Good Place co-stars William Jackson Harper and D'arcy Carden also got long overdue supporting nominations.
Snub: Viola Davis and Elisabeth Moss Sit Out
Viola Davis and Elisabeth Moss have won in the Drama Actress category before for their current roles in How To Get Away With Murder and The Handmaid's Tale, respectively, but each got snubbed this year. Somewhat surprising, especially for Davis. This was How To Get Away With Murder's final season.
Surprise: The Mandalorian
Ok, all of us with remotely geeky tendencies enjoyed the show, but did we expect it to get a Best Drama Series nomination? Not really. Although, a nomination in the category for an expansion of a beloved sci-fi franchise isn't unprecedented—Star Trek: The Next Generation scored a series nomination back in 1994. Mandalorian didn't get any acting nods, which we can only assume is because Baby Yoda was not eligible for supporting actor on the technicality of him not being real.
Snub: The Women of Pose
Pose is held together by its actresses, but once again they're left on the outs. M.J. Rodriguez deserved consideration as lead, while Indya Moore and Angelica Ross both made strong cases for supporting actress.
Surprise (for Drama) and Snub (for Comedy): Steve Carrell
While, Netflix's Space Force sort of crashed, it was still viewed as a possibility that Carrell could get a nomination for his performance on the comedy side. Instead, he ended up getting nominated for his dramatic role on The Morning Show. Whatever, we guess the Emmy committee still feels bad for not giving him the statue for The Office, as they should.
Snub: Better Things
The Emmys have shown love to Pamela Adlon's chronicles of modern motherhood before, but ignored its fourth season.
Surprise: What We Do in the Shadows
Jemaine Clement and Taika Wititi's FX vampire comedy has had good buzz for two season now, but no one expected it to sneak into the Best Comedy series category.
Snub: Succession's Secret Weapon, J. Smith-Cameron
After some season one hesitation, the Emmys confirmed itself as members of the Succession hive and handed out nomination to just about everyone (even cousin Greg!), but J. Smith-Cameron went without. Come on, we all know Gerri holds everything together there in more ways than one.
Surprise: Kimmy Schmidt's Resurrection
We all instantly have a picture in our mind of what kind of made-for-tv films get nominated at the Emmys, and that picture doesn't include comedies. Well, surprise, surprise, Unbreakable Kimmy Schmidt: Kimmy vs. The Reverend was nominated as best TV Movie while Tituss Burgess picked up a rare comedy nomination in the Movie/Limited Series supporting actor race.