Fausto Puglisi's Florence
Ahead of his menswear debut at Pitti Uomo in Florence, the Italian designer shares his insider's guide to the Tuscan capital.
---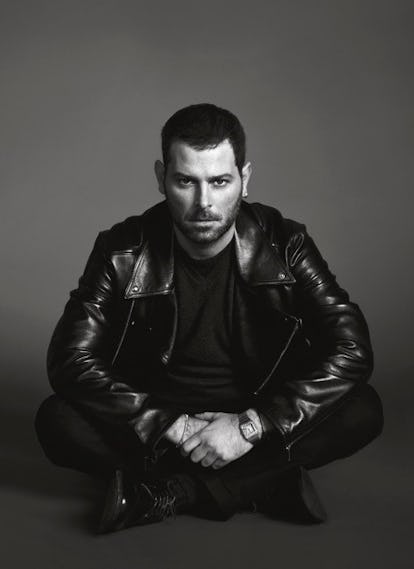 On Tuesday, the fashion world turns to Florence, where the four-day menswear fest known as Pitti Uomo takes place. New to the calendar this year (incidentally, on Pitti's 45th anniversary) is Fausto Pugsili, who has become known for his sexy, bold and embroidered clothing for women, and who will be debuting a menswear capsule collection at Pitti. Here, the Italian designer, who is from Sicily, shares his favorite spots in Florence.
Museum Stibbert This museum was created by Frederick Stibbert. They have an amazing collection of armors and arms, and an army of knights on horses which always leaves me speechless.
Museum of Bargello I just love their collection of classical statues and the location, especially the courtyard with the bas-reliefs.
Fontana Dell'Oceano at Boboli Gardens I love the Boboli Gardens behind Palazzo Pitti, but most of all the fountain called "Ocean" created by Giambologna, and surrounded by three sculptures representing the great rivers of the Nile, Ganges, and Euphrates. So much myth going on!
The Deposition from the Cross The Deposition from the Cross is an altarpiece, depicting the Deposition of Christ by the Italian Renaissance painter Jacopo Pontormo. Painted in oil on wood, the painting is located above the altar of the Capponi Chapel of the church of Santa Felicita in Florence. The greatest masterpiece of Mannerism.
Quattro Leoni Situated in the historic square of la Passera, this restaurant has a special atmosphere outdoors. Great regional food: Tiramisu! Coffee Mocha! Not to be missed! The owner, Stefano Di Puccio is the heart and soul of the restaurant.
Vivoli Ice Cream They have the most incredible zabaione in Italy!
Hotel St. Regis A great classic in Florence, and always impeccable. I love it in any season.
Botticelli Anticipa Antique Stores A gallery where you can find anything from Wunderkammer objects to ancient fabrics and primitive paintings. It's in an amazing location with a hidden courtyard.
Mustermann Chemists A century old pharmacy, located in the heart of Florence, close to the Ponte Vecchio. I love their Iris Florentine bar soap!
Liberia Antiquaria Gozzini An ancient Florentine bookshop set up by Oreste Gozzini in 1850; stocks books you cannot find anywhere else.
Watch W's most popular videos here: