Five Minutes With Iman
Though it's only a few days into New York Fashion Week, a strong, clear message has emerged: The supermodel is back. Karlie Kloss and Joan Smalls were announced as the new co-hosts of MTV's House...
---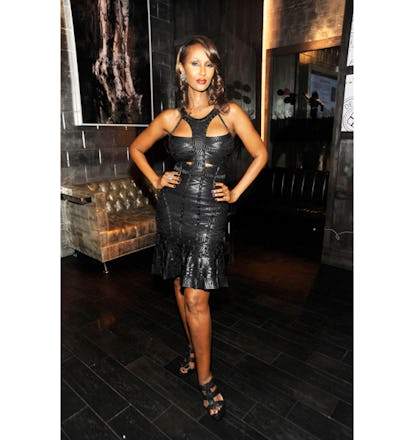 Though it's only a few days into New York Fashion Week, a strong, clear message has emerged: The supermodel is back. Karlie Kloss and Joan Smalls were announced as the new co-hosts of MTV's House of Style revival, Carolyn Murphy opened Jason Wu's show on Friday morning, and Zac Posen's presentation on Sunday was filled with exits by Naomi Campbell, Isabeli Fontana, and Karolina Kurkova, among others. Arguably the ultimate testament to the power of the supermodel, though, was on full display Friday night, when Iman hosted a party at the Electric Room celebrating the launch of Destination Iman, her new online magazine (in partnership with Built by the Factory) which covers fashion, beauty, and home—it was inspired by her globe-trotting travels, and she'll be penning a monthly column, Ageless Chic.
Between greeting pals like Brian Atwood, Karen Elson and Padma Lakshmi, Iman—clad in a black cut-out Herve Leger dress and dripping with Fred Leighton diamonds—chatted about flats versus heels, America's obsession with comfort, and why being on the worst-dressed list can be okay. [#image: /photos/5853c4c3c7188f9b26c94031]||||||Iman
What do you think of the old adage "a real woman never reveals her true age"? In today's technology, nobody can lie. They'll Google it, and there is your age. So you might as well own it.
So you wouldn't be insulted if I asked your age? In my first blog I said I just turned 57, and that's why I was writing it. But I don't believe in aging gracefully—I believe in aging chicly. Gracefully means you're giving up; you say, "Okay, this is what has happened, and I'm not going to fight it." I say, Fight it.
And how do you fight it? I have a fractured foot, and I'm wearing Rachel Zoe shoes—she sent them to me because it's a thick heel. I'm not going to wear ballet flats with an Herve Leger dress! It doesn't work like that. So suffer—suck it up and pull yourself together, woman.
Is suffering part of the process? It's not suffering, but America has an obsession with comfort. When you're lying down in bed—comfort. When you're in the gym—comfort. For god's sake, why does it have to be so important to be comfortable at all times? If I wear ballet flats, it has to be with appropriate attire. Not just because it's comfortable, but because it also looks good with it.
Speaking of Herve Leger, you look amazing in that dress. What is your fitness routine? Now? Nothing, because I have an injured foot. But if you can't work out, watch what you eat—you can't have it both ways. But I do everything from boxing to yoga to step classes, aerobics.
How did you injure your foot? Literally just walking.
In heels? I was in heels, but I didn't even fall! It wasn't even warranted. I mean, at least let me fall and say, Aww, hell.
Your skin looks flawless. What is your secret? SPF, SPF. Moisturize, moisturize—to death.
Do you have any favorite products? This is not even mine, so I can plug it: If I have jet lag or the flu, I put this product on and you would think I just got off from a flight to Ibiza—SKII 3D Refining Masque. It's the bomb—the most amazing thing. When you put it on you look like Hannibal Lecter, but when you take it off, my god you look good!
And is jewelry part of the equation? You're covered in diamonds. These are Fred Leighton. I actually think the older you get, the less jewelry you need, but it's great to wear big sculptural pieces. I think true style has a focus, and when you're at this age you can't meander and second-guess yourself. It's okay to be on the worst-dressed list. It's okay! That's called having your own personal style. And a lot of times when people say or write, "What was she thinking?" you can say, "She's fucking wearing Yohji Yamamoto, goddammit."
Is there anything you wouldn't wear now? Anything way above the knee—not for any other reason except vanity. I have terrible legs.
I beg to differ! Well, I camouflage it. I make you look at my face.
Click here to see more photos.
Photo: Sherly Rabbani & Josephine Solimene