In Forgotten: Women of Juárez, Two Journalists Investigate Mexico's 'Femicides'
"Before, Juárez might've felt like the other side of the world. But I think people are consuming the podcast and understanding how it sheds a light on the U.S. as well."
---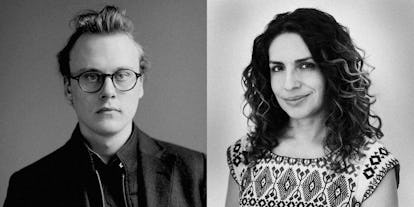 Woloshyn courtesy of Forgotten, Ortiz Uribe courtesy of Christ Chávez.
The journalist Mónica Ortiz Uribe has only pleasant memories of a childhood spent between her hometown of El Paso, Texas, and the border city of Ciudad Juárez in Mexico. As a kid, her family attended church on Sundays; once the service was over, her father would clap his hands, rub his palms together, and say, "It's time for the reward. We did the deed—now we're going to go out."
They'd drive with relative ease over the border, and head into Juárez—stopping for lunch at their favorite family-run restaurant, shopping in the mercado de artesanias (the artisan market downtown) and, before returning to the U.S., stop at a gas station located a stone's throw from the border, and pick up crates of Fanta and Mexican Coca-Cola, the tasty kind made with real sugar.
"We didn't go to Juárez and look over our shoulders or feel nervous," Ortiz Uribe said on a recent afternoon, calling from her home in El Paso, where she still resides. "A lot has changed."
Ortiz Uribe didn't think she'd become an El Paso lifer, nor did she know years ago, visiting the mercado in Ciudad Juárez, that the city would become the center of her work.
But it has. Alongside her co-host Oz Woloshyn, the two radio journalists launched the podcast "Forgotten: Women of Juárez" in June this year. "Forgotten" examines the mass disappearances of women in the border city who, more often than not, turn up dead (these crimes have become known as "femicides"). Members of the drug cartels, elected officials, sicarios (hitmen), and even a Satanic cult are thought to be involved in the killings. The journalists, along with other local reporters who have worked on this topic for decades, dig into the theories about who is responsible for these grisly murders, visiting Juárez regularly to meet with people involved in the numerous cases.
In the podcast, Ortiz Uribe and Woloshyn have two different narrative functions: the former is an insider, with family history in Juárez and a lifetime of going back and forth between the border, while the latter is an outsider, who comes to each episodes with fresh eyes—and questions that help a more green, uninformed listener follow along.
Since its initial release, "Forgotten" has steadily climbed the charts, consistently occupying spots in iTunes and I Heart Radio's Top 20 list. If you're looking at the show as merely an investigation into homicides, its popularity makes sense—true crime is an awfully beloved podcast genre. But in Ortiz Uribe's eyes, the subject matter on "Forgotten" connects deeply to American audiences for a number of reasons, especially given this particular socio-political moment in history. The story is about a system that consistently fails its citizens. Governmental corruption abounds, antiquated gender roles are called into question—and many of the women who disappeared were snatched from or near the very factories where American goods, like fast-fashion and PPE supplies used during the coronavirus, were produced.
"On the surface, the show has nothing to do with racial protests, cries for justice, and criticism of brutal authorities that are consuming the U.S. right now," Woloshyn explained. "But in another sense, it actually has everything to do with that. It is a show about vulnerable people paying the price when institutions fail, when journalists become targets, when judiciary becomes compromised. Before, Juárez might've felt like the other side of the world. But I think people are consuming the podcast and understanding how it sheds a light on the U.S. as well."
Immediately before the coronavirus hit, massive protests took place in Mexico denouncing the femicides and other murders like them in Latin America. Although the pandemic halted this movement, Ortiz Uribe saw similarities between those who took to the streets to speak out against violent deaths and the people who protested in the United States following the killing of George Floyd.
"One of the things I hope to do is talk about the parallels between these two movements," Ortiz Uribe said. (She and Woloshyn are still working on "Forgotten," and two more episodes are slated to come out before the season ends.) "One of the major themes of the protests in the United States is police brutality, but it's also exploitation in these denunciations. Labor has been exploited since before the founding of this nation, and the first labor to be exploited was primarily Black. And now, the labor that's being exploited in this country is primarily Brown."
The ties between the United States' reliance upon Mexican factory production and the murders in Juárez is discussed at great length in "Forgotten," which also examines cultural norms that helped foster a toxic, violent environment for the gangs involved in the cartels.
When the North American Free Trade Agreement was first enacted in 1994, a flood of foreign-owned factories entered Ciudad Juárez—and they were staffed primarily by women. "It switched the gender roles in a way that was unexpected and uncomfortable for traditional Mexican society," Ortiz Uribe said. "Women had their own jobs. It gave them an empowerment that they hadn't had before. There was a sense of resentment among men. These murders were initially seen in the lens of putting women in their place.
"Our demand for cheap consumer goods has made these women vulnerable in that they, to satisfy that demand, work in these low-wage jobs that makes them vulnerable," she added. "They have to live in neighborhoods where they don't have sufficient public lighting, if any public lighting at all. They have to take the bus two hours, often by themselves. And of course the demand for illegal drugs, which has brought in these violent criminal organizations that are responsible for some of these murders and that are preying upon not only women, but young men, have taken an entire city hostage."
Ortiz Uribe has said multiple times in various episodes of "Forgotten" that her mother, who used to accompany her on those post-church day trips into Juárez as a child, begged her not to report on the femicides, for fear that those involved in the crimes might come after the journalist and her family.
"Getting more interviews [to finish the season] means crossing into Juárez, which I haven't done since the pandemic began," Ortiz Uribe said. "I am conscious that I'm highlighting organized crime and corruption in Mexico in a way that, maybe, some who are still involved, don't appreciate."
But the two are still forging on with reporting, in hopes that shedding light on these murders—some of which happened in the '90s and early 2000s—tell an overarching story of oneness.
"I don't want American listeners to take in this podcast, and in the end, be like, 'Well, that's terrible for Mexico, man. Good luck solving those murders and good luck getting your shit together, Mexico,'" Ortiz Uribe said. "It may feel more remote, like this is happening somewhere else, but it is our policies and our consumption habits in the U.S. that are directly tied to what is happening to Juárez. I'd like us to see that these women are not somebody else's problem. We need to care about their vulnerability and what can happen to them."
Related: Raquel Willis on Maintaining Revolutionary Momentum