Fyre Festival Burns Out: A First-Hand Account of the Music Festival Fiasco that Became #FyreFraud
Before the Insta-girl promoted Bahamas blowout could kick off weekend one, it was cancelled. Here, a breakdown of everything that went so, so wrong.
---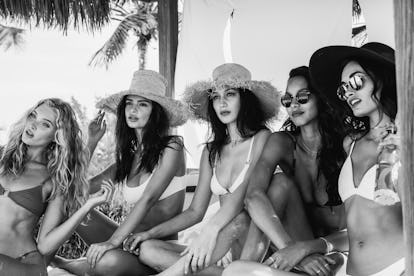 Six months ago, Fyre Festival started out as an influencer marketer's ultimate dream when a group of social media's most-followed models posted a series of photos from "Fyre Cay" in the Bahamas. Emily Ratajkowski posed on a jet ski with Bella Hadid. Lais Ribeiro blew a puckered kiss. A bikini-clad Elsa Hosk threw her head up in the air and stuck her tongue out. And with captions that said little more than simply the hashtag "#fyrefestival," people began to ask, "What is this festival, and how can I go?"
Things really started to heat up in January when Kendall Jenner and Rob Kardashian leant their names to the affair. It was almost too good to be true—a thought that would come to haunt it in the coming months, leading up to Friday morning, when on the day the festival was slated to kick-off, it was postponed—indefinitely. What went wrong?
-=-=-=-
At first, following that initial supermodel Instagram explosion, there was a flood of positive press coverage, with many comparing Fyre to a luxury, more exclusive version of Coachella. Guests were promised charter planes between Bahamas and the exclusive private island festival grounds. Instagram stars like James Ryan Ohliger ("Krispy Shorts") and Mimi Elashiry were hired to produce content for the festival. The lineup was impressive for a first-time event, and featured many artists represented by Kanye West's label G.O.O.D. Music, including Tyga, Pusha T, and Desiigner. The branding was strong, the influencer marketing clearly on-point, and it appeared to be an appealing pitch to any Millennial with the disposable income to pay the steep $1,595 ticket price (and those were for entry level tickets; many guests paid around $3,000 for "VIP Packages," and some packages soared into the six figures).
Exclusive: Bella Hadid, Alessandra Ambrosio, and Emily Ratajkowski Take the Bahamas by Storm
The first red flag should have been when the festival confirmed the location of the event—not a lush private island the way it had been promoted, but a stretch of Great Exuma, a popular tourist destination in the Bahamas that is also the site to the Sandals Emerald Bay resort. On the bright side, the Exumas are known for their clear waters, pristine beaches and charming herds of swimming pigs. Even if you're at a Sandals.
Things started to go awry earlier this month, when the Wall Street Journal reported that Fyre Festival was wildly over-budget and unorganized, as additional rumors swirled that musical acts had not yet received payment. Finally, those whispers came to fruition on Thursday, on the eve of Day One of the festival's first weekend, when festival-goers started to touch down on the island.
The first wave of early morning charters to Exuma made it to the island issue-free, but later planes started to become increasingly delayed, according to at least two festival ticket-holders. By evening, it was clear the festival was not prepared to get off the ground, with little infrastructure in place and no direction from organizers. Finally, around 9 p.m., one pilot from the charter plane operated by Swift Air read a statement from Fyre organizers that said, according to a passenger, "Due to overcapacity on the island, we need to cancel the flights to ensure the safety of our guests. Fyre will reach out to every passenger individually to sort details."
"We were supposed to depart at 8:30 [p.m.] and we didn't board until after 9:30 [p.m.]," said Dan, a 27-year-old disgruntled guest who works in finance and had bought a $500 ticket to the festival. "Then the pilot comes out and reads a statement that basically [said] the Bahamian government wouldn't let any more flights come over. There wasn't enough accommodation on the island for all these people…And there has been no information from Fyre at all. People were left stranded in Miami not knowing what was going on. If you walk around Terminal G at the Miami airport [on Thursday night] there are a lot of unhappy people."
The same guest said that he knew some friends on earlier charters who had successfully made it to Exuma: "But if you look at what they're posting on Twitter right now, it looks like The Hunger Games over there."
In fact, just as the hashtag #fyrefestival elevated hype around the festival, it became responsible for its own undoing, with people on the ground in Exuma using it to share videos and pictures of the so-called luxury accommodations promised to all guests, which turned out to be little more than disaster relief tents with bare mattresses thrown inside. Other reports coming from Twitter charged that concierge stands were half-built, the Steven Starr catering was nowhere to be found, and altercations between guests and local Bahamians.
It wasn't until 2:30 a.m. that night that Fyre emailed an official communication that they were "working to comfortable [sic] accommodate guests in our geodesic domes and deliver a great experience," and that "to alleviate logistical challenges, all inbound charter flights to the Exumas have been cancelled."
"The story is, the festival grounds weren't ready," said Dan, the 27-year-old. "So they were holding everyone with an open bar on the outskirts of the festival. They were giving out rosé and just kept everyone there. Then at some point they let them onto the grounds and shepherded them to the main stage…we started getting Snapchats from the main stage, with this weird traditional Bahamian act playing."
On Thursday, Blink-182, one of the major headliners, tweeted a statement that they were canceling their performance, writing, "We're not confident we would have what we need to give you the quality of performances we always give our fans."
Incidentally, where were the Insta-models? Was Bella Hadid stranded like everyone else? Per her Insta-story, it would seem she was still safely in New York, as of Thursday evening.
In an official statement sent to all guests Friday morning, the Fyre Festival Team shifted the blame: "Fyre Festival set out to provide a once-in-a-lifetime musical experience on the Islands of the Exumas. Due to circumstances out of our control, the physical infrastructure was not in place on-time and are [sic] unable to fulfill on that vision safely and enjoyable for our guests. At this time, we are working tirelessly to get flights scheduled and get everyone off of Great Exuma as quickly as possible." According to the Wall Street Journal, the festival is run by Fyre Media, which was founded by entrepreneur Billy McFarland and '90s rapper Ja Rule.
In its latest statement to all guests, sent around 9:30 a.m. Friday morning, Fyre officially "postponed until we can further assess if and when we are able to create the high-quality experience we envisioned." Festival organizers urged guests already on Great Exuma to stay put, await further instruction, and refrain from making their own plans to get off the island.
The overall sentiment was captured with the hashtag that replaced #FyreFestival overnight throughout social media: #FyreFraud.
Related: Bella Hadid, a Bubble Bath, and Jenga: What More Could You Want?