Everything You Need To Know About the Gawker Scandal and Billionaire Peter Thiel
It's Silicon Valley honcho vs. New York media mogul in what's shaping up to be the moneyed slugfest of the year.
---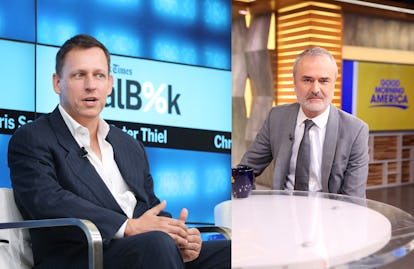 It's the legal battle that has taken over your Twitter feed: the face-off between pro wrestler Hulk Hogan and Gawker Media, which has now transmogrified into the clash between billionaire Peter Thiel and Gawker Media. Despite its powerful players, it seemed like a brouhaha that was taking place far far away from the world of fashion, over there in the nerdy lands of media and tech. And suddenly, it came knocking down fashion's doors. As the bitter litigation drags on, Gawker Media honcho Nick Denton is said to be exploring a sale, and according to the Financial Times, one of the potential bidders is the owner of trade Women's Wear Daily. You can already count this one among the marquee scandals of the year.
The Basics In 2012, Gawker, the gossip site, published an excerpt of a sex tape putatively belonging to one Terry Bollea, alias Hogan. He sued, and earlier this March, a Florida court issued a verdict in his favor, awarding him a whopping $140 million in damages. Gawker appealed for a new trial but a Florida judge denied the appeal, which brings us to today, when Denton is said to be pondering whether to sell the business in order to keep it afloat.
Who is Peter Thiel? What was once a whispered rumor of an anonymous backer financing Hogan's case has, over the past two days, turned wholly concrete. Confirming Denton's suspicions, PayPal founder and Silicon Valley mogul Peter Thiel came forward as Hogan's benefactor Wednesday, a move that sparked a swirl of conversation about ethics and expensive litigation and the lengths billionaires will go to for a grudge. Thiel, who was an early investor in Facebook and was played in The Social Network by Wallace Langham, an actor best known for crotchety procedural CSI, has the money to keep this going for a while, with Forbes estimating his current worth at approximately $2.7 billion — which makes the $10 million he dispensed in Hogan's case look like relative peanuts. (Fun fact: he's pledged support as a San Francisco delegate for Donald Trump.)
What's his beef with Gawker? In 2007, Gawker's Valleywag blog posted a piece entitled "Peter Thiel Is Totally Gay, Guys" — and, though he wasn't the only one whose personal life was aired on the Gawker site, that made it personal. (Incidentally, that's the same year that Hulk Hogan's sex tape was recorded, though it wasn't published on Gawker until 2012.) Gawker, he told the New York Times, "ruined people's lives for no reason." He has now jumped into the ring in what he says is defense of those who might not have multiple billions of dollars at their disposal to pay legal fees. It's a squabble quite literally a decade in the making.
Where is this playing out? Everywhere. Because Gawker is a titan of online media, everyone's got an opinion — and not everyone falls on the side of the sprawling site's particular brand of uncensored snark. Reams of tweets and opinions across the Internet have resulted.
Why does it matter? On the micro level alone, Hogan's counsel, with Thiel's support, tailored its prosecution to inflict maximum damage on Gawker without recourse to insurance money. Hogan refused to settle out of court, and he withdrew his insurable complaints. So the $140 million in damages would come directly out of the company's own pockets, and, as Denton pithily told the New York Times in June 2015, "We don't keep $100 million in the bank." (So far, Gawker's appeals have been denied.) Thiel might argue that he didn't set out to sink Gawker — it's "deterrence," rather than "revenge," he told the Times — but what he calls "philanthropic," Fusion calls "a whole new weapon which can be used by any evil billionaire against any publisher." On the line is the fate of a media outlet that has dramatically evolved over the years, but that you could still count for your daily dose of New York schadenfreude. We've certainly come quite a way since the sex tape that started it all.
Watch W's most popular videos here:
2015 Internet Slang Pictionary