Chef Collective Ghetto Gastro Uses Food as a Weapon Against Oppression
The Bronx-based chef collective has found a clarified sense of purpose amid the pandemic and the recent surge in Black Lives Matter protests.
---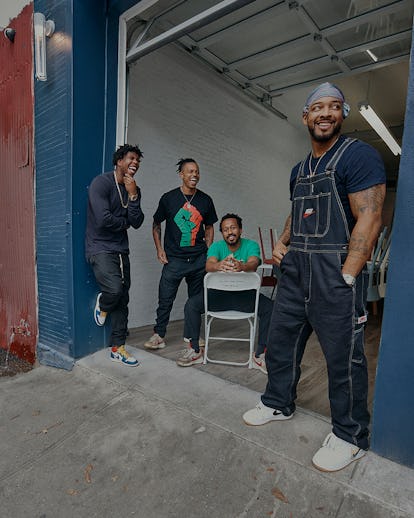 From left: Jon Gray, Pierre Serrao, Malcolm Livingston II and Lester Walker. Photograph courtesy of Jake Jones.
Ghetto Gastro, the Bronx-based chef collective founded by Jon Gray, Pierre Serrao, Malcolm Livingston II, and Lester Walker, has always been about bringing people together. In years past, they've hosted a Black Panther-themed extravaganza during New York Fashion Week, convinced Cardi B to perform at a party they put together for Airbnb, and worked with Michelle Lamy on a "Thanksgiving for Peace" event at her and Rick Owens' Paris home after the Bataclan terrorist attack.
They've always used their platform—which is part catering enterprise, part community organization, part performance art—to educate people about food inequality and to uplift their Bronx community. Now, during the COVID-19 pandemic and amid widespread protests against police brutality, they've found a renewed sense of purpose that has clarified their vision for what Ghetto Gastro can be.
"There are two pandemics: there's COVID, and there's systemic racism," Gray said, speaking on the phone from the Cayman Islands last week, where he and Serrao had been in quarantine until returning to New York this past weekend. Although they were far away from their city, Gray said that being in the same house together (in a quarantine pod filled with other talented chefs, including Angela Dimayuga) helped them hone in on the important stuff. "The first thing we were working on was making sure people in the Bronx that were worried about issues around food insecurity could get fed," Gray said.
Since the protests began at the beginning of June, Ghetto Gastro has partnered with the nonprofit Rethink Food NYC and the Oaxacan restaurant La Morada to get tens of thousands of meals to communities in need in the Bronx, Brooklyn, and Queens, and also served free meals via food trucks to protestors in Washington Square Park.
Returning to the Bronx was jarring, eye-opening, and ultimately energizing. "It's weird coming back to NYC and seeing everything boarded up and closed," Serrao said via email this week. "The energy in the Bronx isn't the same summer energy right now, people are hurting. The amount of systematic neglect over the years really shows at times like this."
For both Serrao and Gray, their vision for the future of Ghetto Gastro has become clearer than ever. "The work we are doing isn't just inspired by today's protests but it has been inspired by the protests of our parents and our ancestors," Serrao said. "Now more than ever it is clear to us that we must continue to be a brand that uplifts the Black community, breaking down borders and creating space in the field for others to follow."
In a moment when bringing people together physically is still fraught, that means shifting away from the experiential, focusing instead on expanding their footprint through digital gatherings, pantry products, and merch as a tool for fundraising and communication. "Fifty people might be able to attend a dinner; hundreds of people are able to get a shirt. Or, with 'Gastronomical Cribs,' hundreds of thousands of people tune in to that," Gray said, referring to the Instagram Live series they launched this spring, on which they've entered the kitchens of Samin Nosrat, Tony Hawk, and Lamy, among others, to discuss recipes and how cooking can be a form of self-care. Going forward, the series will feature people who are leading the Black Lives Matter movement, and Gray hopes to push the conversations even further toward community engagement.
To raise funds for Rethink, Color of Change, and a local community center, the collective embellished a series of t-shirts with the phrase "Food is a Weapon," a nod to the fact that lack of access to food in the U.S. is a race issue, a reminder that the farming system in this country relies on the history of Black labor, and a call to action.
"It's really to shed light on the fact that all of this is connected. The system is designed to inflict harm on Black people, and it's not just via police brutality and the criminal justice system, it's all the way down to what we put in our bodies," Gray said. "We used to use the word food desert, but food desert doesn't significantly represent how the food distribution doesn't work for us. It's food apartheid. It's not an accident that certain neighborhoods have access to what they have access to."
It's also about reclaiming food as a weapon against oppression by getting nourishing meals to protestors in the streets. "When we're taking these food trucks out, food is a weapon in the sense that we're nourishing you to be prepared for this fight," Gray said.
To celebrate Juneteenth, the anniversary of the emancipation of the last remaining American slaves and a holiday that has received renewed attention with this recent surge in Black Lives Matter protests, Ghetto Gastro will host a a digital "cook-in" on Instagram Live at 2 pm Eastern, with several guests including The Roots rapper Black Thought. They'll also drop a new series of charitable merch and a spice blend (available here).
"I hope our followers and community take the time to appreciate and celebrate the blood our ancestors had to spill in order for us to be here today," Serrao said. "I'm most excited about getting the homies together virtually and making sure the food for thought is abundant."
These past few weeks have given Gray a renewed optimism about the future of the Bronx and the enduring significance of the work they're doing. "When you think about police violence and brutality as a black person in America, these are daily realities. So now that they're on the forefront, and people that might not have been concerned about white supremacy are now taking interest—people are now starting to look at the system and how it all connects, understanding that we have a real problem," Gray said. "And that makes me super confident to have allies, co-conspirators and collaborators who are willing to get in the trenches with us, to do this work to shift things."
"We have to be creative. We're from the Bronx. The Bronx is known for creating great things out of rubble," Gray said. "We don't really complain about the circumstance—we take what we have and we keep it moving."
Related: How Can You Make Sure You're Donating Effectively? A Guide to Bail Funds, Community Organizations and Direct Aid